Miriam Nichols' dedication earns her UFV Research Excellence award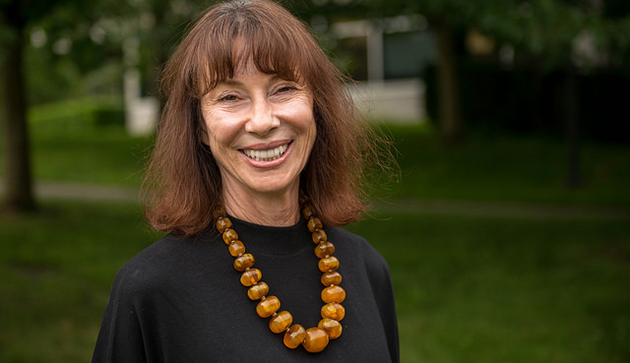 Miriam Nichols believes that teaching and research go hand in hand.
For the 23 years that she has been an English literature professor at UFV, she has pursued research in addition to her teaching duties.
Now she's being recognized for her dedication with the 2017 UFV Research Excellence award.
"I have always viewed my profession as being a combination of research and teaching," she says. "Giving up the research component was not an attractive option for me personally."
Research is her way of keeping up her enthusiasm for her discipline.
"The research I've pursued and books I've written are my way of telling my profession to myself. It has to interest me, to be something that I want to know. I find that if you want students to be interested in what you're teaching, you have to be doing something. When you get excited about your research, it's infectious, so they get excited about it as well."
In Nichols' case much of her life's work has been dedicated to raising awareness of Robin Blaser, an American-born poet who lived in Vancouver from the 1960s until his death in 2009.
Blaser was part of the San Francisco Renaissance of the 1950s and early '60s, which brought avant garde poetry styles into the public realm.
He was also her professor and mentor at Simon Fraser University, and later, her friend and literary collaborator.
Nichols has worked on several books about Blaser, including Even on Sunday, a collection of expository essays about his work; Holy Forest, the Collected Poems of Robin Blaser; The Fire: Collected Essays of Robin Blaser; and Astonishments, an edited collection of talks and lectures given by Blaser. She also focused on his work during her graduate and doctoral studies.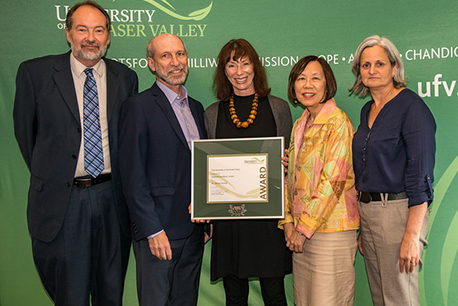 And for more than a decade, Nichols has been working on an extensive biography of Blaser, for which she received a $55,000 grant from the Social Sciences and Humanities Research Council of Canada (SSHRC).
Nichols has taken great delight in involving students in her research, and highly values the help they have provided.
Her grant funding allowed her to hire several students to sort through 65 moving boxes worth of archival material related to Blaser, sorting and annotating them.
"They read all those documents, picking out what they thought would be important to my work, made extensive notes, and organized it all," Nichols recalls. "The level of sophistication of their research abilities was improved significantly through this experience. I can't understate the value of the students and my extreme gratitude to them for the years of work."
UFV alumna Jennifer Colbourne, who served as Nichols' research assistant, agrees that this was a valuable experience.
"It is difficult to put into words the extent to which Dr. Nichols has had a positive impact on my academic career. She fostered my writing skills and critical thinking ability, and cultured in me a love of research through scholarship."
English department head Hilary Turner was a stong supporter of Nichols' nomination for the research award.
"Miriam is one of this institution's most dedicated, productive, and versatile scholars," Turner noted in her nomination letter.
Dr. Hank Lazer, professor emeritus at the University of Alabama, also praised Nichols in letter of support of the nomination.
"Miriam's scholarly work is so much more than 'mere' editing. Single-handedly, she is making certain that one of Canada's greatest poets, Robin Blaser, will have his work known, studied, and available for years to come."