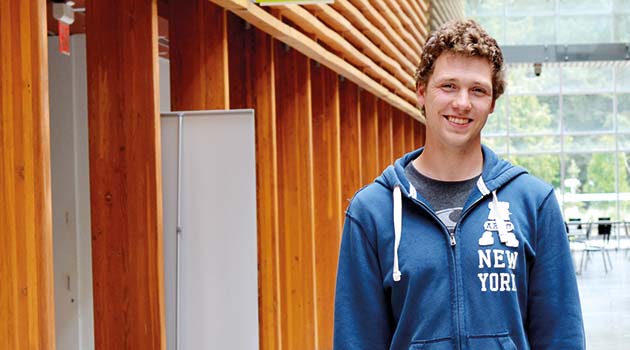 "Everything runs on electronics. It's so fascinating how it all works together. I love the potential of what you can create." Listening to Cody Peters enthusiastically talk about what he's learning in UFV's electronics program, you'd never guess that a year and a half ago he had no idea he had any interest in it.
"I enjoy my landscaping job, but it doesn't feel like a good long-term career for me," he says. "I wanted to go to school but wasn't sure what for. I saw UFV's Trades Discovery program online and thought, why not apply?"
Six trades in ten weeks
UFV's ten-week Trades Discovery program is designed to allow participants to sample multiple trades before they decide which one to pursue as a career. Participants learn on top-of-the-line equipment and tools in UFV's spacious Trades and Technology Centre, under the supervision of an experienced instructor.
From January to April 2016, Cody tried out a variety of trades, such as plumbing, welding, carpentry, mechanics, and electronics. That's when he discovered how interested he was in electronics.
"In the class, we had a practice electronics board that you could plug different things into and experiment," he says. "There were progressively more complicated problems, and I soon realized it was clicking really easily and was super interesting. It just made sense; I could picture how it could work in my brain."
For Cody, finding his interest wasn't just about trying multiple trades, but also having a knowledgeable instructor who cares about helping students. "Our instructor was awesome," he says. "He invests in your life and will help you with anything. And he knows about all the areas and has worked in so many industries, so he can tell you what he sees as your strengths."
A career that's never boring
Now, in UFV's electronics program, Cody loves the new interesting challenges he and his classmates get to take on. "There's always another problem," he says, "but it's fun to find the solutions together. If you don't understand something, someone else will. Our instructor makes the class fun and enjoyable."
Cody is already looking forward to his next challenge, taking UFV's Automation and Robotics program. "I'm so excited to start it," he says. "It merges electronics with robotics, and there are so many things you can do with that combination." Afterwards, in a world where more and more aspects of our daily lives are becoming automated, Cody will be entering a growing industry with a sought-after skill set.
"I'll be glad to have a career in a field that's always evolving," he says. "I don't think I'll ever get bored. There's always something to learn."
So what's Cody's advice for someone considering taking UFV's Trades Discovery program? "Like Nike says, just do it," he says. "Anyone could do it. If you're having a hard time, it's not like you'll fail. If you don't like one of the trades, good! Then you know you shouldn't go into that one. The point is to find out what you like and don't like, so no matter the outcome, you can't lose."