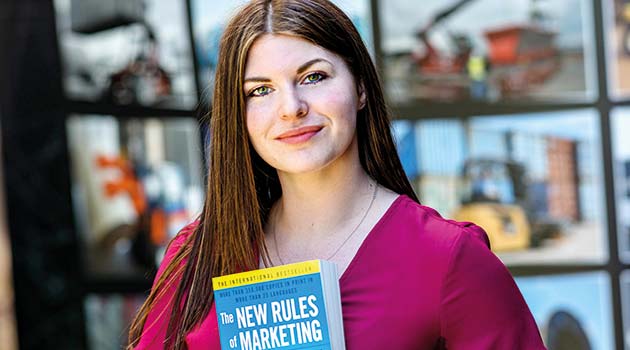 Tori Thistlethwaite had completed her English degree and was ready to jump into a career. But in the competitive job market, she needed to differentiate herself from other job seekers.
Originally exploring journalism, Tori looked at UFV's Public Relations program as a way to gain more flexible expertise that would give her an edge in a variety of industries. However, while she had always had a passion for writing, she had never been comfortable with another key component of PR — public speaking.
But Tori decided to dive in anyway. "When a subject makes you uncomfortable, it means you're learning, and I think that is an exciting experience, both personally and educationally," she says. "I've never been content with being comfortable or bored, and this program was a great opportunity to grow."
Tori was able to quickly enter the PR program, and she found that the support provided by the program coordinator, Kim, made the process very smooth. "Kim was a great help throughout the duration of program; she worked hard to make sure certain classes ran and when it came to arranging the practicum portion, she was very responsive and contacted us without us having to contact her."
Building strengths, overcoming weaknesses
Once in the Public Relations program, Tori eventually had to face her uneasiness with public speaking. "We were often filmed and had to study our mannerisms and nervous ticks. By seeing our behaviour and getting feedback, we were able to correct and improve the way we presented." When it comes to putting these skills into action, she says, "being able to confidently speak is not only great for PR, but for jobs in other industries. It's a fundamental skill that has really helped me in a corporate environment."
In addition to learning directly from experienced industry professionals and building her skills in speaking, writing, search engine optimization, social media marketing, press releases, working with the media, and much more, Tori benefited from UFV's practicum program.
She completed her practicum at Leavitt Machinery — an innovative local company that has stretched internationally and was looking for local people to help drive their business forward.
Real-world experience in public relations
Tori's practicum turned out to be a big challenge and a great opportunity. "I was given real projects in areas I wanted to grow in," she says. "I'm so grateful that they trusted me with important work. They listened to my ideas and gave me the freedom to do the things I was proposing and prove that they worked."
The training Tori had received in her program had equipped her to succeed at Leavitt. "She was great," says Jen, the marketing manager who supervised the practicum. "She wrote content for our website and helped with press releases for some of our different companies. She managed the social media presence for three or four of our companies."
For Todd Cullen, Senior Vice President at Leavitt, Tori's attitude and education match up with what the company looks for in new employees. "We're looking for people with a positive attitude, a desire to get better, and a strong work ethic — people who can execute on what they say they will do." he says. "Completing a certificate shows they know how to follow through."
Through her practicum, Tori discovered that she loved working with the team at Leavitt. For Todd, this is an important part of practicums. "They are beneficial for both for employee and company," he says. "They are an excellent chance for students to see if the company's culture is a fit for them — and for the employer to see if the student has the right core values to be part of the business."
A great fit
Tori gained a permanent position at Leavitt and is loving her career. "I just like being pushed," she says. "There is always so much to do here. There is always something new happening, something in the works. Every minute is accountable to a goal, and that really works for me. I like to see the impact of the work I do — like sending out a press release and then seeing it get published in a magazine or other press."
Being part of a growing company is exciting for Tori, and her employer is also excited about the great skills she brings to Leavitt. "She's done a good job of understanding our various business brands and what they offer — and then providing effective marketing for them," says Todd.
"She's really helped build brand awareness for Leavitt by pushing out quality content in a variety of ways — for example, creating a more consistent voice for us on social media."
Although Tori loves her job, she is still working hard to grow and gain new skills. "I believe in constantly learning," she says. "I love how the Public Relations program enabled me to work full time and pursue my passion. It's easy to get complacent, but there is so much information out there, and if you aren't pursuing it, you'll be left behind."