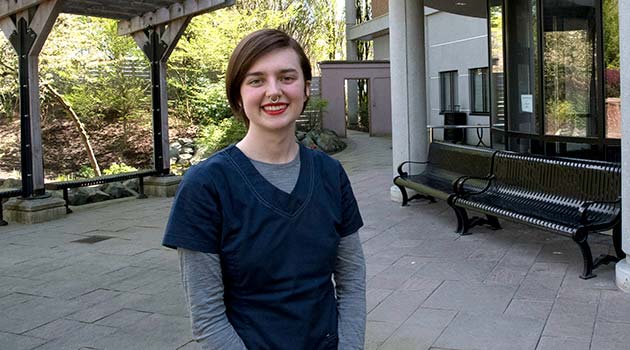 Editor, server, cook, swim instructor, dance instructor — the list goes on. Kier was ready to trade in a parade of unrelated temporary jobs for a long-term career. "I had a lot of work that was unpredictable and spontaneous, so I was looking for something that would provide more stability in my life, as well as a living wage," says Kier.
Kier also wanted a career that provided opportunities to make a positive difference for others: "I was very ill for about three years. Couldn't work or go to school. But I had a lot of great help from people in the medical field — so, when I started to feel better, I was inspired to pursue a future in health care."
Where to start?
Kier wasn't sure where to start but, after a lot of research, decided on the Nursing Unit Clerk program at UFV. "I compared different diploma and certificate programs," says Kier. "When I looked at the job postings, I saw that there was a lot of work available for nursing unit clerks."
"The program coordinator was extremely helpful and made the process easy — a big help for me as I prepared to start the Nursing Unit Clerk program." "I was a little intimidated by the work load," says Kier. "Now that I'm in the program, I've realized it takes a lot of focus — but it's been fine because I'm so interested in what I'm learning. I'm a total word nerd. I'm doing medical terminology right now and I love it. It takes a lot of extra studying, but it's really rewarding."
A supportive learning community
While the program is challenging, Kier is grateful for the outstanding instructors and the one-on-one support they provide.
"The Nursing Unit Clerk instructors are available after class, before class, by email, and by phone," says Kier. "They encourage us to ask questions, and they have tons of professional experience. They have so many stories about their own experience that helps us prepare for our own careers. And they find ways to make learning fun. My most memorable moment is when we built digestive systems out of foamy paper."
"I enjoy the classroom dynamics," says Kier, glad to be part of a program made up of people with different experiences and backgrounds. "People are open and accommodating to each other. No one makes fun of silly questions. There's a real atmosphere of support."
Making a difference as a nursing unit clerk
Looking ahead, Kier plans to work at a few different hospitals to get a feel for the various departments and how they work together to provide health care to the community. Determined to find more than just a stable career, but also a chance to help others, Kier says, "Something close to my heart is how LGBTQ people are taken care of in the health care system."
"Families look all sorts of different ways, sometimes different than what health care providers may expect. I think there is room for even more awareness there. For example, using people's preferred pronouns."
But for now, taking on the Nursing Unit Clerk program has been a rewarding challenge. "At first, I wasn't sure what I was getting into," says Kier, "but I love the challenge. And I'm looking forward to taking on a new challenge soon — making a real difference in people's lives through health care."