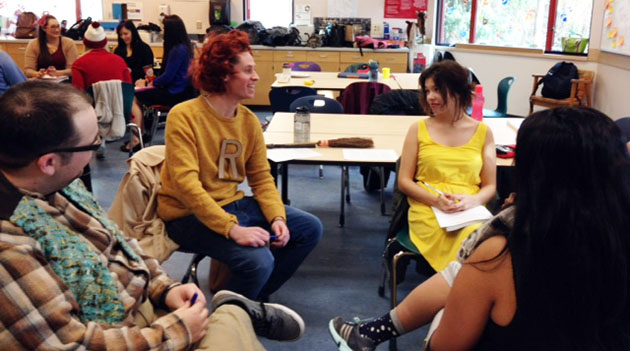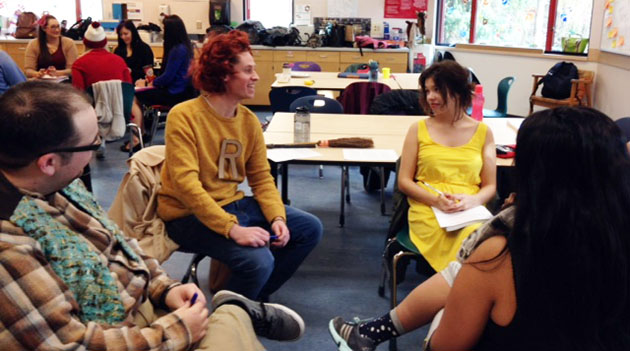 Step into a school in the Fraser Valley, or even as far away as Egypt, and chances are you'll find an alumnus of UFV Teacher Education program guiding young minds.
A total of 381 new teachers have graduated from Teacher Education at UFV since the one-year program started in 2007. The program began with an elementary education cohort, and added a middle/secondary option in 2014.
The credential is now known as the Bachelor of Education, but for most of its first decade it was the Teacher Education certificate.
"It is an amazing experience every year to see the people who enter our program undergo the transformation from student to teacher," says program advisor Barbara Salingre, who has been with the department since its inception. "It is a very memorable year for them — they really bond as a group. When I see them in the grocery store years later they express gratitude and enthusiasm for the program. And they are out there paying it forward by transforming children's lives."
Teacher Education at UFV will be celebrating its 10th anniversary with an alumni event on Fri, April 7 in the Student Union Building on the Abbotsford campus. The $20 admission fee includes light refreshments and funds raised will go toward a bursary for a student in need within the program. Register here.
"We are looking forward to catching up with many of our alumni and finding out what everyone has been up to," says Salingre.
Although many Teacher Education students are young and just starting their first career, the program has also welcomed mature students from many backgrounds.
"We have people who have been paraprofessionals such as education assistants or aboriginal support workers who get inspired by what they see in the classroom and want to be teachers themselves," says Salingre. "We also have mid-career professionals who want to switch gears. Some have always harboured a passion for teaching and decide to enter the profession once their own kids are grown.
"It makes for a very culturally rich cohort, as they all bring unique experiences and learn from each other," says Salingre.
The Thomas family of Langley includes both young and older Teacher Education alumni.
Dave Thomas was a commercial pilot for many years who decided to follow his daughters Dayna and Kylie into teaching. Kylie's husband Adam Knowlson also completed the Teacher Ed program.
After a decade alumni such as Dan Edwards, who was in the first cohort, are starting to mentor current students by welcoming teacher-candidates into their classrooms.
Donna Pinning, now a Grade 4/5 teacher at Chilliwack's Robertson Elementary, entered the Teacher Ed program after completing her bachelor's degree at UFV and playing varsity soccer for the Cascades.
"Outstanding professors who really embody the program values and goals made UFV's program the number-one choice for me when deciding where to go for Teacher Ed," she says. "I appreciated the support from the faculty, but also the support of my colleague students in the cohort model. The program is taught in such a way that your own values are challenged and influenced through theory and experiential learning. It gave me a secure foundation to build on, but also let me discover what type of teacher I wanted to be. The program embraced everyone's individuality. The thing I value most about the program is that it taught me about diversity and inclusion, which is something I am teaching my students every single day. This program takes a lot of work emotionally, mentally, and physically, but the return is well worth it as it is a one-of-a-kind experience, and one that you will transform into a better professional because of it."
And the recent Supreme Court of Canada decision mandating a return to 2002 teacher-student ratios in B.C. means that teachers are once again in demand.
"The tables have really turned from a few years ago when most graduates started as teachers-on-call," says Salingre. "Now we have school districts vying for candidates in a friendly competition."
A focus on the needs of local Fraser Valley school districts, social justice, and Indigenization are three defining attributes of UFV Teacher Education.
In 2012 the program held a formal naming celebration identifying its name in Halq'eméylem as S'í:wes Xwela ye Xá:ws I:westeleq, meaning Education for the New Teachers.
"We practise place-based pedagogy," notes program head Vandy Britton. "We recognize that we are situated in a particular place, and we can learn from being here. We appreciate the connection that the Sto:lo have to the land and we teach our students to appreciate it in hopes that they, in turn, will teach their own students.
"We also really value our reciprocal relationship with our partner districts. Sandy Hill, one of our program coordinators, forged those relationships and we continue to benefit from them. Our graduates become teachers in the local schools, teaching children who will eventually become students at UFV. "
Teacher Education at UFV also has an international component. Every year, several students in the program join UFV kinesiology students on a working visit to the tiny island country of Antigua where they volunteer in elementary schools as part of the Champions for Health program. The Teacher Education students support and mentor the kinesiology students — many of whom join the Teacher Education program in subsequent years.
Britton also notes Teacher Ed graduates are helping implement new curriculum in B.C. schools, with an updated focus on competency-based learning, communication, personal and social responsibility, and critical thinking.
"In our department, we believe in pushing both ourselves and our students beyond our comfort zones.  As teachers, we need to be okay with change. This means it's important for all of us to stay current — which brings us back to the importance of maintaining those relationships with our districts and our alumni — so we know what's happening. As it stands now, our students are leaders in implementing the new BC Education Plan — they are looked at as resources because of their comfort with the curriculum after spending their year with us. We are proud of our alumni who are doing such great things in the world. "
The Bachelor of Education degree offered by UFV Teacher Education is a credential taken after students have earned their initial bachelor's degree. For more information on the program, visit: ufv.ca/teachereducation/