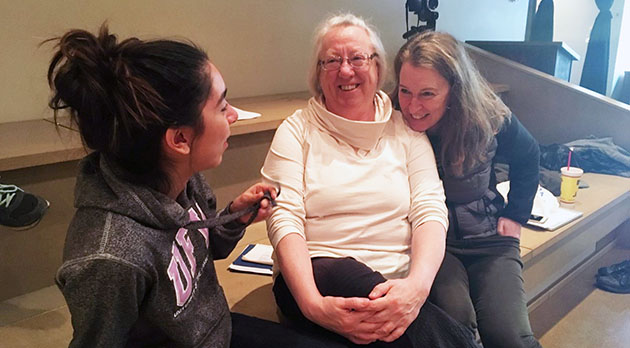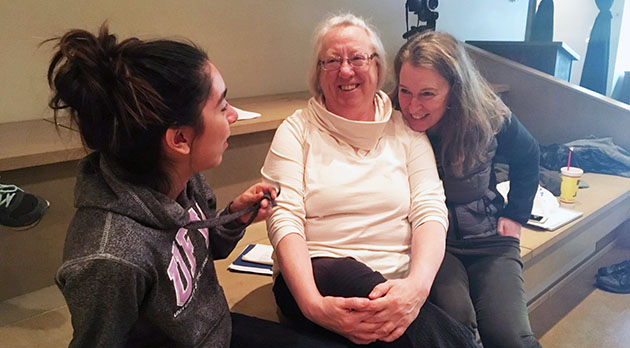 UFV Theatre is proud to present Grand Theft Terra Firma, a presentation devised by theatre students and community members in partnership with The Reach Gallery and Stó:lō Nation — Stó:lō Research and Resource Management Centre.
Grand Theft Terra Firma explores how S'ólh Téméxw — the traditional and unceded territories of the Stó:lō people—was colonized in the 1850s and 1860s and asks how that history is lived today, by people of both Indigenous and settler ancestry. Responding to the 150th anniversary of Canadian Confederation and the final report of the Truth and Reconciliation Commission, this performance is devised (created by the performers) and asks challenging questions about the ongoing legacies of colonization in Canada and how reconciliation between Indigenous and non-Indigenous people might be enacted.
"I wanted to take on this project because I knew it was important," says student director Phay Gagnon. "As someone with Aboriginal ancestry and as the third generation of women in my family working with Indigenous communities, I wanted to contribute to the Stó:lō community by facilitating the stories of those who might not have space in which to tell them. This project has shown me how hard it can be to come together to even have a conversation about this subject and to acknowledge the importance of even the smallest contribution."
During this intimate interactive theatrical presentation, the creators of the project (Jackie Allen, Vandy Britton, Cheyenne Douglas-Ruttan, Maggie Eustache, Tihemme Gagnon, Shawna Lawson, Raina von Waldenburg, Natasha Purnelland, and Kai Thompson) will share personal stories about what it feels like to live in a community that has very strong and differing opinions about reconciliation. How it feels to live in a community where people are so divided on this issue that a conversation can barely happen. The project does not attempt to address the issue directly, but rather to explore the complex personal relationships people have with the issue. Change begins in the heart and mind of each individual.
Grand Theft Terra Firma runs April 6–9, 2017 at The Reach Gallery in Abbotsford and April 20–23, 2017 at the Stó:lō Resource Centre in Chilliwack.
To reserve tickets, call 604 795 2814 or contact theatre@ufv.ca. Tickets by donation.