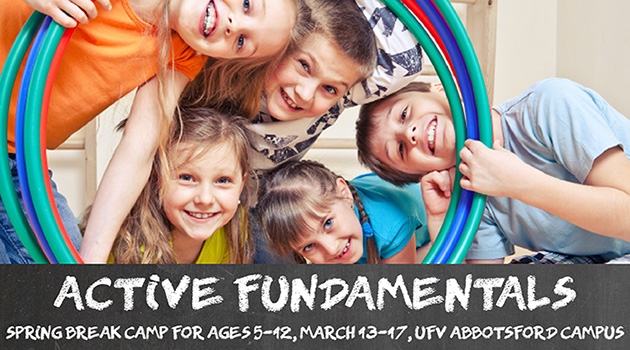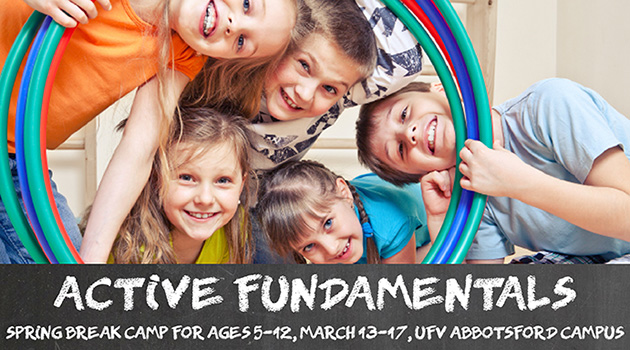 Want to make sure your kids stay active and busy this spring break?
Join the UFV Cascades and UFV Kinesiology students for a physical literacy camp over March break that will have your child learning through PLAY!
During this week, your child will work on developing their fundamental movement skills like running, jumping, and catching. We will practice other movement skills through fun and cooperative games-based programming, and arts and crafts. It is our mission to activate your child's passion for physical activity for life!
Students will need bring a water bottle and wear athletic clothing and footwear. Parents are responsible for packing snacks and/or lunch for their child.
Three different camp options are available:
Ages 5-8, half-day (9 am to 12 pm), $85
Ages 9-12, half-day (1 pm to 4 pm), $85
Ages 5-12, full day (9 am to 4 pm), $160
Additional childcare is also available for working parents, before camps (8 am to 9 am) and after camps (4 pm to 5 pm). Each hour of before or after care is $5, with the option of purchasing a package of five sessions for $20.
Three ways to register:
In person: Visit the Student Activity Centre front desk (Building E on the UFV Abbotsford campus, room E150) between 8:30 am and 4:30 pm Monday to Friday. Payment can be made by credit card, debit, cash or cheque.
By mail/online: Fill out the online registration form, and print off and complete this informed consent waiver. Mail the signed waiver and a cheque for the appropriate amount to the following address. Do not mail cash. Please make cheques payable to UFV Athletics, and note the camp name.
UFV Athletics Department
Summer Sport Camps
33844 King Road
Abbotsford, B.C. V2S 7M8
By phone: To transfer credit card information over the phone, contact Cheryl Van Nes (604-504-7441 ext. 5111, or email cheryl.vannes@ufv.ca to set up a phone appointment). The informed consent waiver and online registration form (below) must also be filled out.
http://www.ufvcascades.ca/department/cascade-camps/
For more information, contact Cheryl Van Nes at cheryl.vannes@ufv.ca
Save