Join UFV as we rise up against bullying!
February 22 is Pink Shirt Day across Canada and we will be wearing pink to show our support. #RiseUpUFV is a new initiative across all campuses that raises awareness about bullying and discrimination. What do you Rise Up for?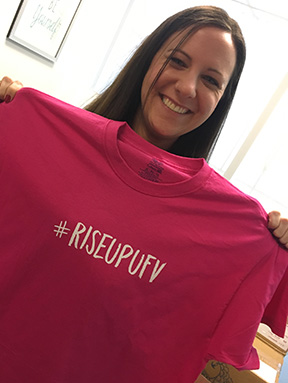 Buy a t-shirt* and show your support. All funds collected will be donated to UFV's Student Emergency Fund. T-shirts are available in the Coast Capital Peer Resource and Leadership Centre in the Student Union Building, International Ed Global Lounge, and the UFV Bookstores in Abbotsford and Chilliwack.
*minimum $5 contribution. Cash only at SUB and Global Lounge.
There will be an Advocacy Fair in the SUB Atrium from 10 am to 2 pm on Feb 22 with various student clubs that do advocacy work on campus and in the community. During the Advocacy Fair, we will be hosting a variety of short talks which are designed to disrupt entrenched thinking and to inspire curiosity and dialogue.
For more information, contact Ashley Hayes at ashley.hayes@ufv.ca