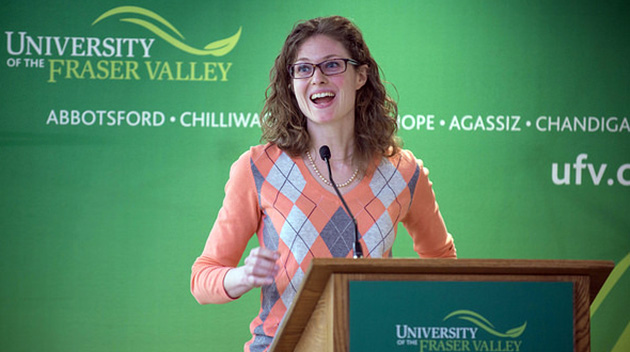 Would you like to know more about cocktail culture, hadrons,  ketogenic diets, property crime in Abbotsford, and other topics?
UFV is once again presenting microlectures by faculty members on Tues, Feb 21, at 11:30 am in the Roadrunner lounge in Building A of the Abbotsford campus.
Expand your academic palate and sample new subject areas with an interdisciplinary afternoon showcasing Faculty Research at UFV.  Faculty presenters each take the stage for a maximum of two minutes and speak about the exciting findings and implications of their research. Feed your academic appetite and learn about over a dozen new topics in under an hour at UFV's Faculty MicroLectures event.
Join us for research and refreshments! Following the Microlectures event, browse faculty publications and celebrate faculty accomplishments at a reception hosted by Research, Engagement, and Graduate Studies.
UFV Faculty Microlectures 2017
David Dobson – Business
"Message Framing Effects on Attitudes and Intentions"
Fiona MacDonald – Political Science
"Mea Culpa: Medical Apologies, Accountability and Care
Lenore Newman – Geography and the Environment
"Shaken not stirred: Travels in cocktail culture"
Robin Kleiv – Physics
"Diquark clusters in hadrons"
Nadeane Trowse – English
"Losing Topic, Gaining Topicality: How we Agree (and Don't) about what Matters"
Michelle Riedlinger – Communications
"Language choices as markers of resistance and subversion: Decolonising knowledge in academic writing by Indigenous scholars in B.C."
Maple Melder Crozier – Child, Youth and Family Studies
"Bringing Theoretical Practice to Academics"
Ken Blawatt – Business
"Why the Old Economics Theories Don't Work and a Look at a New Paradigm for Reality Economics"
Irwin Cohen – Criminology & Criminal Justice
"Property Crime in Abbotsford"
Linda Pardy – Adult Education
"Outside In: The Magic of Work Integrated Learning in the Classroom"
Nicola Mooney – Social, Cultural & Media Studies
"Engaging the Earth, Engaging the Self: Sikh Eco-enchantments at the Millennium"
Michelle Superle – English
"Towards a Child-centered Critical Approach to Children's Literature with a Rights-Based Literacy Mentorship Program: Experiential Learning in English 388D."
David Harper – Kinesiology
"Anti-Cancer Benefits of the Ketogenic Diet"
Erik Talvila
"What is an algorithm?"
Prabhjot Parmar – English
"Lost in Translation." Letters of Indian Soldiers and the Indian Mail Censor during the First World War
Sven Van de Wetering – Psychology
"Attitudes toward voting and electoral politics"
Frank Ulbrich – Director, School of Business
"Using Extended Dependency Network Diagrams in Strategic Management"