You know how parents like to tell their children that when they were young they walked five miles to school, uphill both ways, in 10 feet of snow?
Well, Jane Antil can tell similar stories about her early days running the Athletics department at what was then Fraser Valley College (and then UCFV). She handled many challenging tasks under challenging circumstances.
For her pioneering efforts in leading Athletics from 1987 to 2002, Antil is an inaugural inductee to the UFV Cascades Hall of Fame. She was honoured at a ceremony on Jan 6 at the UFV basketball games.
With very little in the way of staffing or budget, Antil ran a department with several varsity and club teams that achieved provincial and national success. Basketball teams with no gym to call their own won provincial and national championships. Soccer teams had part-time coaches who were also full-time faculty, but lined the fields themselves, wrote their own news releases, and collected empty ice cream buckets as cones for practice drills.
Antil is the Cascades' longest-serving athletic director, having led the department for 15 years. The men's and women's soccer teams and the rowing program were established during her tenure, and she raised significant funds for an athlete scholarship program. Antil also founded the volleyball programs, and they played an exhibition schedule for two years before being admitted to the BCAA in 2004.The Cascades had tremendous success under Antil, winning nine BCCAA (now known as PACWEST) conference championships, two CCAA national championships, and six other CCAA medals (five silver, one bronze).
Antil didn't just run the athletics program, she was also in charge of intramural sports, and general student activities, both social and educational.
"It was a different type of institution back then. Much smaller," Antil recalls. "We all wore a lot of different hats in the early years, and took a very hands-on approach. I was very relieved when we hired more people in both athletics and student activity areas."
For Antil, the jack-of-all-trades era sometimes included being team bus driver, bingo helper, and pop machine refiller.
"I wanted to make sure I was familiar with all the other schools, so I would sometimes drive the bus for away games," she recalls. "And in order to pay for anything beyond league fees and coaches' wages, we had to fundraise. So you'd find me refilling the campus Pepsi machines on Saturday afternoons, as we had the contract for that, and helping to run bingo on Monday mornings. The extra revenue we generated paid for uniforms, equipment, scholarships, and exhibition schedules."
UFV Athletics was founded in 1983 when the men's basketball team was launched in the BC Colleges Athletic Association league. Women's basketball followed in 1984, and men's and women's soccer were launched in the late 1980s. Volleyball, rowing, golf, and wrestling now round out the athletics roster of teams.
UFV hosted several provincial basketball and soccer and one national collegiate championship during Antil's tenure, despite not having its own facilities.
"We had good community support. Parents of athletes were some of our biggest supporters and some of them had management experience from their kids' school and community teams, so they were a big help," Antil recalls.
Antil is proud of many milestones reached by UFV Athletics during her time, including the provincial and national championships. But she is most proud of a team that sometimes glides under the radar.
"I launched the rowing program as a club team and hired Liz Chisholm, and they have had great success," she notes. "It was very thrilling to see Lisa Roman, who started with Liz as someone who had never rowed before, competing in the 2016 Rio Olympics. Liz taught her the basics and Lisa went on to excel. Liz has provided many rowers with a great experience while at university."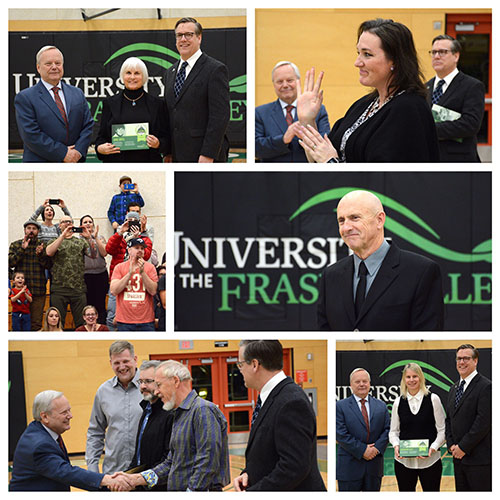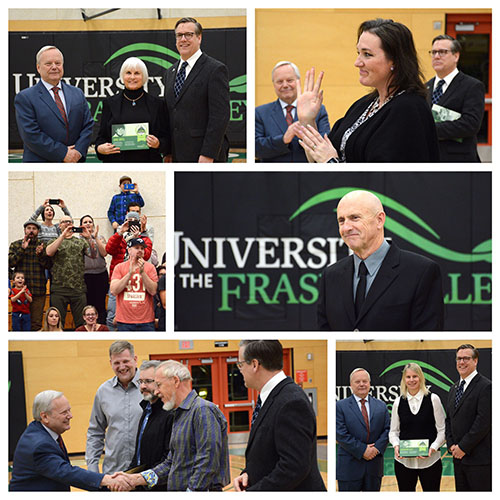 Scrambling to secure funding and game and practice facilities were some of Antil's biggest challenges, as was finding, hiring, and sometimes firing coaches.
Antil stayed on at what was then UCFV long enough to see the first small gym open, but retired in 2002, before the university became a member of the CIS (Canada's premiere university athletic organization, now known as U Sports).
She and her husband Tom, who coached basketball at UFV for several years, were a key part of the early development of UFV Athletics.
As she looks back on her legacy, she's proud of the role she played in helping student athletes develop as people both on and off the court or field. When she hears of a former Cascade excelling as a coach, teacher, or in any field, she knows she did her job well.
"It was always very important to me to see the athletes do well academically, and to go on and establish themselves in their lives and careers. And it was always a special honour when we were invited to their weddings."
Joining Antil in the first group of inductees to the Cascade Hall of Fame are former basketball coach Pat Lee in the builder's category (along with Antil); women's basketball standouts Carolyne Lucy and Tracy MacLeod in the athlete category (see an Abbotsford News feature on MacLeod here; and the 1987-88 men's basketball squad in the team category. See story on all inductees here.