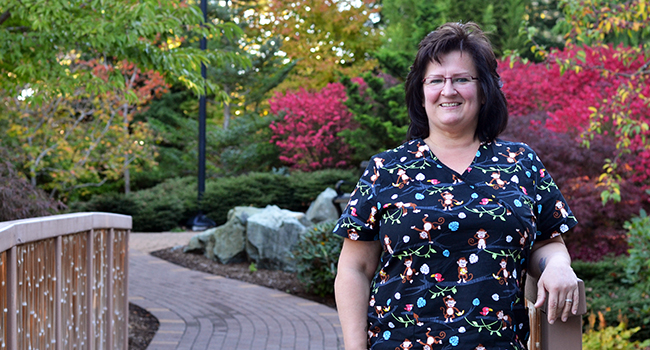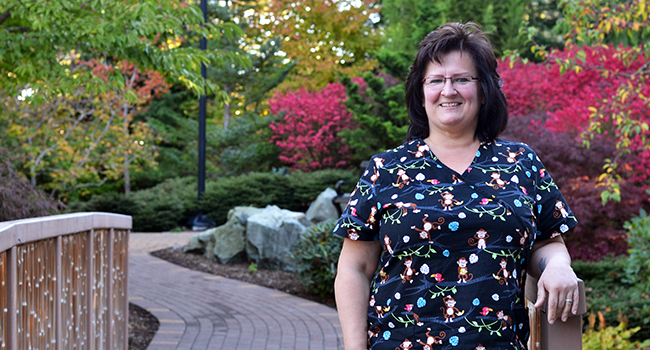 While traveling in the Middle East, Linda Todd contracted a rare life-threatening brain infection. Despite being given only a 5% chance of recovery, she fought through and survived — but returned to Canada in a wheelchair and unable to speak. "It was emotionally devastating," she says, "but I'm a firm believer in not letting anyone else decide your story."
Linda was determined to recover. "I asked my kids to help teach me how to speak again," she says, "and I joined as many Toastmasters events as I could. At first, I could only walk from the front door to the sidewalk, but I tried a little farther each day. It was a big deal when I could finally jump over a puddle again."
Refusing to miss out any longer
Fighting her way back to health inspired Linda to finally go back to school. As a Grade 12 student, she had planned to room with her best friend at university. But in February, her friend was killed in a car accident. Because of this tragedy, Linda postponed her education and moved to California with her parents.
She ended up working in Alberta and then BC. She got married and had kids. "The plan was that my husband would go to school first, and then I would go. But we broke up before I got my turn," she says.
But now this mother of five and grandmother of two had a new-found determination. "I'd accomplished so much since being virtually declared dead, and I wasn't missing out on anything I wanted from life anymore." she says.
Becoming a medical office assistant — 33 years later
Linda had always been fascinated with the medical field, and the role of a medical office assistant (MOA) seemed like the perfect fit. "In my research, UFV came out on top for high quality at a good price," she says. "My daughter attends UFV and has only good things to say about the instructors, class size, and the quality of education. And hospitals are looking for medical office assistants who studied at reputable universities."
Linda began her MOA classes this past September. "I'm in a class with students the same age as my kids," she says. "But I love it. I get along well with them. No one in my class ever looks at me like 'What are you doing here?'"
After she completes her classes and hospital practicum, Linda will be qualified to work as a medical office assistant. "I'll bring hope and joy and positivity to that setting," she says. "I've been on the other end and know how it feels. No matter what your role in healthcare, to believe your patient will get through — that's a huge gift to people."
Enjoying the journey towards a career as a MOA
Looking ahead, Linda is glad she's insisted on writing her own story.
"I'll feel settled to finally be doing something I love and am trained for," she says. "This opportunity has been passing me by for 33 years, and I've finally grabbed it."
But her challenges have taught her not to forget to enjoy the moment, and in this case, that means the long-delayed experience of being a university student. "Attending university means something to me," she says. "This is the real deal. Through all the challenges I had, I'll be so happy be a part of the UFV graduation ceremony. It will be a crowning moment when I walk across that stage."
Her advice for others wondering if it's too late to start something new: "It's never too late to do the things you've always wanted to do," she says. "There is no end line that says 'it's over now'; you choose where the line is."