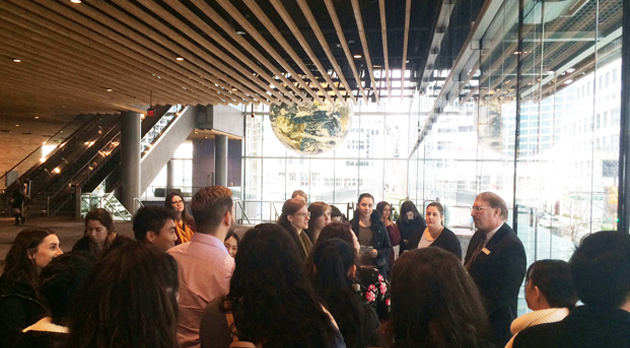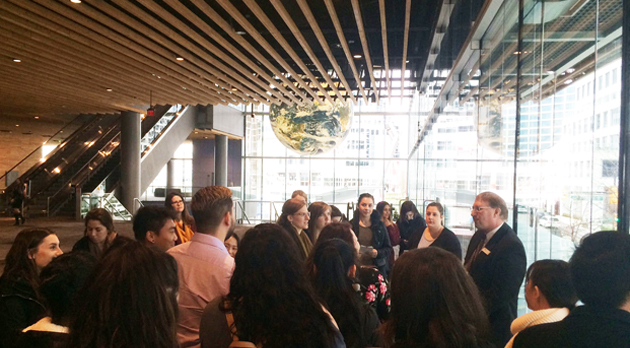 What if your school day consisted of waking up in Vancouver's luxury Waterfront Centre Hotel, where the staff had discreetly inquired whether you preferred feather or foam pillows when you booked, and left exercise clothes neatly packaged on the bed in case you wanted a workout in their fitness centre?
What if dinner was an exquisitely catered affair in the Princess Louisa Suite at the same hotel, complete with a sommelier explaining wine and food pairings in detail?
Well, if you were part of Nancy Barker's UFV Hospitality Event Planning class, it was all just part of the curriculum.
Every year, Barker takes her class of hospitality students on a three-day intensive Vancouver experience, where they experience life as a luxury tourist, in order to better prepare to serve that clientele.
The group headed to Coal Harbour to drop in on a yacht charter business, and visited some of Vancouver's best restaurants, hotels, event venues, and tourist attractions, getting behind the scenes looks at Rogers Arena, Science World, and the Aquarium.
"Hospitality is very much a people business, and my students can't learn from theory alone: they have to experience it," Barker says. "My expectation of my graduates is that they provide excellent customer service. We set the bar high, so they need to know what level of service the industry provides, so that they are prepared to do the same when they start their careers."
Barker worked in the Vancouver hospitality industry at the high-end level for many years, and can call on her contacts to help her out each year when she brings her current students in.
"They're happy to help because of our personal connection, but more importantly, they NEED good employees for the industry to thrive, so they see the time they spend with us as a very direct investment in the future."
While on the three-day intensive tour, the students heard from industry representatives from several aspects of the tourism sector, including travel, event planning, accommodation, and food and beverage.
They also heard from alumni who are working in the hospitality industry, including Brittany Walker, event manager at Culinary Capers, and Jorin McSween, concierge at the Shangri La Hotel.
Barker is very grateful to Tom Ebner from Cantrav, who helps design the itinerary for the students and gives freely of his time during their visit, offering industry insight.
"He really is the one who makes this trip possible," says Barker. "He has contributed to the program for about eight years now.  The students do a project in the winter based on the field trip and Tom comes all the way out to Chilliwack to hear their presentations and give them feedback. He does it because he enjoys it so much and because he recognizes the value they offer to the future of our industry."
Emilie Kleine and Nicole Grafton are two of the current students who attended the three-day field trip. They valued it for several reasons.
"I know that when I graduate I will be will be going into jobs where I am serving a high-end clientele, so I need to briefly experience the life of a luxury tourist so I am better prepared to serve that market," said Kleine.
They also saw the potential for bringing back ideas to try closer to home.
"My career may end up being focused in the Fraser Valley, but the industry here is maturing and going quickly," said Grafton. "I'll be able to take what I observed in Vancouver and apply it to a local setting."
In addition to the three-day intensive Vancouver trip, the hospitality students visit and interact with many tourism industry representatives in the Fraser Valley over the course of the school year.
"This is definitely an applied program," Barker notes. "They need to be hands on in order to succeed once they graduate.
Save