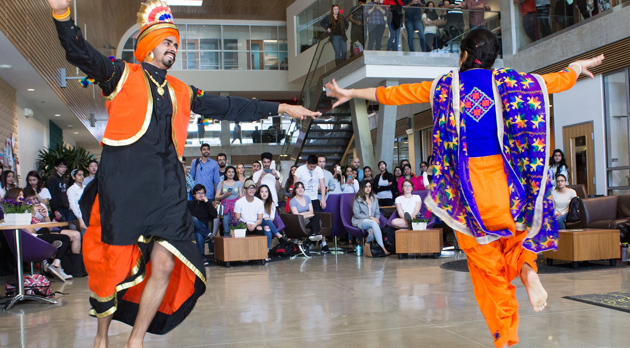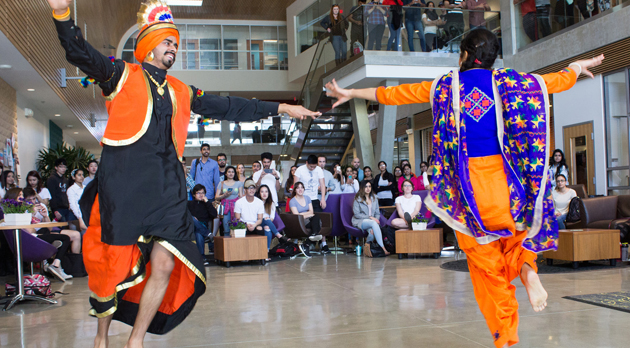 UFV is celebrating International Education Week from Nov 7–10. International students contribute to the cultural diversity and vibrancy of our campuses, as well as the social and economic well-being of the university and surrounding communities. Several events this week will showcase the special contributions they make.
Universities in more than 100 countries celebrate International Education Week (IEW).
Multicultural Performances & Food
Mon, Nov 7
11:30 am-2 pm
SUB Atrium
Join us in the SUB Atrium between 11:30 am and 2 pm to watch multicultural performances by UFV International and Canadian students. Get an additional dash of culture by perusing cultural displays and chatting with students from other cultures.
Schedule of performances:
| | |
| --- | --- |
| Time | Performance Title |
| 11:30am | Hip Hop Dance |
| 11:45am | Japanese Fashion Show |
| 12 pm | Filipino & Canadian Acoustic Performances |
| 12:15pm | Traditional Japanese Tea Ceremony |
| 12:30pm | Sri Lankan Traditional Dance performance |
| 12:45pm | TBA |
| 1 pm | Rap Performance |
| 1:15pm | Pop Culture Vocal Performance |
| 1:30pm | TBA |
| 1:45pm | Iraqi  Vocal Performance |
Other intercultural activities to be enjoyed include:
Calligraphy & Origami (11:30 am–1 pm) @ Japanese Culture Club booth
Henna (1–2 pm) @ International Student Club booth
Human Rights Letter Writing & Advocacy (11:30am–2 pm) @ UFV Amnesty International booth
UFV Study Abroad information (11:30am–2 pm) @ UFV Study Abroad Booth
Snacks from around the world — Japan, China, Middle East, India! (11:30am – as supplies last!)
Facebook: https://www.facebook.com/events/1765965106990102/
Japanese Culture Days
Mon, Nov 7
5–7 pm
Baker House residence
Thurs, Nov 10
5–7 pm
Baker House residence
In celebration of Culture Day (Nov 3) celebrated in Japan, the Japanese Culture Club, UFV Hip Hop club, and Baker House residence are offering insight into Japanese culture!
Join us for a glimpse into Japanese history and culture, specifically through food! We will be making three  traditional dishes:
Takoyaki (Japanese dumplings )
Yakisoba (Noodles)
Okonomiyaki (Savoury pancake)
Come to try out your culinary skills, or just watch and try some new foods!
Sichuan Photo Show

Tues, Nov 8
5:30–7 pm
Global Lounge (B223)
In May 2016, UFV students and faculty travelled to the heart of Sichuan, China, home of the world's giant pandas. They enjoyed two weeks immersed in the capital city of Chengdu, China, with Visual Arts Professor Shelley Stefan.
As part of International Education Week, join us in the Global Lounge on Tues, Nov 8, from 5:30 to 7 pm to see the photo exhibit documenting their adventures and get a mini tour of this southwestern Chinese province.
Traditional Chengdu snacks and drinks will be provided to enhance the experience
Facebook: https://www.facebook.com/events/648108978698968/
International Ingredients Demonstrations
Wed, Nov 9
11 am–12:30pm, Global Lounge (B223)
Thurs, Nov 10
12–2 pm
CEP Atrium (near Tim Hortons)
Join us for a one-of-a-kind cooking demonstration and step up your culinary game by learning how to use delicious international ingredients in your cooking.
Website: www.ufv.ca/iew