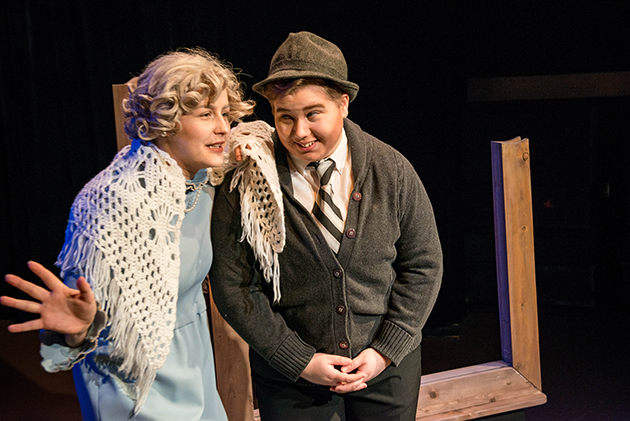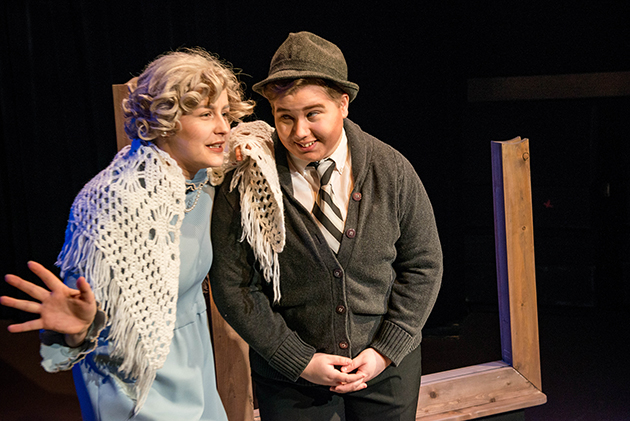 The second production of UFV Theatre's "Bright Ideas" season is Morris Panych's absurd comedy 7 Stories, a directing collaboration of fourth-year students Natasha Beaumont and Courtney Kelley.
The play tells the story of a man deliberating suicide on the ledge of a high-rise building who is drawn into the bizarre personal lives of the building's residents. 7 Stories runs November 24–December 4.
"One of the goals that we are hoping to accomplish with this show is recognizing the idea that every person is living their own unique life; and that this life can look completely different from an outside perspective," says Kelley. "Contrast, perspective, and personal attitudes are all explored in 7 Stories, and we are aiming to do this in a very approachable way for the audience. We are working on showcasing the humour in the piece just as much as the distress. We want to highlight that both can exist in the same space at the same time, and just how that relationship works."
7 Stories features the acting talents of Victoria Beaumont, Phay Gagnon, Des Hale, Blake Kimber, Emily MacKinnon, Mhairi McKay and Matthew Strauss.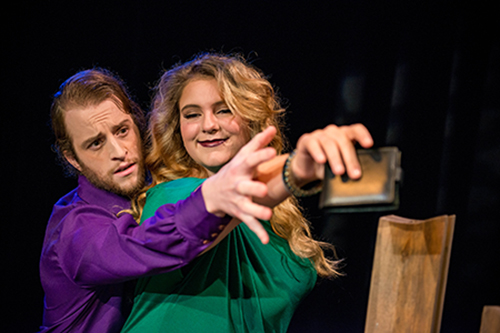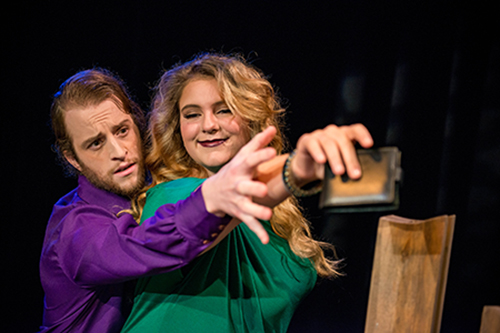 Now in its 37th season, UFV Theatre is taking a brand-new approach. With a theme of Bright Ideas: Contemporary, Student-Produced Performances, the 2016/17 promises innovative, eccentric, and electric plays that will challenge and engage audiences.
"We are thrilled about this new approach to the season of theatre and are very excited to see students' work culminate in seeing their artistic visions come to life on stage," says Theatre department head Heather Davis-Fisch.
Coming next March is Anne Carson's interpretation of Bakkhai by Euripides, with collaborative direction and design by UFV theatre professors Raïna von Waldenburg and Parjad Sharifi. This contemporary adaptation of the classic Greek tragedy will integrate physical theatre and digital projection.
The season closes in April with Grand Theft Terra Firma: Stories of (Re)Conciliation. A devised piece (created by the performers) directed by Phay Gagnon, this performance explores how S'ólh Téméxw — the traditional and unceded territories of the Stó:lō people — was colonized in the 1850s and 1860s and asks how that history is lived today.
UFV Theatre will be launching its long-awaited Theatre major in January 2017. Part of the Bachelor Arts degree, the major allows students to develop foundational performance, communication, and technical skills and offer extensive opportunities to enrich their creative and research practices. All UFV Theatre's programs offer small class sizes, faculty and staff with extensive professional and academic credentials, rigorous courses, and the opportunity for students to develop creative skills and practical experience by working onstage and behind the scenes on productions.
7 Stories runs Nov 24–Dec 4 at the UFV Performance Theatre, 45635 Yale Road, Chilliwack. Showtimes are Thursday–Saturday, 7:30 pm, with Sunday matinees at 2 pm. Tickets are $15 for regular admission; $10 students and seniors. Online ticket purchases available at ufv.ca/plays.