If you wish to support the United Way of the Fraser Valley, please download and complete this fillable pledge form and return it to Human Resources in Abbotsford. ufv.ca/united-way
You just never know when you might need the type of help funded by the United Way of the Fraser Valley. Just ask Chilliwack's Kim Gemmell.
Her family benefited for many years from agencies and services partially funded by the United Way. But it's not until she started working for the agency as an impact speaker and campaign associate this fall that she realized the full extent of how much the United Way had helped her children.
Kim is an advocate for giving to support your community because she knows what it's like to need help.
In 1998 she and her husband Cameron and daughter Jesse were happily awaiting the arrival of their second child.
Then, within a matter of weeks, their world was torn apart when son Avery was born with a serious, life-threatening heart defect. He was rushed to Children's Hospital where he spent five months in the neonatal intensive care unit. Their life became a blur focused on Avery's survival as he endured multiple heart surgeries, code blues, and respiratory arrests.
To make matters more challenging, daughter Jesse was diagnosed with autism during the same period, and Kim's father died suddenly.
"I didn't think I was strong enough to deal with it all at once, but you quickly learn that you have to, and that help is there for you," recalls Kim.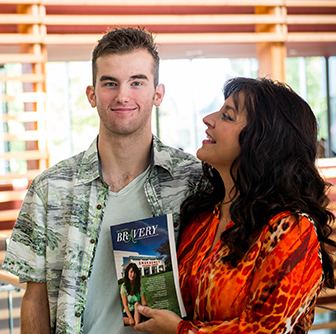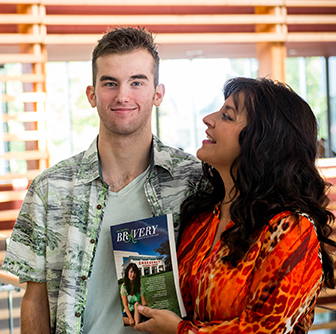 The Gemmells were lucky: they got to bring their son home to Chilliwack alive, but not without challenges. Avery has a mild form of cerebral palsy that affects his motor skills, and his heart condition meant that he didn't have the stamina to keep up with other children in his early years. Jesse's autism caused her to require extra support as well.
Kim and Cameron turned to the community to help their children.
"We wanted to give both children the best possible chance to develop to the full extent of their abilities," says Kim. "Thank goodness those community supports were there."
Among other services, the children benefited from the various therapies and interventions provided by the Fraser Valley Child Development Centre and a developmental preschool, both partially funded by the United Way.
The Gemmell family has several links to UFV.
Today, Avery is a proud first-year student in the Bachelor of Arts program, with dreams of becoming a writer. When he found that he couldn't keep up with other kids on the playground, he turned to reading and writing and the world of his imagination for entertainment. He's stronger than he used to be as he's grown into adulthood, and worked at the Chilliwack YMCA as a day-camp leader this summer.
His sister Jesse completed Workplace TASK program, which offers students with disabilities the opportunity to learn self-management and employment skills, and now works with the Early Risers community program.
Avery and Jesse are proud fifth-generation residents of Chilliwack. Their great-great-grandfather Steven Chadsey was one of the community's first European settlers in the 1800s.
Kim herself was a student back in the Fraser Valley College days, and has fond memories of a study tour to France more than 30 years ago led by Alan Cameron, who still teaches here.
In 2013 she wrote and self-published Bravery, a book chronicling the family's journey through Avery's battle to survive.
Now that her children are healthy and grown, Kim is enjoying working for the United Way and wants to develop a career as an inspirational speaker, sharing her journey and the lessons learned along the way  with others.
This year's goal is for UFV to raise $25,000 for the United Way. Together, we can do this!
The Gemmells, along with many others in our communities, benefit from United Way support. More than 28 not-for-profit organizations in the Fraser Valley receive support from the United Way. One out of every three people in the region is helped by a United Way agency.   
 Through donors' investments and the many connections made in the Fraser Valley, United Way is effecting positive change.
If you wish to join us in personally supporting this worthy cause, please download and complete this fillable pledge form and return it to Human Resources in Abbotsford.
As an added incentive, we have assembled some great prizes. All those contributing will have their name entered for the prize draws. And, new this year, the UFV area that has the highest percentage of donors will earn a $1,000 award for a UFV student. Read more, and donate today!