We have a chief in our midst at UFV.
The next time you're dropping by the Indigenous Student Centre on the Chilliwack campus, make sure you say hello to Chief Elaine Malloway as she performs her day-job duties as departmental assistant.
She was recently chosen by her father, the highly esteemed Chief Frank Malloway (Siyemches), to succeed him as hereditary chief of the Yakweakwioose First Nation in Chilliwack, part of the Stó:lō Nation.
Yakweakwioose is a relatively small community mostly made up of members of the Malloway family, but the impact of the leadership shown by its chiefs over the decades has been significant beyond its borders.
Elaine's grandfather Richard Malloway was a cultural and spiritual leader and successful dairy farmer who bridged the gap between the Aboriginal and settler community in Chilliwack. Both he and his wife Edna were recognized as Chilliwack Citizens of the Year at different times.
Elaine's father Frank has served as hereditary chief of the Yakweakwioose for several decades. Like his parents before him, Frank is an important and respected leader in the Stó: lō community who has done much to keep Stó:lō culture alive and foster communication and understanding between Aboriginal peoples and those who settled in the Fraser Valley, or S'olh Temexw. He received an honorary Doctor of Laws degree from UFV in 2010, which was especially meaningful to the family as Frank's father had wanted him to become a lawyer but the circumstances of the times did not allow this dream to be realized.
Now it's Elaine's turn to take a formal leadership role. She was formally named as chief at a swearing-in ceremony in August. UFV President Mark Evered attended the ceremony, representing the university.
"I am delighted to see our UFV colleague Elaine take on this important role in her family and nation.  She comes from a long line of great leaders and community builders. Chief Frank Malloway, who we also call Dr. Malloway after bestowing at UFV honorary degree upon him, has made a wise choice for his successor. I am especially pleased because I know that Chief Elaine Malloway will be a great Stó:lō ambassador and a valuable guide in our efforts to better serve students of Aboriginal ancestry and their communities."
Elaine was not expecting to be named chief.
"I was shocked when I found out my dad chose me," she recalls. "I grew up wanting to be like my grandparents. I was lucky to get to be around them and learn from them so it is a great honour to be chosen to continue their legacy."
She sees her primary role as making sure the teachings and values of her grandparents and those who came before them are handed down to the next generations.
"I was thinking that I didn't learn enough from them when they were alive, but now I find that stuff stored in my memory comes to the surface when I need it to pass on."
Elaine considers herself a spiritual person and sees a connection between all religions.
"When I was attending a Christian church someone told me I shouldn't be involved in our longhouse practices anymore, but then I answered that all the values they were teaching in church and the Bible were the same values I learned from my elders in the longhouse."
Yakweakwioose is one of the local Stó:lō communities that has hereditary, rather than elected, chiefs.
"Elaine's father chose her as successor because he recognized that she has lived her life in a way that honours the values of the Stó: lō people," says her colleague Shirley Hardman, UFV Senior Advisor on Indigenous Affairs. Elaine is the first female local hereditary chief to be named in a formal ceremony, Hardman adds.
"It is a tremendous honour for Elaine to be named chief," she says. "She has lived a humble life in a good way and it is wonderful that her dad has recognized her. He has seen that the world is changing and that women are taking on many leadership roles. The patriarchal notion that chiefs had to be men was imposed by those who colonized us, so in naming Elaine, her dad is peeling back the layers in leadership to an earlier time. He is showing his respect for her commitment to helping her people."
Her father Frank will continue to be involved as much as he feels able to and her son Terry Horne will also serve as acting chief for events and meetings that she cannot attend, but the phone is already ringing with requests for her time and input.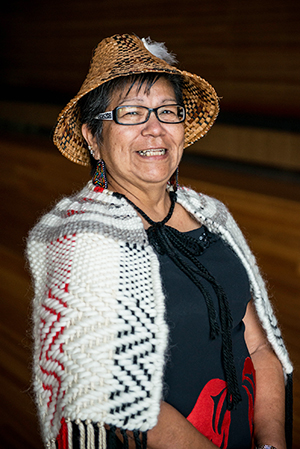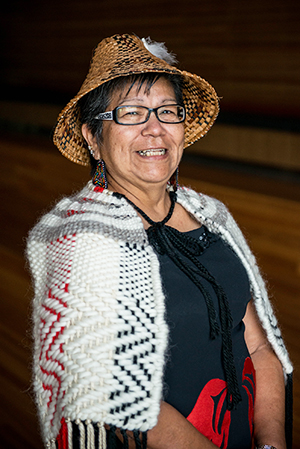 Elaine has worked in the Indigenous Student Centre since 2009. She grew up in Yakweakwioose and attended Sardis Elementary and Secondary. Her mother was determined to keep her children out of residential schools as she had bad experiences at one herself.
She is a 1987 graduate of the UFV Applied Business Technology program (then known as Office Careers).
Through her father's family, she can trace her ancestry back to her great- great-grandfather, who was the last hereditary chief of the Chilliwack tribe before the government split them into seven villages in 1862. The Malloway name came down through an ancestor who was called Manuel by the European settlers when he worked on the ships. Since his native language didn't have the "en" sound, it evolved into Malloway.
She and her husband Tom divide their time between Yakweakwioose and his ancestral home on Vancouver Island. Between them, they have seven children, 15 grandchildren, and one great-grandchild. Elaine is the oldest of eight children.
Elaine doesn't speak Halq'eméylem, the language of the Sto:lo people, but says she'd going to try to learn more of it now that she's the chief.
"UFV President Mark Evered has learned enough of our language to greet people — and so will I!"