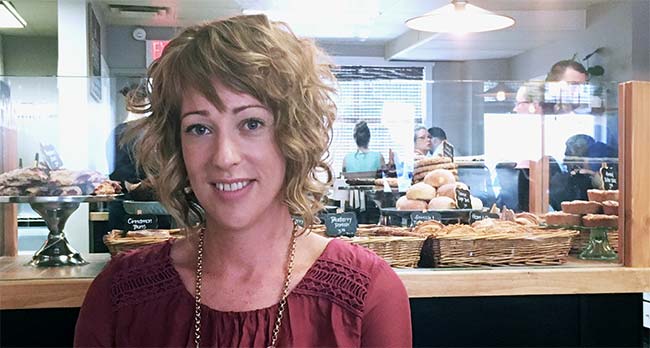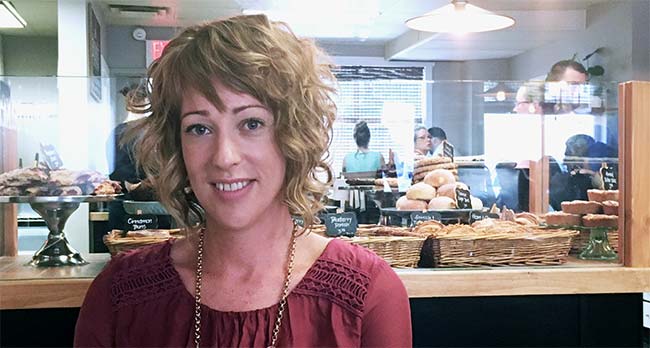 To an event planner, an empty room is as full of dread as a blank canvas to an artist.
When she planned her first Art Battle at the Hampton Inn in Chilliwack in January 2015, UFV Hospitality and Event Planning graduate and Mōda Events owner Zoë Howarth wrestled with empty room anxiety.
"I rented a small venue just to be safe," Zoë recalls. "I told my family that they could buy four tickets each, and if worst came to worst, we would run a small event with 30 people."
But Zoë needn't have feared. The show's 150 tickets sold out a week before the event. "My dad had bought his four tickets," she says, "but he ended up selling them to people who wanted to attend."
The community flocked in for a novel night out, watching talented artists painting live in twenty-minute rounds — called heats — and voting to choose a winner amongst the amazing artworks that emerged. At the end of the evening, the still damp canvases were auctioned to enthusiastic bidders.
Under the banner of Art Battle Canada, these live competitive painting events have run in every province, with local, regional, and national competitions that give participating artists exposure, while also allowing the public to engage with the creative process.
Since that first time, Zoë ran four more Art Battles in Chilliwack and Abbotsford that each attracted sizable crowds. "It's a different type of evening out and it is for everybody, both old and young" Zoë says. "This is new and fresh and we see that all types of people are buying into it and thoroughly enjoying themselves."
Art Battle coming to UFV on October 20
To open the 2016-2017 Art Battle season in the Fraser Valley, UFV Trades and Technology Centre in Chilliwack is scheduled to host Mōda Events' sixth Art Battle on October 20.  (View event details)
"We're hoping to tap into UFV's amazing pool of talent," says Zoë. "We would love it if every participating artist came from the UFV communities. To compete at the event, artists need to sign up through Art Battle Canada. Registration is free.
"We're also planning to take this opportunity to showcase the Hospitality and Event Planning program," adds Associate Professor Nancy Barker. "Event planning is an excellent career choice, full of exciting opportunities here in the Valley and Metro Vancouver.
"Zoë is a graduate of the program and she's running her own event planning company as well as Art Battle Canada in the Fraser Valley. Many of our graduates are successfully running their own business or working in the events industry here in the region. We are hoping many of our Alumni will come to the Battle to reconnect, celebrate and share their successes.  This year's Event Planning students will be on hand, helping to manage and run Art Battle Canada along with Zoë."
Zoë's journey
For Zoë, taking the Hospitality and Event Planning program was a peak in an eclectic career journey. "I've sampled different careers in hospitality, business, and art," she says, "and I've found that I am a creative person with great organizational skills."
As part of the program, Zoë completed a practicum with the Abbotsford Arts Council (AAC). "That's when I started to follow Arts Battle Canada on Instagram," she explains.
After failing to launch an Art Battle event for AAC, Zoë decided to try on her own. She started her event planning business, Mōda Events, and eventually ran her first Art Battle in January 2015.
"Art Battle is a labour of love," she says. "The point of these events is to make enough money to cover costs and invest the profit into the artists and more Art Battles."
"But Art Battle has been good for me," she adds. "It has allowed me to meet lots of different people through the community. And I've received job offers to write proposals and run events from local businesses and agencies."
Coming full circle
Running Art Battle at the Trades and Technology Centre is coming full circle for Zoë. "I see this an opportunity to engage the whole UFV community," she says.
"We have a unique space," adds Nancy. "We hope to see some guests who may not have had the chance to visit the Trades and Technology Centre before. We will have appetizers prepared by our own Culinary department. We are also partnering with Sardis Park Wines and showcasing BC VQA wines. In addition, we're planning special intermission activities to keep everyone entertained in the lull between heats."  In addition, local music group Kin will perform at the event.
At the end of the season, the winning artist for the evening will compete against other Fraser Valley winners. The final winner will go on to paint at the regional competition in Victoria. And in July 2017, all artists who've won regional competitions will get to travel to Toronto for a chance to earn national recognition.
Interested in UFV Art Battle?
Sign up to compete at the October 20 event with Art Battle Canada

Save