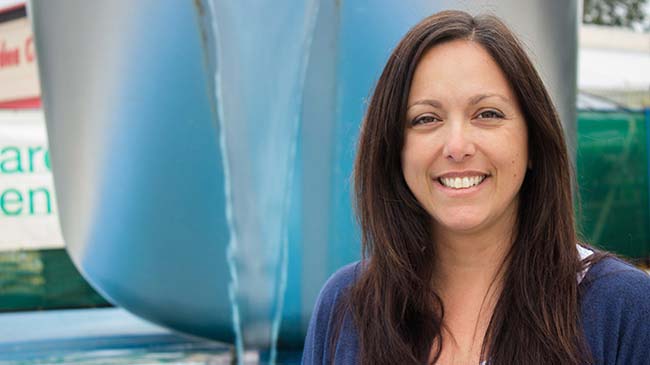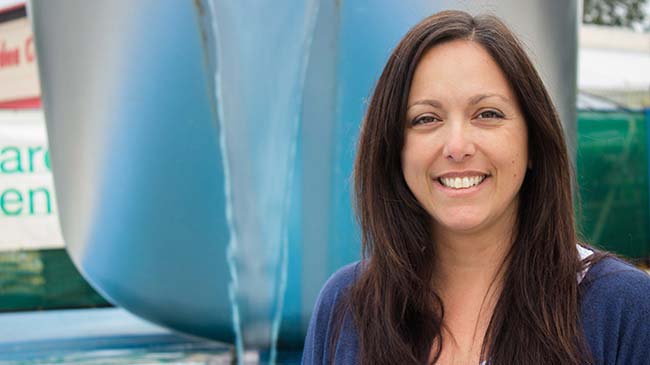 It takes courage to dream big when you're the only wage earner and your family depends on you.
Ask Gaylene deGroot.
For more than 20 years, she had been working long and irregular hours as a care aide. It paid the bills, but there was little to no potential for career development. "I had enough," Gaylene says. "I needed a change."
Career transition in midlife
Training for a new career was the fastest way to make a switch and have a valuable educational achievement to feature on her résumé. "As a single mom with young kids, I could not afford to spend a long time in school,"
Gaylene explains. "My sister had just earned an Applied Business Technology certificate at UFV in six months. So I decided to take that too."
Going back to school was a huge step. "At first, I questioned whether I could keep up," Gaylene says. "I wasn't sure what I was getting myself into. But I loved the whole experience. The staff and teachers were always available. And their feedback was constructive and beneficial."
Managing her assignments was a juggling act for the mother of three. "I'd drive my kids to their dance and karate lessons and while they were in class, I'd stay in the car to do my homework with my laptop plugged in the lighter jack," Gaylene recalls.
Breaking into the construction industry
Her six months in school flew by and two days before she was scheduled to graduate from UFV Applied Business Technology program  in June 2012, Gaylene found herself employed at Flatiron Construction Corp., a construction company that builds roads, bridges, highways, and dams across North America.
For her first two and half years with Flatiron, Gaylene worked on a project based in Chilliwack, B.C., where she got a variety of work experience as an office assistant, claims clerk, and indigenous coordinator.
When the project came to a close, she was transferred to the Ruskin Dam and Powerhouse project on the Stave River, outside of Mission, B.C. This dam has supplied the Lower Mainland with electricity since the 1930s and Flatiron is part of a joint venture to perform upgrades, as per a contract with BC Hydro.
Gaylene joined the project as a document controller, to manage the approval, distribution, use, and storage of plans, drawings, invoices, specs, and more.
Her new duties include tracking all the documentation that flows between Flatiron and BC Hydro about the project. "I am the assigned document controller for Flatiron," Gaylene explains, "and I work in collaboration with a team of document control specialists on the BC Hydro team."
New challenges = new learning opportunities
Her new role took Gaylene on an unexpected learning curve.
"We had touched on document management in my office training," she says. "And the company had already preset procedures for me to follow. But I realized that there was more to learn."
With funds provided by her company's career development program, Gaylene signed up for UFV's Records Management classes to expand her skills and earn a specialty certificate that built upon her previous Applied Business Technology training.
Classes were offered online and she was able to continue working full-time. She was no longer a single mom, but her family had grown from three to five children between the age of 11 and 19. "I loved the online option," she stresses. "It was awesome."
Applying learning in the workplace
Her Records Management training led Gaylene to identify ways to improve her company's document control procedures. "My UFV classes helped me with the archival aspect of document control," Gaylene notes. "Currently, Flatiron does not have a standardized document retention schedule. But they are open to me helping develop one."
In addition, a document control manager at Flatiron's company headquarters in Calgary is teaching Gaylene to use the company's project and document management system, built specifically for the construction industry.
Open yourself up to possibilities
That's a lot of ground to cover in four short years in a new career. According to Gaylene, the secret to a successful career change is to remain open to opportunities.
"It's easy to have preset ideas about the jobs you would like to get when you graduate," Gaylene says. "But this type of mindset can limit you. By keeping an open mind during my job search, I found opportunities that I didn't even know existed when I started out."
And as her lucky stars would have it, document control proved a perfect niche for Gaylene. "I like to be super-organized," she says, chuckling. "So this type of work fits my personality well."