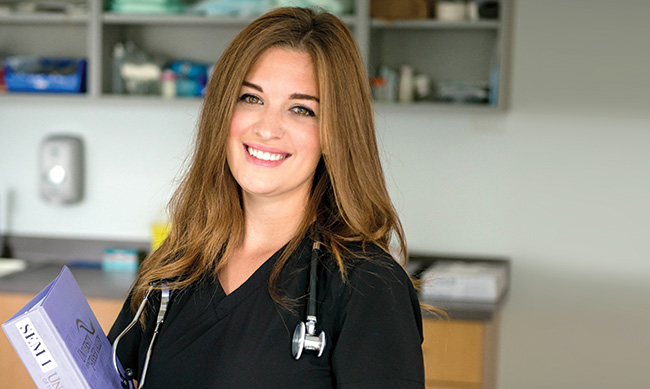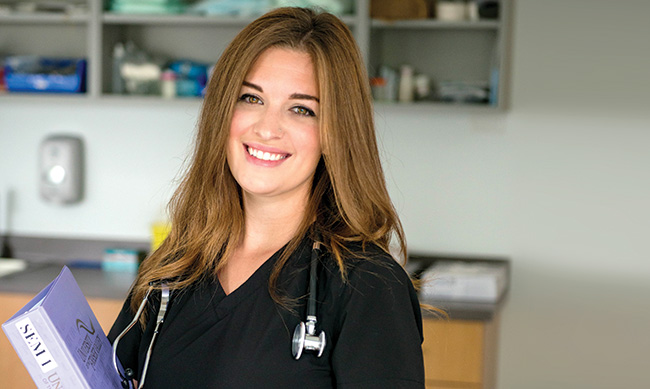 When her supervising physicians asked Kristin Candy to enrol in a newly developed Advanced Medical Office Assistant (AMOA) program, she did not know that her career was about to take an unexpected twist.
An esthetician by trade, Kristin had completed her Medical Office Assistant (MOA) training in 2013 while at home caring for her two young children. At the time, she did not have any grandiose career plan. "My oldest was starting elementary school in French immersion," Kristin says, "and I just wanted to re-enter the workplace."
Kristin joined the medical practice located at Garden Park in Abbotsford, where she worked part-time with a team of four to six MOAs to support four physicians.
But what started as merely a job became much more. "I did not expect I would have so much job satisfaction," Kristin says. "I love to be an MOA and work for a family practice. And I have a passion for helping people."
Improving patient care in the Fraser Valley
Since there's a shortage of family physicians in the Fraser Valley, the Garden Park practice is always a busy place. When the doctors at Kristin's office were invited to take part in the pilot Advanced Medical Office Assistant program, offered through UFV Continuing Education in partnership with the Abbotsford Division of Family Practice, they welcomed the opportunity. Training their Medical Office Assistants to tackle advanced office and clinical support tasks could help free them to focus on patient care and meet the needs of a mounting number of patients.
Kristin was thrilled to take up the challenge, but she had some hesitation about balancing the demands of school, work, and parenting. "The experience was intense," she says in hindsight. "But I would do it again if I had the opportunity."
Classes were held on Wednesday evening and Saturday for four months, with an online component to complete coursework. "The teachers were absolutely fantastic," Kristin notes. "We couldn't have wished for better. They were supportive and encouraging and they understood where we were at in life. They were accommodating of other demands placed on us."
The coursework was applied and practical. For example, Kristin created a manual, detailing procedures followed at her office. "It's a tangible resource that came out of the course," Kristin says. "It's incredibly helpful for new staff who come on board or for us if we are ever in doubt about a procedure."
Kristin also developed a network of contacts in the local MOA community. "I now have a strong support system," she says. "If I am unsure about anything, I won't hesitate to phone another clinic."
Developing advanced clinical skills
The program prepared Kristin to provide patient support by setting up group visits for patients with similar conditions, such as diabetes or congestive heart failure, to meet with a doctor.
"Instead of having a 10-minute individual appointment, which can be rushed, patients get to spend a whole hour and a half as a group with a doctor," Kristin explains. "This allows physicians to provide more detailed information than they could in 10 minutes. And patients also have to opportunity to network and learn from each other."
"I am now trained to orchestrate these group sessions," Kristin says. "I also learned how to follow up with patients to help them develop a self-management plan with goals to help them stay healthy."
In fact, Kristin's capstone project focused on self-management plans. "My final project gave me positive exposure," Kristin says. "It led to an informal interview to be involved with another program sponsored by the Abbotsford Division of Family Practice."
As part of this program, Kristin currently benchmarks clinics in the Fraser Valley area to evaluate how far along they are in their transition to electronic medical records (EMR).
"EMRs are searchable," Kristin points out. "They allow us to run searches to track patients, plan follow-up, and organize group visits."
New skills for a new workplace
In parallel to these developments in Kristin's career, the Garden Park practice underwent its own transformation. The office moved to a new location on South Fraser Way and is now known as the Mark Medical. In addition, a new physician will join the team in July.
Kristin expects that her new Advanced Medical Office Assistant skills will be put to good use in this new setting.
"The skills I have gained have boosted my confidence and prepared me to take on a new role," Kristin says. "I'm looking forward to being more hands-on and involved with patients."