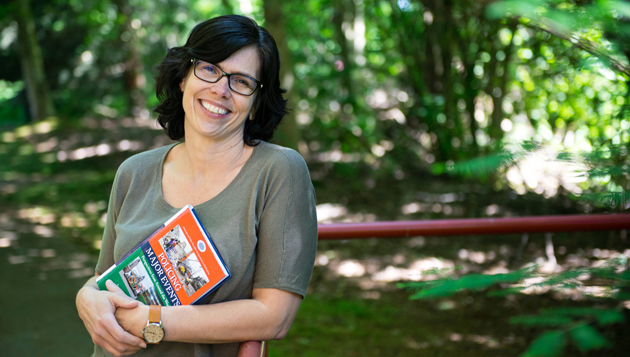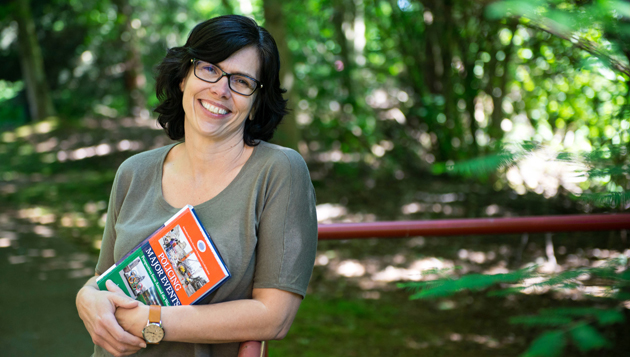 If you're going to take a seat in Dr. Martha Dow's sociology classroom, you'd better be prepared to be an engaged and active participant in the course.Dow, winner of this year's Teaching Excellence award at the University of the Fraser Valley, wants students' minds to be stretched, shifted, and challenged, and for them to contribute to the collective learning of everyone present, including herself.
Her approach to teaching echoes UFV's Changing Lives and Building Community slogan.
"I try to create a community of learners. I truly believe that we can change students' lives and that they can then go change the lives of others, out in our communities."
She is so determined to have an impact on her students' lives, that she offers them a guarantee.
"I tell them 'If your mind hasn't shifted at all by the end of the course, I will pay for your course.' Nobody has ever taken me up on it."
Dow comes from a teaching family. Her mother and grandmother were teachers, as are two of her siblings.
"My mom and grandmother would be over the moon to know that I was receiving this award. My mom taught acting to professors, and always told me, 'never turn out the lights.' I am a real conversational-style lecturer. I take students on a journey through the material, drawing on current events for examples. I cover the core concepts, but tie them to what's going on now."
"I want the students to keep an eye on local, provincial, national, and international current events. What we're doing here is education for citizenship. Some of them tell me I've wrecked TV for them because they can never look at it without a critical eye again."
Dow isn't just active in the classroom. She's also engaged in research, community participation, and service work, all of which feeds into her courses. In that way, she's a role model for her students.
She was recently in the news for her work with the City of Surrey to create an "Elderbank" that will make elders available as community resources, but that's just one example of the many presentations, publications, projects, conferences, and committees she's been involved with since joining UFV in 1994.
"A lot of students get pressure about what they can do with a sociology degree. I try to make sociology come alive for them and show them that in my work I am a real live sociologist in action. The critical thinking, writing, and research skills we emphasize cut across all disciplines and are in demand by all sorts of employers. They are looking for thoughtful, engaged, literate employees."
She teaches several upper-level courses on topics such as deviance, death and dying, sexuality, and public policy analysis, but her favourite is the introductory course, Sociology 101.
"It's a chance to introduce students to the discipline and even recruit them. We have lots of fun, looking at a buffet of topics from a sociological perspective. I just love to see the light bulbs going off in students' heads year after year as they start to make connections."
At the upper-level, Dow takes an innovative approach to learning. She asks students to work with her to design an individual learning contract, in which they outline how they will convey what they've learned. Projects have taken the form of traditional term papers, but also paintings, photography, scripts, and board games.
When it comes to final exam time, she also introduces a twist. Instead of sitting down to write a test, the students meet with Dow in groups of four or five for oral exams in which they articulate what they've learned. There is an option for a written exam, but few take it.
"I got so much out of defending my master's thesis and my PhD that I thought I'd try to recreate that at the undergraduate level," she notes. "The students really engage with this format and are amazed by what they can actually say over those three hours. It really challenges them to come prepared to speak about big ideas."
Dow feels very honoured that some of her students took the time to nominate her for the Teaching Excellence award.
"What I do is a great responsibility and a wonderful privilege. I am growing as much as the students. It is an honour to be formally recognized by them for this."
Student Robyn Mooney, who nominated Dow for the award, has high praise for Dow.
"Martha is the best teacher I ever had. She presents course material in a way that is both easy to understand and incredibly engaging. Her innovative 'learning contracts' allow students to explore course material in the context of their own interests and disciplines of study, and her oral exams push us out of our comfort zones in a way a written exam never could. She takes an interest in her students and makes efforts to customize coursework in a way that works best for each individual."
-30-