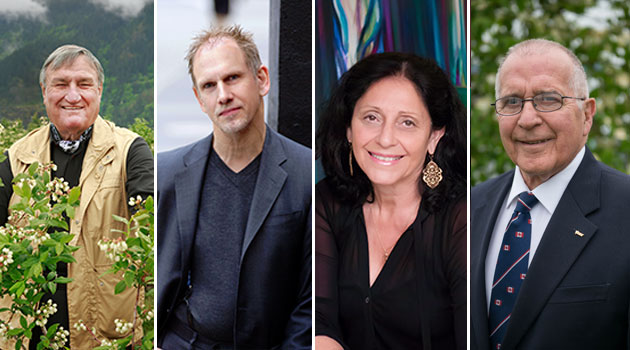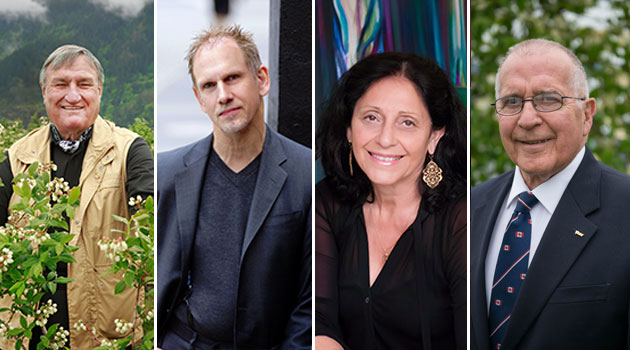 Four Canadians who exemplify leadership and excellence will receive honorary doctorates from the University of the Fraser Valley this spring.
Business titan Luigi Aquilini, lawyer and Paralympian Halldor Bjarnason, artist and activist Linda Frimer, and educator and community leader George Peary will each be honoured at one of UFV's four convocation ceremonies on June 2 and 3 at Abbotsford Centre.
"These distinguished and visionary leaders are being honoured for exemplary contributions that align well with our University's vision and values," said UFV President Mark Evered. "Each has had a significant impact on his or her community and the world. We are delighted to welcome them as UFV alumni by conferring upon them our highest honour."
Luigi Aquilini, the patriarch of one of the most successful family businesses in Canada, arrived in Vancouver on a Friday night in April 1956 as a young man, penniless and speaking very little English. By Monday morning he had a job in an iron foundry and began teaching himself several trades.
Through hard work, determination, and business acumen, Luigi and his family have expanded their interests that now stretch from the Atlantic to the Pacific, and into the United States and Europe, Australia, and Asia.
His family is well-known as owners of the NHL Vancouver Canucks and Rogers Arena, and he is deeply involved with philanthropic contributions and partnerships with First Nations communities, in land conservation, and agriculture (he is one of the largest blueberry and cranberry producers in the world). Luigi Aquilini will be honoured at the 9 am UFV convocation ceremony on Fri, June 3 in Abbotsford.
Halldor Bjarnason has spent much of his 27-year legal career making life better for British Columbians with disabilities. He overcame both the challenges posed by his cerebral palsy and the attitudes held by some within his profession to become a successful lawyer and champion for clients with disabilities.
As a practising lawyer, Bjarnason has worked tirelessly to advance the cause of, and the related law for, people with disabilities who require trusts. For many British Columbians with disabilities, a trust is the only route to escaping lifelong poverty so his legacy has great impact and longevity.
In 1988, Bjarnason set a world record and won a gold medal in sprint cycling at the Paralympic games in Seoul, Korea. Among many volunteer activities, he is a leader of his young son's Cub Scout pack. Halldor Bjarnason will receive his doctorate at 10 am on Thurs, June 2 in Abbotsford.
Linda Frimer is an artist who has spent her life encouraging others, including those living with the legacy of the Holocaust, to discover art's healing powers and to use creativity to heal trauma. In the process, she has become a champion of environmental and health issues, a cultural and community facilitator for the release of trauma through creativity, and a teacher.
Since 1982, her paintings have formed a part of significant collections and benefited countless organizations. She is currently working on a series of interactive books on the theme of healing through creativity. Linda Frimer will receive her doctorate at the 3 pm ceremony on Thurs, June 2 in Abbotsford.
George Peary is a pioneering educational and community leader. A former Abbotsford mayor, councillor, and school principal, Peary is active in his community and innovative in his approach to education at all levels.
In partnership with the University of the Fraser Valley, Peary created the Career Technical Centre, the first school in Canada where secondary teachers and university instructors worked side by side, teaching the same students and collaborating. This revolutionary concept of a seamless transition from high school to post-secondary education has since been adopted throughout the province, and enables students to begin post-secondary programs leading to employment credentials while still in high school.
Actively contributing following his retirement from the public system, Peary is involved in many charitable causes, is principal of Dasmesh Punjabi School in Abbotsford, and has taught for UFV's Bachelor of Business Administration program in Chandigarh, India. George Peary will receive his honorary degree at 2 pm on June 3 in Abbotsford.
For more information please contact Dave Pinton, Director of Communications at dave.pinton@ufv.ca or 604.702.2606
-30-