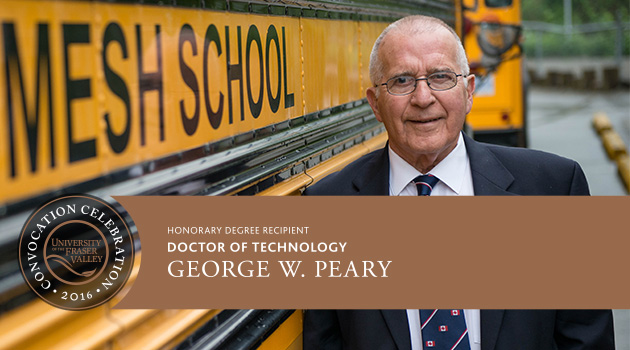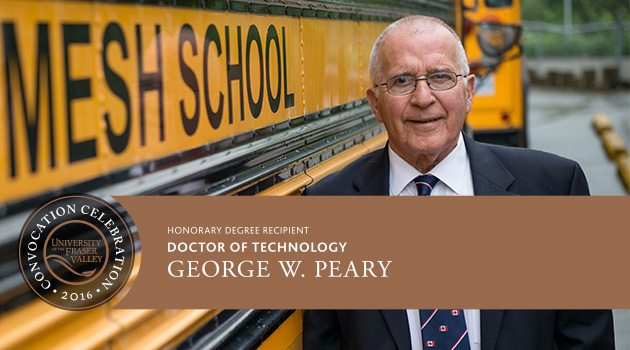 Decades of public service behind him, George Peary has a quip for every occasion, a story for every situation, and now an honorary degree from UFV recognizing a lifetime of community commitment.
"I'm an ordinary fellow who's been given an extraordinary opportunity to serve," he says.
"You make a living by what you get, but you make a life by what you give."
Since arriving in Abbotsford 43 years ago, Peary's impact has been beyond substantial. For 18 years he served on municipal councils for the District of Matsqui and later the new City of Abbotsford (famously delivering one campaign speech standing on his head while facing away from the audience), followed by a three-year term as school trustee before serving as Abbotsford's mayor from 2008-11.
"I left politics because of illness," he jokes. "The people got sick of me."
Quick wit and boyish mischievousness make Peary particularly popular in his latest role as principal of Dasmesh Punjabi School. Small arms ring around his neck in excited embrace every morning as he greets students arriving by bus to the K-12 school specializing in exceptional education rooted in Sikh principles.
"I haven't decided what I want to do when I grow up yet, so I'm still having fun with the kids. For myself and lot of the staff it's a calling apart from being a job."
The seeds for Dasmesh were sown when Peary joined UFV as a sessional Business instructor following his career in politics. The UFV School of Business asked if he was interested in teaching at UFV's campus in Chandigarh, India. After quick consultation with wife Sylvia, the pair took flight in 2013. They were warmly welcomed back for another fall semester the following year.
George engaged Indian students with his usual antics: hoisting them on his shoulders and bouncing around the room, sometimes reciting his favourite Dr. Seuss passages. Sylvia kept a popular blog during the inaugural stay, then put her own MBA to use as an instructor in 2014. The pair are nearly inseparable.
"I make the living and she makes the living worthwhile," he says.
A multi-sport athlete, he'd been named Brandon Manitoba's Athlete of the Year when only 16. A self-described 'bowling ball on skates', Peary seemed destined for the NHL when a deflected puck slammed his right eye while he was captain of the Brandon Wheat Kings. The injury made reading impossible, and he ended up one course short of his degree at Brandon University.
Peary transferred to the University of Saskatchewan, staying with his sister. The plan was to major in economics, but on registration day the line was much shorter to sign up for physical education, so Peary studied that instead.
With Brandon University science credits in his pocket, Peary's course load was light enough to accept an afternoon teaching job at a Saskatoon Catholic school. The pipe-smoking priest principal eventually asked Peary to be his Vice-Principal, then he became principal at age 27. When the school went co-ed, Peary gathered his parkas and accepted a principal's position in Whitehorse at the largest high school in Canada's north, living through four tough northern winters before heading south to Abbotsford.
He'd visited Vancouver while competing against UBC as varsity athlete excelling in judo, hockey, football and wrestling.
"It was beautiful and warm and I always wanted to go back, so I made that happen."
He started as vice principal at Abbotsford Senior Secondary, then served as principal of Maple Ridge Secondary, W.J. Mouat Secondary, Abbotsford Junior Secondary and Yale Secondary.
As a secondary school administrator, Peary helped develop a new model of education at the Career Technical Centre (CTC). Working with UFV, Peary led the CTC to become the first school in Canada where high school students in trades and technical programs could earn university credits before graduating. Students learned from secondary teachers and university instructors working side by side in this pioneering approach.
"It was avant-garde, but has now unleashed similar programs across Canada."
Peary earned his chops as a respected educator, but also as a national-level Judo competitor. A second-degree blackbelt, he finished second in the Canadian Judo Championships and represented Canada at the world championships.
Away from the mat, Peary's community service includes: charter president and member of the Rotary Club of Abbotsford; director of the 1995 Western Canada Summer Games; director of the Abbotsford Sports Hall of Fame; board member of Central Fraser Valley Fairs Association; member of Abbotsford Chamber of Commerce, MSA Museum Society, Habitat for Humanity, and Agrifair; advisor to Abbotsford Hospice fundraising programs; plus 21 years involvement in making the City's Abbotsford Regional Hospital and Cancer Centre a reality. He's also been chair of the Campaign for Healthcare Excellence and the Fraser Valley Health Region.
Most recently, he's leading a team organizing hundreds of accreditations for this year's BC Summer Games in Abbotsford.
His accolades include: Rotary International Paul Harris Award on two occasions; Distinguished Alumni Award from Brandon University; honorary Military Engineer by 192 Airfield Engineering Flight Abbotsford; and Queen's Diamond Jubilee Medal for outstanding community service.
In 2015, Peary was inducted into the Order of Abbotsford and named one of the community's Citizens of the Year.
Throughout it all, Peary has endeared himself to generations of families throughout Abbotsford.
His advice is simple.
"Have fun," he says.
"I think there's enough misery in the world so try to enjoy yourself, and always be in a position to help others."
-30-