When Jason Beck signed up for a course in Canadian sport history at UFV, he had no idea that it would be a career-defining action.
And when he wrote a directed studies paper on the famous Miracle Mile between Roger Bannister and John Landy, he didn't know that it would one day grow into a published book.
But both those dreams, which got their start at UFV, eventually came true. Today he is the curator for the BC Sports Hall of Fame, and his book The Miracle Mile, Stories of the 1954 British Empire and Commonwealth Games, has just been published.
Beck attended UFV for three years, and played varsity soccer for the Cascades. He started out in general studies and dabbled in kinesiology, but soon discovered that history was his passion.
"While I was taking Robin Anderson's Canadian sport history class, it occurred to me that it would be really cool to do this for a living. I wrote a paper on the 1972 Canada-Russia summit hockey series, and the writing really clicked. I had so much fun researching it, and Robin really took me under his wing," Beck recalls.
Beck ended up doing a directed studies course with Anderson, researching the 1954 Empire Games in Vancouver that saw Roger Bannister and John Landy run the Miracle Mile, the first race in which two runners beat the four-minute mile mark.
His paper ended up being published by the prestigious Sport History Review journal while he was still a UFV student. Later, when he had transferred to SFU, he cited his own article in another work. The professor didn't believe him until he showed her the published article.
As part of the sport history class, Beck and his fellow students visited the B.C. Sports Hall of Fame, located in B.C. Place stadium, and he was intrigued. This led to him volunteering there once a week as his practicum for the UFV Applied Studies in History class, which in turn led to two years of part-time work.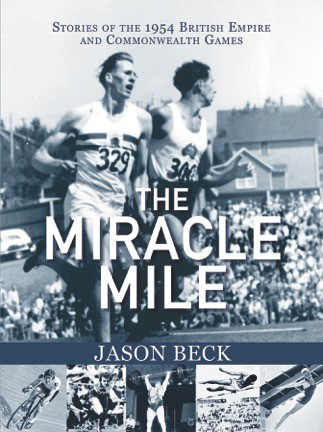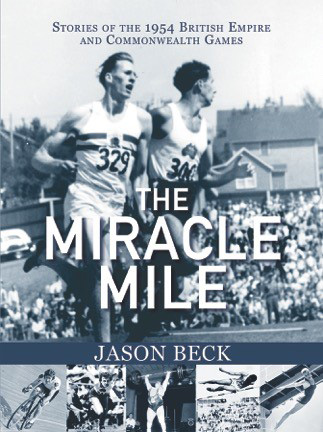 After completing a history degree with a minor in Canadian studies at SFU, Jason joined the BC Sports Hall of Fame as a full-time curator.
"I was lucky to have the opportunities and to get the applied experience I did. UFV was so good to me. The History department is just excellent and the professors were as good as or superior to those I encountered at other universities."
As for his job, "Most days, it still doesn't feel like work. Every day is different and I love the combination of exhibit design, interaction with visitors and athletes, sport history research and writing, as well as hands-on installation. The contacts I've built in the sports community have proven invaluable and many are now long-time friends."
As for the newly published book on the Miracle Mile and other memories of the Empire Games (the 1954 sporting event that Vancouver on the map in the world of international sport), we can partially thank the Westcoast Express for that.
Beck worked on it a couple of hours a day for years while commuting on the train to Vancouver, writing by hand and then transcribing at night.
"From as long as I can remember I have always followed sports," Beck recalls. "Some of my earliest memories were patiently waiting for my dad to finish reading The Province so I could read the sports section.  I've always enjoyed reading sports books and have built a personal library of several thousand."
The book on the Empire games started as a spark of an idea inspired by the Vedder Canal.
"I grew up on a dairy farm on Sumas Prairie about ten minutes east of Abbotsford, not far from the Vedder Canal, where the 1954 Empire Games rowing events took place. I vividly recall feeling shocked that rowers would even attempt to stroke their delicate shells on the unpredictable and debris-strewn waters of the Vedder.
"Upon learning one of the Games events took place on this canal, I remember it triggered something and suddenly I became much more aware of other connections to the Games that I stumbled across, unconsciously filing them away for what purpose I still didn't yet know," he recalls.
"Many more of these stories from the Games found me as often as I found them over the ensuing 2-3 years as I continued working at the Hall of Fame. Finally I decided something had to be done about it and maybe I was the one to do it. I made the conscious decision to begin research of something of book length. I began gathering material in August 2006 and for the next year and a half I spent countless hours in archives, sifting through newspapers on microfiche, and ordering rare books from around the world.
"My girlfriend at the time — now my wife Nicole — thankfully was and is a very understanding and supportive partner. At the same time, I began interviewing individuals. Some attended the Games and many competed at them. Often while interviewing one athlete, they asked me if I knew one of their teammates or competitors and passed along their contact information.  Things snowballed from there. I believe I interviewed roughly 80 people from approximately a dozen nations for this book when all was said and done."
He began writing in 2008, and finished the first draft in 2014. The next year was spent editing down the 400,000 word tome to 100,000 words.
With the help of a friend, he sent the manuscript to four publishers and ended up with offers from three. Caitlin Press won out, and the book was published in 2016.
The book can be found in most bookstores or can be ordered online here.