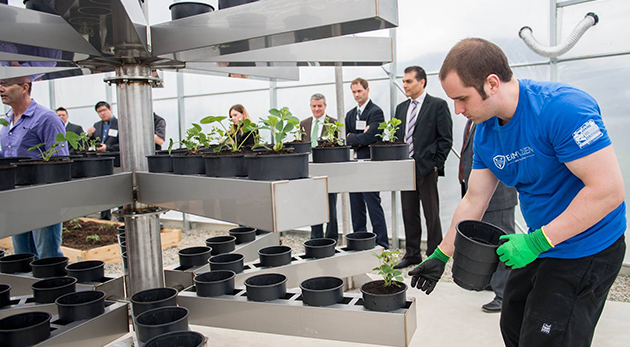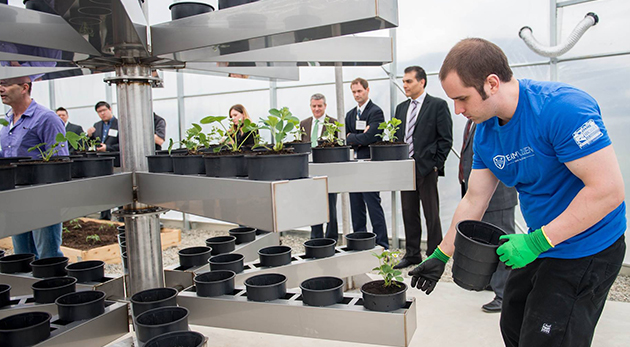 The City of Surrey, the John Volken Academy (JVA), the University of the Fraser Valley (UFV), and educational partners have unveiled twin high-tech greenhouses known as BioPods.
The BioPods are a City of Surrey vision and a signature made-in-BC agricultural initiative designed as a catalyst for agricultural research and innovation in British Columbia.
As the global population marches towards 9 billion in 2050 and arable land area shrinks, agri-technology — technology used to improve healthy food production — is emerging as a vital way of maintaining sustainable food supplies. Located at the corner of 135 street and 68A Avenue in Surrey, the BioPods provide a testing ground for new technologies and techniques that will have far-reaching benefits.
Agri-Innovation is a priority focus area for the City of Surrey and is part of the City's Agricultural Protection and Enhancement Strategy, which focuses on specific steps that can be taken to preserve our land, enhance food security, and remain competitive in today's marketplace.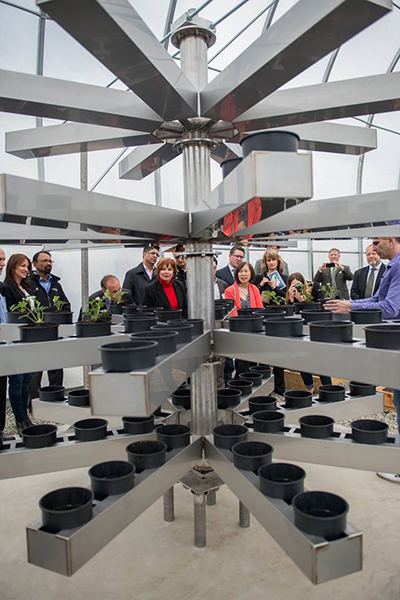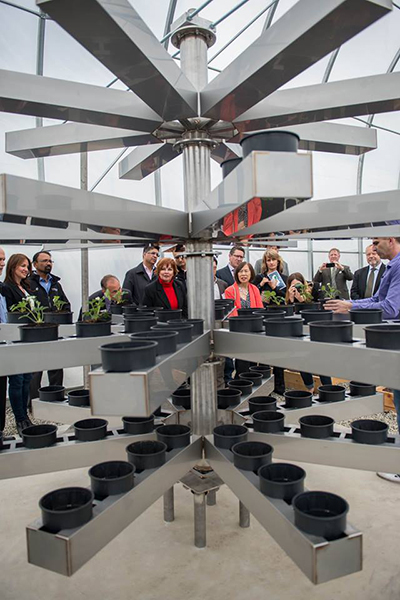 "I am proud and delighted that this City of Surrey vision is coming to fruition," said Mayor Linda Hepner. "In working in close partnership with the John Volken Academy and the University of the Fraser Valley to offer a curriculum to students, the City continues to support ways to find socially innovative and practical solutions to many of the issues facing modern cities and local neighbourhoods."
The state-of-practice greenhouses were built by BW Global Greenhouses and Shelters and feature Affinor Growers vertical growing systems, computer-controlled environments, optimized lighting materials, and water extractors that pull water from the air.
While new technology will be tested in the BioPods, they will also serve as a proving ground for student farmers learning to tend crops in these polymer oases.
Students participating in the life skills training program at neighbouring John Volken Academy will receive instruction in agri-tech under the guidance of greenhouse production instructors. The University of the Fraser Valley will provide certification so students can seek employment in this evolving sector.
"This is a win-win for John Volken Academy: not only does this advance the education and careers of our students, but it also plays a role in addressing the future challenges of growing food, and keeping the planet healthy in a changing climate," noted John Volken, JVA founder.
Organic crops grown in the BioPods will be sold next door at the Price Pro super-market or be used in dishes prepared at the JVA a few footsteps away, shortening the farm-to-market and farm-to-table distances to just a few meters and minutes instead of days.
The BioPods are one element of the BC Agriculture Centre of Excellence (ACE) at UFV, a network of leaders in agriculture from BC post-secondary institutions. ACE develops collaborative innovative solutions to help agriculture industry stakeholders succeed. The Investment Agriculture Foundation is the majority funder of the BioPod project, with integral support from JVA, Affinor Growers, and the City of Surrey.
"UFV is proud to partner in work that reflects our commitments to research, education, and service that directly benefit the economic, social, and sustainable development of our Valley. Agriculture is not only a major employer and economic driver of our region, it is an industry that contributes billions of dollars to the provincial economy," said Mark Evered, UFV president.
In creating a hub guided by academic leaders from the agricultural sector, and by developing workers skilled in advanced agricultural technologies, the BioPod project will further strengthen food systems in Surrey, and develop innovative solutions for agriculture excellence that reach across the province and beyond.