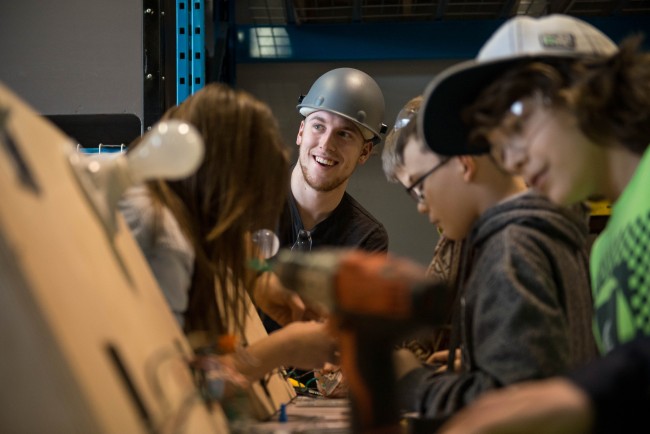 CHILLIWACK: – An additional 32 seats are being added to the electrical program at the University of the Fraser Valley (UFV) as part of the provincial strategy to align training with in-demand occupations that support the provincial economy.
"We are pleased that government recognizes the high-quality training delivered by the faculty in our electrical program and our commitment to both student success and the economic development of our region and province," said UFV president Dr Mark D. Evered.
UFV will receive a funding boost of $60,000 for the 32 trades seats in the electrical program: 16 seats for Level 2 training and 16 seats for Level 3 training.
"Electrical apprenticeship training at UFV has helped me gain the practical skills I need to do the job," said UFV electrical apprenticeship student Darian March. "The training I'm getting here will help me launch and build my career in a trade that's in demand."
The announcement today comes shortly before the two-year anniversary of B.C.'s Skills for Jobs Blueprint, launched by government on April 29, 2014. B.C.'s Blueprint outlines a plan to re-engineer the education system by aligning education and training with in-demand jobs in B.C.
"We expect almost one million job openings in B.C. by 2024, including those in the electrical trades," said Chilliwack MLA John Martin. "This funding helps to ensure that electrical trades students have the skills necessary for in-demand jobs in their community."
"Electrical trades are among those projected to be in the highest demand over the next decade in B.C.," said Chilliwack-Hope MLA Laurie Throness. "By targeting trades seats in the electrical program at the University of the Fraser Valley, those students will be first in line for those careers in the community."
Government has invested more than $1.39 million for 358 trades training seats and more than $783,000 for equipment at UFV since 2014.
"This $60,000 investment is one way government is building a skilled workforce in the community," said Abbotsford South MLA Darryl Plecas. "UFV provides students with excellent training and hands-on experience so they are prepared to meet the needs of trades employers."
Nearly one million job openings are expected in B.C. over the next decade, and eight out of ten of these openings will require post-secondary education. In-demand occupations requiring post-secondary education or training range from professional to management to trades in a range of sectors including technology, resource and health care.
– 30 –
News release issued by the Ministry of Advanced Education