It's understandable if students arriving on the Abbotsford campus Friday were a little confused.
Building A had suddenly become Adult Inmates.
Building B was Bureau of Investigations.
Building C was Cheque Point (a nod to it being home to the School of Business).
D was Detention.
E was Exercise Yard.
G was Get in Line.
H (Baker House) was Cell Block H.
And T was The Mess Hall.
If students felt like they'd suddenly gone to jail, there was some solace: big signs advertising FREE BEER on the campus green.
The small print? It was root beer.
The Student Union Society April Fool's Elves were up late the night before preparing the campus for general foolishness in the morning, all in the name of stress relief.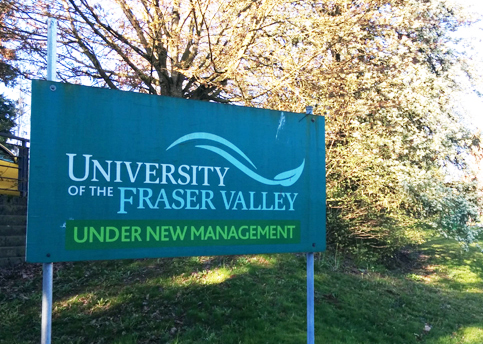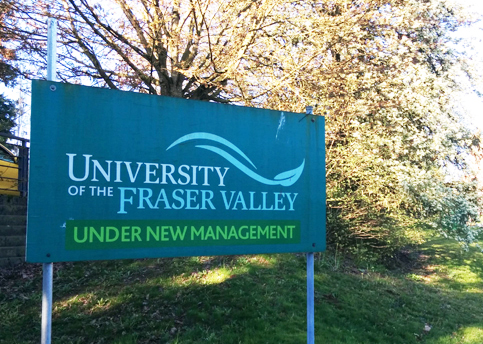 "We renamed all the buildings with a prison theme because this time of year, with all the pressures they are facing, students can start to feel a little trapped, especially given the beautiful weather," said SUS President Thomas Davies. "We thought we'd have some fun with a theme that touches on a mild truth. The root beer keg, complete with beer pong and jello shots, was another way of lightening things up at the end of the semester, although some students were upset when they read the fine print and discovered it was root beer."
Even VP Students Jody Gordon got in on the fun, sampling some root beer.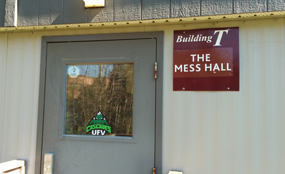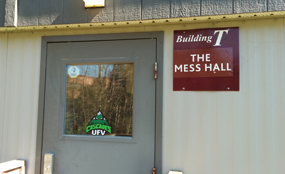 "We are appreciative of how hard SUS is working to shift our culture at UFV from a commuter campus to a lively and engaging campus," she said. "They already do so much in partnership with us and on their own to engage students in being active in campus life, such as encouraging students to be involved in student clubs and organizations, inviting in speakers, and holding all candidates meetings during elections, just to name a few. But today, on April Fool's Day, it was also about having a little fun. And we did, not just the students but all of us, staff and faculty included."