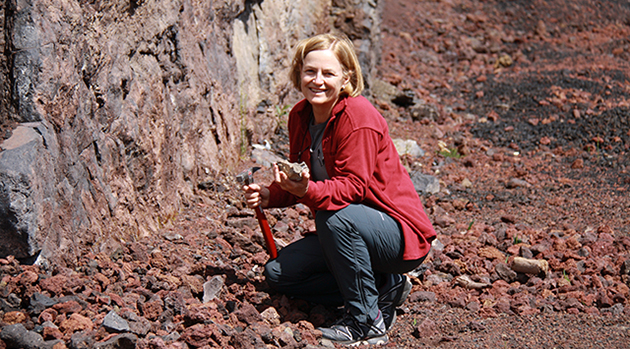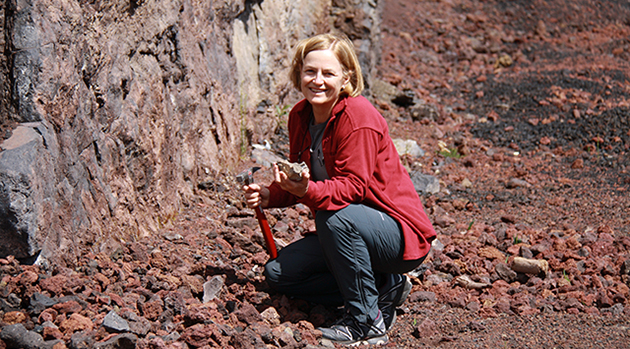 Dr. Catherine Hickson's geology career had an explosive start: she was an eyewitness to the May 18, 1980 explosion of Mount St. Helens in Washington State.
This devastating, almost instantaneous destruction of a vast area focused her attention on understanding the destructive forces of volcanoes, and her future as a volcanologist was set.
Since then her work has taken her from Arctic seas to the white continent of Antarctica and from the extreme altitude and aridness of the Andes to the barren slopes of erupting volcanoes.
A 2015 honorary doctorate recipient at the University of the Fraser Valley, she returns to UFV on Wed, March 30 to present as part of the President's Leadership Lecture Series in the Abbotsford campus lecture theatre (B101) at 4 pm. Come join Hickson in this exploration of our destructive planet and the earth forces that create such unique environments. Admission is free and the public is welcome.
Hickson's life began in Alberta — a far cry from towering peaks, floating icebergs and exploding volcanoes. If you asked her, she would be the first to admit that how her life has evolved was not at all what she envisioned for herself.  In fact she didn't really "follow her dreams", they followed her. A curious mind and an interest in the natural world provided the twists and turns that have evolved into an adventurous life.  An underlying theme though has been understanding how the massive forces of moving tectonic plates have created unique environments.
During her undergraduate days in UBC's geology program 36 years ago, Hickson stole away for a Victoria Day long weekend adventure. For weeks, seismic activity had been increasing under Mount St. Helens. Steam had broken through its summit crater.
"Everyone was talking about what Mount St. Helens was doing. It was the hottest thing going in geology, so I went down to check it out," Hickson says.
Her life changed forever when she watched from her campsite as the volcano erupted only 14 km away.
"Most of the people who died were north of us," she recalls.
"We were lucky in every way."
Fifty-seven people lost their lives that day. About 250 homes were destroyed, largely by massive debris avalanches triggered by an earthquake measuring 5.1 on the Richter scale. She wrote a book about her experience that day: Mt. St. Helens: Surviving the Stone Wind.
"It was the most incredible and devastating thing I'd ever seen, and it changed my life forever."
Inspired by her childhood questions and motivated by her experience at Mount. St. Helens, Hickson worked as a volcanologist for Natural Resources Canada's Geological Survey of Canada in Vancouver, researching how volcanoes formed and evolved by connecting the pieces of puzzles as each was revealed. She ascended to the position of Research Scientist Level 5, the highest attainable within the public service of Canada. She's the author of more than 100 scientific works, ranging from journal articles to abstracts. Her critical work paved the way for continued research, as well as for other women in her field.
Working in South America since 1994, Hickson was instrumental in conceiving, planning, and executing two major international geoscience aid efforts, leading the multi-million-dollar international research projects for more than 10 years.
She has mapped the Canadian Cordillera as well as the Cordillera of South America, and has considerable experience in other volcanic regions. One of the few female leaders in the earth science field, Hickson is active in mentoring women and young managers and was one of the founding members of the Scientists and Innovators in the Schools program.
After nearly 25 years in the public sector, Hickson moved into the corporate world, serving as vice-present, exploration, for a geothermal energy company, then president of her own exploration service company Tuya Terra Geo Corp. Her work often involves harnessing electricity from the hot water and steam released by volcanic activity. She is also a director of a junior mining company searching for Lithium deposits.
-30-