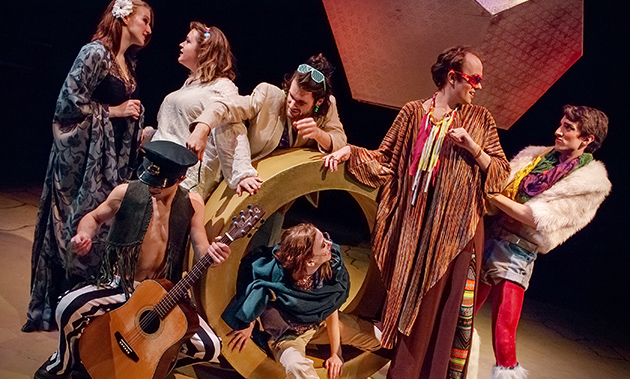 UFV Theatre is warming up the winter season with a modernized take on Shakespeare's Twelfth Night, a romantic comedy running March 3 to 20 at the UFV Performance Theatre on Yale Road in Chilliwack. Filled with music and dance, Shakespeare's play about love begins with the unforgettable line: "If the music be the food of love, play on!"
The play's story centers on the twins Viola and Sebastian (played by Jessica Milliken and Dyllan Egilson), who are separated in a shipwreck, and cast ashore in a strange land. Viola disguises herself as a boy to gain entry to court of Duke Orsino (Eli Funk), and soon finds herself entangled in a comic web of mistaken identities and misplaced love.
Twelfth Night was originally written to celebrate the Feast of Epiphany, an annual festival in Shakespeare's day, dedicated to revelry and misrule. The world was turned upside down for a day, as servants dressed up as their masters, men as women, and so forth. Taking a contemporary twist on this ancient celebration, the play's directors, Raina von Waldenburg, Bruce Kirkley, and Rae MacEachern-Eastwood, are using Burning Man as the conceptual inspiration for the show.
Burning Man, an annual festival held in the Nevada desert, promotes values of artistic self-expression, community, total inclusion and self-reliance. To capture these ideas, the show employs a new approach to acting called Viewpoints. Working together, the directors and cast have composed an innovative staging vocabulary that gives the actors considerable freedom to create in the moment of performing. "This show is a vibrant collaboration on the part of all the artists involved, both onstage and off," says von Waldenburg, "that celebrates revelry, community, creativity, and most of all, love."
The design team has approached their work in a similar way. Set designer Parjad Sharifi has created a minimalist, flexible set that allows the actors to rearrange set pieces to suit their own purposes. "What interests me most," says Sharifi, "is to see how the actors manipulate and ultimately transform these elements into stage metaphors. Their work expands and completes my work as a designer."
The Twelfth Night production team involves many senior students in leadership roles, including Rae MacEachern-Eastwood (Co-Director), Kyra Esau (Choreographer), Emily Eggert-Botkin (Music Director), Ally Schuurman (Dramaturge and Vocal Coach), Calvin Baker (Lighting Design), Matt Piton (Sound Design), Natasha Beaumont and Desiree Hale (Costume Design), and Paul Sawyer (Props Design).
Twelfth Night is produced by the University of the Fraser Valley Theatre department, with performances at 7:30 pm on March 3, 4, 10, 11, 12, 17, 18, 19, student matinees at 12:30 pm on March 8 and 9, and Sunday matinees at 2 pm on March 6, 13, 20. Purchase your tickets online at www.ufv.ca/theatre/, or contact the Box Office by email at theatre@ufv.ca or phone 604-795-2814. All performances are at the UFV Performance Theatre, 45635 Yale Road (at Airport Road). Regular Box Office hours are Monday–Thursday from 9 am–4 pm.