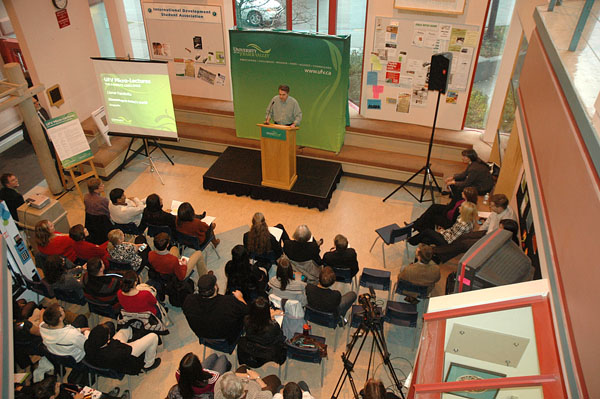 Come see UFV faculty take the two-minute challenge at the Faculty Microlectures on Wed, Feb 24
More than two dozen professors from a variety of disciplines will take to the podium at the Road Runner Cafe and Lounge on the Abbotsford campus (Building A). The event starts at 11:30 am. Attendance is free and the public is welcome.
The following faculty speakers will be presenting snapshots of their research findings (in this order):
David Dobson, School of Business — Effects of Communicating Environmental Claims in Social Media on Willingness to Pay
Nicola Mooney, Social, Cultural & Media Studies — Land and Identity among Diasporic Jat Sikh Youth
Leonne Beebe, Upgrading and University Preparation — How was your participation this week? You tell me. The benefits of using metacognitive actives for participant self-assessment in online learning.
Clare Dale, History — The Good, The Bad, and the Lieutenant Governor: John Graves Simcoe and the British Imperial Experience, 1787-1805
Michelle Riedlinger, Communications — Making sense of salmon health during the Cohen Commission of Inquiry into the decline of sockeye salmon in the Fraser River
Irwin Cohen, Criminology & Criminal Justice — Why and How the Police Crash Cars
Joanne Nelmes, Nursing — Faces of Chronic Pain: Bringing Visibility to an Invisible Disability
Lucy Lee, Science — Fish cell lines as tools in fish health and environmental monitoring
Fiona MacDonald, Political Science — Enacting Indigenous Rights: The Political Potential of the UN Declaration on the Rights of Indigenous Peoples
Chantelle Marlor, Social, Cultural & Media Studies — Producing Loveable Monsters
Amy Prevost, Criminology & Criminal Justice — Empowerment of Adolescent Girls and Young Women to Escape from the Commercial Sex Industry in Hanoi/Vietnam: Summary of Key Findings.
Rajnish Dhawan, English — Sitthani; Verbal porn performed in the public sphere during a Pious ceremony
Christine Slavik, Child, Youth and Family Studies — Creating therapeutic, child-friendly interview spaces to promote positive outcomes for the children and youth going through a forensic interview process.
Peter Rasquinha, ITS/Upgrading and University Preparation — Strategic Alignment of IT Projects
Barbara Messamore, History — Canada's First Elected Senate
David Harper, Kinesiology — Ketogenic Nutrition Reduces Biomarker for Cancer and Cardiovascular Disease
Kim Nickel, Criminology & Criminal Justice — Experiential Learning in Criminal Justice: Findings from field supervisors
Samantha Pattridge, Communications — Teaching Communications when you have flipped: Investigating the Flipped Classroom Model
Garry Fehr, Agriculture Centre of Excellence — The Importance of Seasonal Agriculture Labour in the Fraser Valley
Margaret Coombes, Social Work and Human Services — Effectiveness of Family Education Programs
Shurli Makmillen, English — Alan Duff's Once Were Warriors and Patricia Grace's Baby No-Eyes: Indigenous titles as rhetorical genre
Scott Shupe, Geography & the Environment — Engaging Citizen Scientists in Environmental Research in British Columbia: monitor locally, contribute globally
Joanna Sheppard, Kinesiology — Physical Literacy: Playing with purpose
Hayli Millar, Criminology & Criminal Justice — Critical Reflections on Human Trafficking Laws and Discourses in Canada Post-Palermo, 2002-2015
Kirsten Robertson, School of Business — Narratives of Meaningful Work
Shaun Zheng Sun, Mathematics and Statistics — Statistical tests for distributions of unobserved variables
The Faculty Microlectures are presented by the UFV Office of Research, Engagement, and Graduate Studies.
-30-