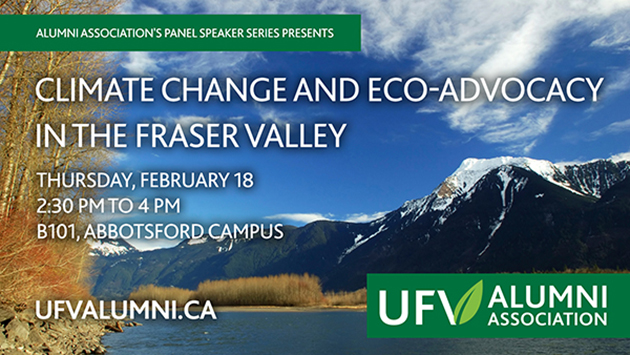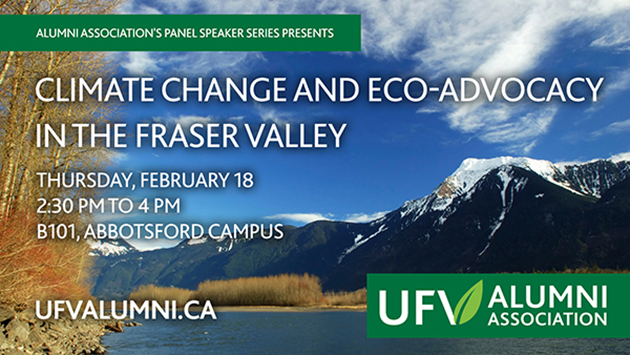 Climate change presents unique challenges in the Fraser Valley, and UFV alumni and students tackling them in their careers and volunteer work.
UFV's Alumni Expert Speaker Series will highlight some of the action being taken and discuss ways you can make an environmental difference in your community in its latest panel discussion on Feb 18.
Join faculty host Pat Harrison and guest panelists at Climate Change and Eco-Advocacy in the Fraser Valley, a event that will bring together alumni, faculty, and students to share their stories and learn from one another about how they experience the effects of climate change and how to be an eco-advocate in your community.
Thurs, Feb 18
2:30-4 pm
Room B101, Abbotsford campus.
Admission is free and the public is welcome.
About the presenters
Pat Harrison is a biology professor in the Faculty of Science at the University of the Fraser Valley and the chair of the UFV Centre for Sustainability. Pat grew up in Missoula, Montana. He always knew he wanted to be a biologist. Pat received his first degree in zoology and became a park ranger in 1970. Pat returned to graduate school to study the ecology of fungi. After graduate school, Pat taught at UBC for 17 years before joining UFV's Biology department in 2003. Pat has been the recipient of many awards related to environmentalism, sustainability and service.
Guest Panelists:
Sheena Adams, BGs '11 — Sheena holds a Bachelor of General Studies from UFV and currently works in Inuvik, Nunavut as the regional energy project coordinator at Arctic Energy Alliance.
Alyssa Bougie, fourth-year BSc (Biology) student — Alyssa works as the sustainability coordinator aAssistant for UFV Facilities Management and as a community coordinator for the Solve It! UFV Community Innovation Challenge. Alyssa has been nominated for the 2016 Green Leader of Tomorrow award from the Abbotsford-Matsqui Rotary Club.
Jillian Hanson-Carlson, BSc '13 — Jillian completed a Bachelor of Science in physical geography from UFV and she also holds certifications in LEED AP BD+C and inspection of erosion and sedimentation control. Jillian works as a green building coordinator at Light House Sustainable Consulting.
Ashleigh Yakemchuk, BA '15 — Ashleigh graduated with a Bachelor of Arts in physical geography from UFV and is working as the principal investigator at the Agricultural Center of Excellence in Sustainability. Ashleigh was the winner of the 2015 Green Leader of Tomorrow award from the Abbotsford-Matsqui Rotary Club.
About the Alumni Expert Speaker Series
The series is inspired by the UFV Alumni Association's mission to engage with current students and provide them with relevant information about career options and the potential for varied experiences in their field and in life in general. The topics presented are also of interest to faculty, alumni, and the general public, all of whom are welcome to attend.