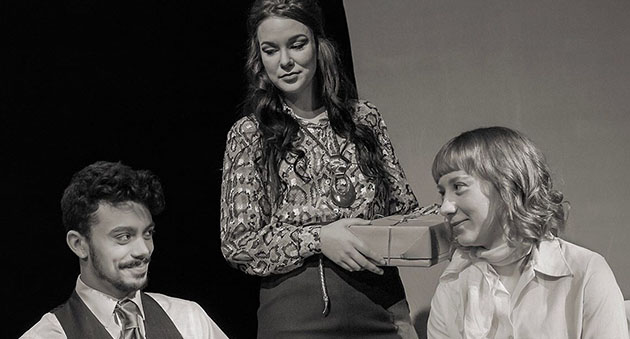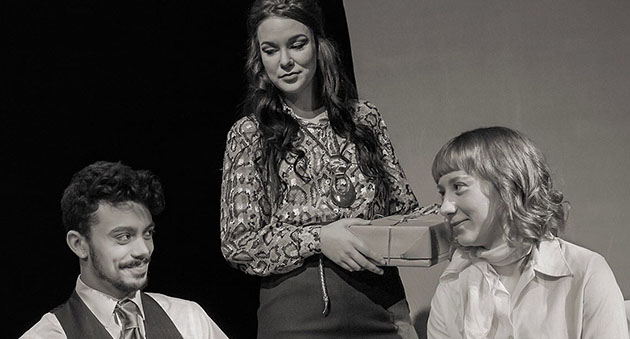 It's a real premiere for UFV Theatre. For the first time, a regular season production will be produced and presented entirely by students.
The University of the Fraser Valley Theatre department and UFV's Ensemble Project class are proud to present The Romeo Initiative, by Trina Davies. Performances are January 14-16 at 7:30 pm and January 17 at 2 pm and will take place at the performance studio at the UFV Chilliwack campus at the Canada Education Park (note change from usual theatre venue).
The Romeo Initiative, by Trina Davies, is a story of love, lies, and intrigue, set against the backdrop of the Cold War politics of 1970s Germany. Taking place at a time when the population of women greatly outnumbered that of the men, the story follows Karin, a secretary in West Germany, and her relationship with the mysterious Markus. Told from alternating perspectives, the play asks: can true love emerge from an artificial environment?
The UFV Ensemble Project was created to give students the chance to learn what putting on a theatrical production really entails. The class selected a play, assigned production roles, and proceeded to produce, design, rehearse, build, and manage every aspect of the show. The Romeo Initiative has become a labour of love, the result of giving 16 theatre students the power to create and present a show of their very own and participate in a unique collaborative process.
For ticket reservations, email ufvromeoinitiative@gmail.com with your name, number of and type of ticket, and performance dates. This is a reservation only; tickets will then be available at the door for purchase, where our box office is cash only. Tickets are also available at the door. Prices are $12 for adults and $10 for seniors/students.
Performances will take place in room 2106 of Building A at the UFV Chilliwack campus at Canada Education Park, located at 45190 Caen Ave in Chilliwack, BC.
For more information please email ufvromeoinitiatice@gmail.com or visit facebook.com/ufvromeo.