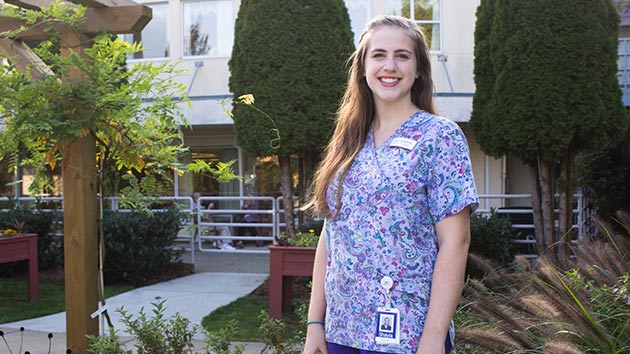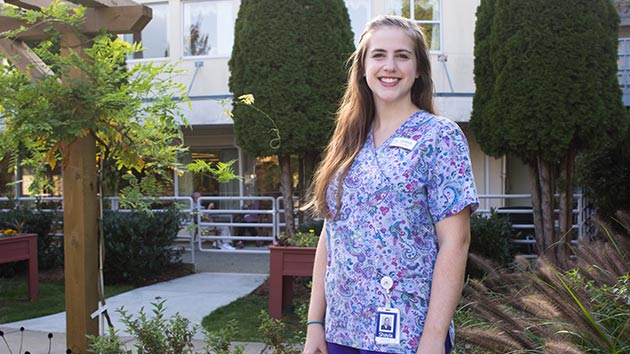 Growing up, Shayla Peters had dreamed of becoming a nurse.
But then, grade 12 happened. "I lost my motivation," Shayla recalls. "I just wanted to get out of high school. I no longer knew what I wanted to do." Shayla found work at a fast food outlet. "That was just a job," she says.
"The kind you do when you're not serious about your future." Bored and underpaid, Shayla felt stuck. After six months, she realized she needed to take action if she wanted a change.
Choosing a Career
"My mom told me about the eight-month Nursing Unit Clerk program at UFV," she says. "It did not require as much schooling as Nursing and wasn't as expensive. I had always wanted to work in health care. The idea of helping people appealed to me."
Shayla started researching the profession online: she saw lots of job postings on employment sites. And the hours were good.
"I enrolled in the program in 2010," Shayla says. "It was a lot of work, but it was worth it. The program has high standards. And the teachers are incredible. They have experience in the field and the stories they share are relevant and useful."
At the end of the program, Shayla completed a practicum at the Abbotsford Regional Hospital, where she gained hands-on experience. After graduation, she applied for a job there. But under pressure, she failed the test. The job required that she type 50 words a minute; she fell just short of the mark at 48.
She beat herself up afterward. It was such a missed opportunity. What followed was almost a year of applying for every Nursing Unit Clerk job under the sun. While looking for a break in the profession, Shayla worked in a coffee shop. "It was discouraging," she confesses. "But I still would say to anyone in my shoes, 'Just keep applying.' Persistence pays off in the end."
Taking an Unexpected Path
However, when a nursing unit clerk job opened up at Menno Home in 2011, Shayla considered letting it pass. "I had never pictured myself working in residential care," she says. "I was afraid it may be a depressing work environment." But months of hopes dying in the bud had toughened Shayla up. What did she have to lose? She opted to apply to the 24-hour care facility, located on the Menno Place campus in Abbotsford.
This time, not only did her résumé make it to the top of the pile, but she also landed the job. And submitting an application turned out to be the best decision of her life.
"I was wrong about working with seniors," she explains. "I just didn't know how rewarding it would be. Menno Home is an amazing place and I would like to continue working here until I retire."
Such a statement appears extreme for a young person who has almost 40 years left in the workplace. "I am serious," Shayla protests, when she is faced with skepticism. "My co-workers are amazing. They are compassionate and loving. They care about each other and about the residents. Not many workplaces provide this type of supportive environment."
Life as a Nursing Unit Clerk
At Menno Home, Shayla works at the front desk. "I am right in the middle of all the action," she points out. "Every day is different. I love that. It never gets boring."
In addition to handling admissions, transfers, and discharges and keeping all records in order, Shayla organizes charts, prints lab reports, stocks supplies, directs visitors, answers questions, and more.
But perhaps more meaningfully, she gets to make a difference in people's lives. "It is like caring for your grandparents," she says. "You just grow to love the residents."
Working with seniors takes patience and understanding, especially when memory loss strikes. "Residents sometimes wander to the front desk, and they are confused or agitated," Shayla says. "I may comfort them or take them to their bedrooms. They are so thankful for my help."
Shayla acknowledges that the death of residents is always heart wrenching. "It is sad to see people you care about decline and die," she says. "But we can rest on the fact that we have done everything we could to make the last part of their lives as happy as it can be."
Despite the hard moments, Shayla would not give up her job for anything. "Every day, I feel good about going to work," she says. "It's exciting and rewarding to work at Menno Home."
On the whole, Shayla credits her training for the opportunity to find fulfillment in her career. "I wouldn't have had the chance to work at Menno Home if I didn't take the Nursing Unit Clerk program at UFV," she stresses.