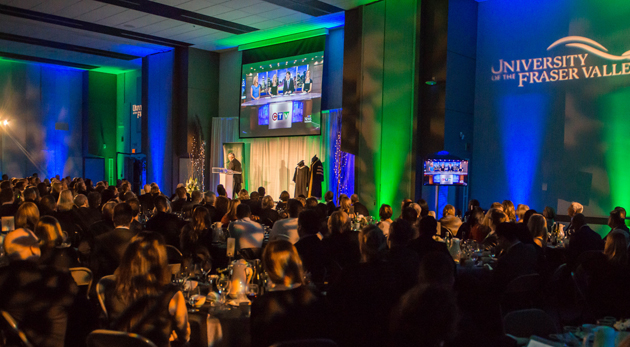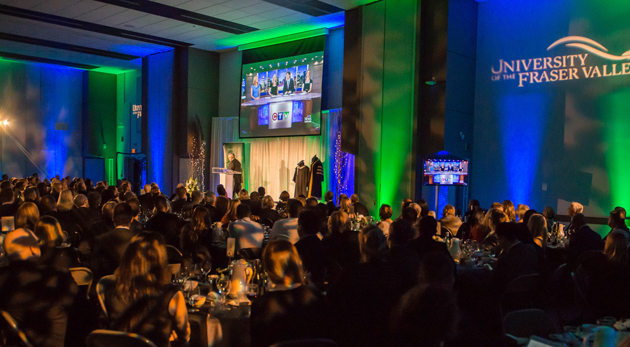 Community and academia joined forces at "Town and Gown", the University of the Fraser Valley's inaugural fundraising dinner and silent auction held on Nov 12 in the Great Hall of UFV's new Student Union Building.
More than 230 people attended the gala. The evening raised $40,000 in support of scholarships for UFV students.
UFV President Mark Evered thanked guests, many of whom have supported UFV over the years, for investing in the university.
"Thank you for recognizing that an investment in education is an investment in the people who will create our future, in the people who will enrich our lives and our communities, in the people who will have the passion and skills and imagination to tackle whatever the future has in store for us and them. Is there a better investment than that?"
He noted that the Fraser Valley community has supported UFV throughout its four-decade history.
"Town and gown have journeyed together in this Valley, for over 40 years. We have built a university on the vision of people like you who saw not only the educational opportunities for themselves and their families, but the ways in which a good university would enrich us all. It is that vision that continues to guide us. Tonight, in a small way, we celebrate the return on our investments and our labours."

UFV and the UFV Alumni Association recognized two outstanding alumni at the event. Dr. Mike Hildebrand, now an assistant professor at Carleton University in Ottawa, was named Distinguished Alumni for 2015. Alex Reimer, an electrician who runs his own business and serves as an electrical inspector, was named Young Distinguished Alumni. Nik Venema, chair of the Alumni Association, introduced the award winners.
Hildebrand thanked UFV for setting him on the path to his dream job as a professor with research and teaching duties.
"When I think of the impact UFV has had on my life, three things come to mind: expanded horizons, the pursuit of excellence, and putting people first," he noted. "Through advice and encouragement from Tony Stea, Noham Weinberg, and others at UFV, a whole new world of research was opened up to me. The quality of instruction, hands-on teaching, and mentoring I received was first class: this strong academic foundation is what equipped me to excel in neuroscience. UFV taught me that before all else, people come first. Each and every one of my professors and administrators had an open door policy. I emulate that in my own career."
Young Distinguished Alumni Alex Reimer said that he has no regrets about starting his university education while still in high school through a special partnership between UFV and the Abbotsford School District.
"I'm very proud to have gone to university to learn a trade," he explained "I knew I didn't want to finish high school without a clear career path in mind. It was an easy decision to follow my early passion for installing car stereo systems and so I enrolled at the Career Technical Centre, which was supported by UFV. Instructor Dave Riel was able to make electrical engaging! Suddenly, it all seemed so clear! I found my passion. I always found the instructors knowledgeable, friendly, and supportive. The university has never let me down."
Two current students spoke at the event.
Sophie Smit first met President Mark Evered at her high school awards ceremony as he was presenting her with the President's Entrance Scholarship, and he complimented her on her Converse all-star shoes.
"For me, receiving scholarships was a huge motivating factor to stay in the Valley instead of heading off to a different university, but that's really only the beginning. Dr. Evered's 'nice shoes' comment is a perfect illustration of why UFV was for me. The humanity of that exchange was something I would continue to experience throughout my time here."
Thomas Davies, president of the Student Union Society, welcomed guests to the new SUB building and cited it as example of what students can accomplish when they put their mind to it.
"Our essence as a university is supporting and developing the students of this region, and we should judge our success based on that of our students. You are vital to this success. You are crucial to the successful studies of so many here at UFV. For that, I thank you."
President Mark Evered also shared success stories about several special guests he hosted at his table including Smit, Davies, basketball standout and mental health advocate Jasper Moedt, Sukhi Brar, Sasha Moedt, and Sasha Morneau, who overcame several health obstacles in completing her degree and then received a marriage proposal on stage during convocation last June.
David Leis, UFV director of advancement, was very pleased with the community response to the first Town and Gown event.
"We're just thrilled that more than 230 members of the community came out to support us. We are grateful for their enthusiasm, and for the teamwork by UFV representatives and members of the community that allowed us to present such a great evening," he said. "And the stories we heard from students and alumni are a strong testament to the good work we're doing and the impact that UFV is having changing lives and building community."
The gold sponsor for the Town and Gown fundraising dinner was Chernoff Thompson Architects, who designed the new Student Union Building that served as the location for the event. Silver sponsors were Esposito Group, Impark, the UFV School of Criminology and Criminal Justice, and Minter Country Garden Store. Media sponsors were the Abbotsford News and The Patrika. Leader Frames and Save On Foods also provided support to the event.