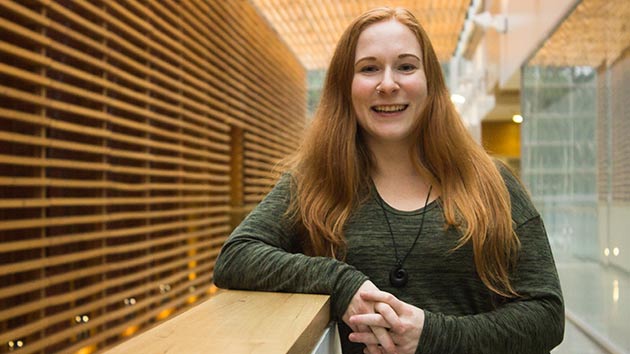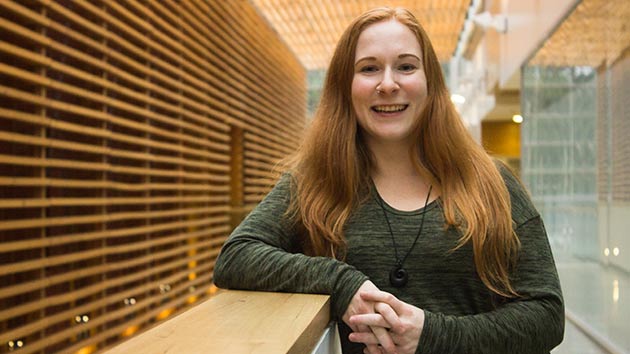 When her stepmother decided she'd like to work fewer hours, Kate McGladdery stepped up to help in the office at her dad's company.
Less than a year later, what started as a sideline may well become Kate's full-time career. The Chilliwack native has moved back to the Valley, left her big city job behind, and earned a Bookkeeping for Small Business certificate through UFV Continuing Education to become more efficient in her new duties.
Showing Initiative
Throughout her working life, Kate gained the skills required to run an office. Soon after dropping out of high school in grade 12, she found a job as a telemarketer for a timeshare company in downtown Vancouver. "I wasn't good at it," she laughs. "I lasted only six months in that position."
But during that time, the young self-starter took every chance she got to volunteer for new projects and extra tasks. Soon, she had the opportunity to move to an admin role within the company.
"I didn't realize it at the time," Kate says, "but I was building my skills. I learned about Excel; I worked with payroll; I was involved with interviewing and hiring. I got insight into managing a business and handling people."
To cut down on the commute, Kate moved to New Westminster. Ten years flew by, while she worked her way up in the growing operation and finally became the supervisor of membership services.
Bookkeeping on the side
In May 2015, Kate's dad asked her to help with office administration at Aurora Cascade Enterprises, a Chilliwack company that builds modular buildings for commercial, industrial, and institutional clients.
With her typical can-do spirit, Kate agreed to add the part-time hours to her full schedule. She moved back to the Valley, where the cost of living was more affordable.
Soon, however, Kate realized that her bookkeeping skills were not up to the task. "I could do the data entry," she says, "But I didn't understand the mechanics of what I was entering and why. When there was a problem, I'd spend a lot of time trying to fix it without really knowing how."
Frustrated with wasting time, Kate spoke to her dad, who told her to sign up for a bookkeeping course. "I immediately went online to research bookkeeping programs at every college and university within driving distance," Kate says. She compared location, price, and course materials.
"I selected UFV Continuing Education's Bookkeeping for Small Business certificate because it was the best fit at the best price," Kate says. "Some programs were double the price and were not as comprehensive in what they covered. And UFV's Bookkeeping for Small Business program is based on Sage, which is the software I'm using at Aurora."
At first, the high school dropout felt apprehensive about returning to school. "I was afraid I may have to finish high school before I could get in," she notes. "That could have delayed me learning the skills I urgently needed." But fortunately, she was able to enrol with no need to upgrade.
Filling the Knowledge Gap
Studying on the Chilliwack campus felt like coming home. "It's a beautiful location, surrounded by trees and mountains," Kate points out. "It's not too big or imposing. It was easy to find my way around. It made me feel confident I could manage."
Her instructor proved a valuable source of information and support. "He takes the time to answer everyone's questions," Kate says. "And I was not shy about asking! The class has a range of ages, learning levels, and experience and he is patient with everyone. He even introduces humour in a topic that's quite dry."
The Bookkeeping for Small Business course content fit her needs perfectly. "Right away, everything started to make sense," Kate says. "I could apply what I was learning and it made me more accurate and efficient."
Kate was also thankful that her instructor proved flexible. He taught at the beginning of class and closed with exercises. "If I needed to sneak out early, I did not miss on learning key concepts," she says. "It helped me juggle two jobs, the commute to Vancouver, and classes three days a week."
Starting a New Chapter
As the program ended, Kate decided to leave her job in Vancouver. "No more commute for me," she says. "I was taking the train, which was convenient, but it still took 10 to 12 hours out of my week."
Kate also met with an advisor to explore options for further studies. "When my dad retires, I plan to take a share in the company," she explains. "I'm thinking it may be good for me to earn a Bachelor's degree in Business Administration."
In the spring, Kate will take an assessment test to see which high school courses she may need to upgrade. And she hopes to attend her graduation ceremony. "I never graduated from high school," she says. "My dad can finally see me walking across the stage to receive my Bookkeeping for Small Business certificate."