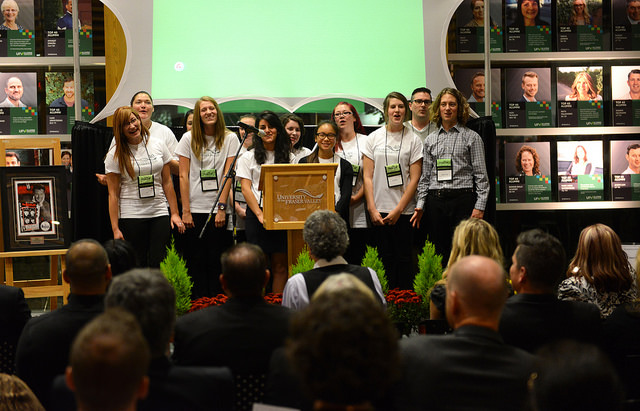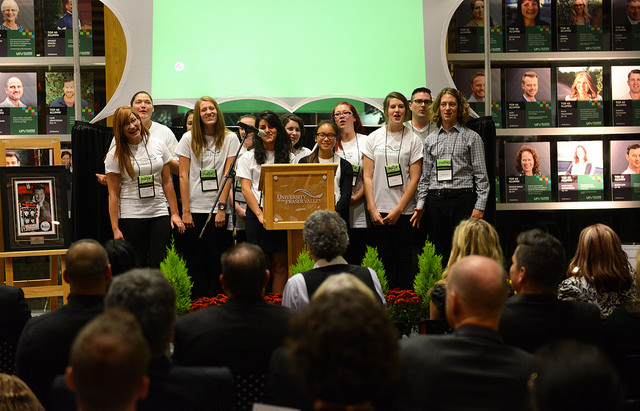 The inaugural Town & Gown Fundraising Dinner takes place on Thursday, November 12. Proceeds from this unique UFV Advancement event will fund scholarships for exemplary students.
The following is from David Leis, director of Advancement at UFV:
I'm writing as a colleague to extend a special invitation to you.
It's truly amazing to be a part of this community as we work together to fulfill UFV's mandate. Together, we are profoundly transforming students' lives and strengthening our communities.
Please join us at the Town & Gown Fundraising Dinner on November 12. UFV's donor community is excited about this new event, and tickets are selling fast. Before the event fills up, I want to share this giving opportunity with the UFV faculty and staff community.
Held in the beautiful new Student Union Building, this will be a special evening celebrating the mission of our university. Students and alumni award winners will share their inspirational stories describing how UFV has made a difference in their lives and in their communities.
Proceeds from tickets, as well as a silent auction held at the event, will go to the UFV Changing Lives, Building Community Endowment, which funds scholarships for students who demonstrate superior scholastic achievement, leadership, and commitment to their community.
Seating is limited, so arrange for your tickets today. You can purchase tickets online or contact the University Relations Office at 604-854-4595 or giving@ufv.ca.
I hope you will take this opportunity to add to the difference you already make at UFV. We look forward to seeing you on November 12.
Sincerely,
David Leis
Director of Advancement