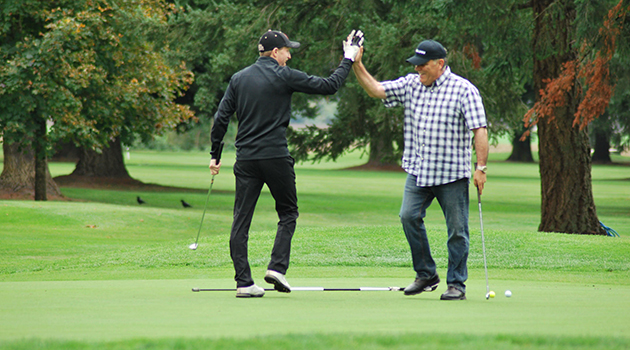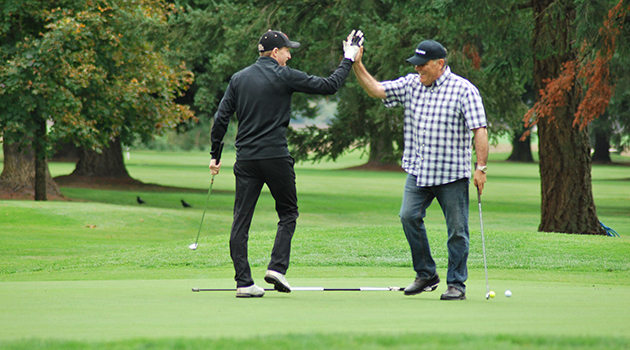 Seventy-eight smiling golfers of all backgrounds and abilities chipped in to raise a significant amount of money at the inaugural UFV Alumni Open at Chilliwack Golf Club on Sept. 18 (see photos here).
Featuring food, fun, and fundraising opportunities throughout the course, the premier event brought together a wide variety of alumni and community partners. The Open's early success is sure to make it a must-make event for years to come, predicts UFV Alumni Board Chair Nik Venema.
"A diverse crowd of faculty, staff, students, alumni, and community members who all believe in the mission of our University enjoyed a great day of camaraderie and competition to raise funds for work of the Association and funding student endowments," Venema said.
"If you were thinking of golfing with us this past year, keep an eye out for UFV Alumni Open tickets when they go on sale. Tickets are going to disappear quickly."
Funds raised support engagement, mentorship initiatives, and the Alumni Association's student awards. The Alumni Association also donates surplus funds to UFV, with the goal of one day being the largest donor back to the university.
Gold sponsors for the 2015 UFV Alumni Open included: Domain7; 107.1 Country FM and 98.3 Star FM; and the University of the Fraser Valley.
Silver sponsors were: Envision Financial and the UFV Cascades.
Other supporters included: Investors Group; The Mutual Fire Insurance Company of British Columbia; Merit Travel; Canuck Empire Brewing; Giesbrecht, Goodrich & Co; The Old Spaghetti Factory; Heritage Office Furnishings; Jim's Pizzeria; UFV Print Services; Scalar Decisions; Chaberton Estate Winery; and Hofstede's Country Barn.