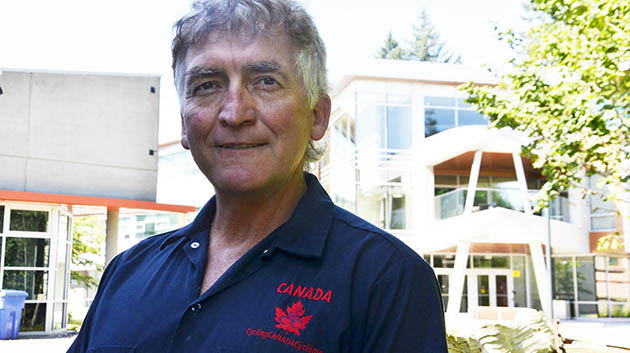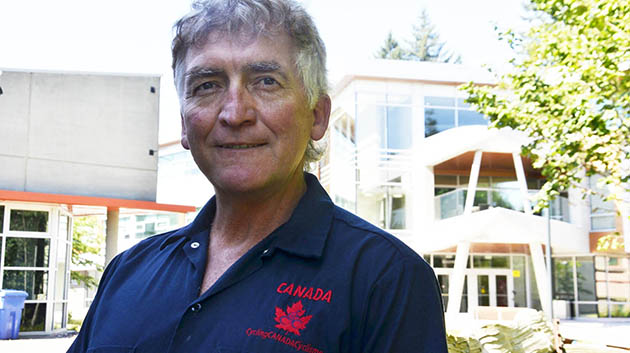 There's more to high performance sport than being in top physical condition and training for months at a time. There's also mental conditioning.
Nobody knows that better than sports psychologist Roger Friesen of Abbotsford. He's currently at the Pan Am Games in Ontario, supporting and cheering on several cyclists he works with, including the men's and women's team sprint racers, both of which sped to gold medals on July 16.
Friesen combines his teaching duties as an associate professor in the Kinesiology program at the University of the Fraser Valley with a thriving consultancy in sports psychology, helping athletes hone their mental game.
He has been working with members of the Canadian cycling team for several years, helping them strive for peak performances during competition.
"There are at least five components of performance: technical, physiological, team, mental, and emotional," Friesen notes. "Athletes can work to be fitter, faster, and stronger in all of these categories. And each of these components can be trained independently of the others. My job is to help athletes maximize their performance by focusing on the mental and emotional realm."
Friesen has been a sports psychology consultant for more than 20 years, working with athletes from a variety of different sports. He helped prepare Canada's women's basketball team in the lead-up period to qualifying for the 2012 London Olympics (their first time qualifying time in many years), and proudly displays a poster signed by all the players thanking him for his help.
"The psychological development of athletes has always fascinated me," he says. "Why is an athlete brilliant one week and like a completely different person the next? Often it is a result of emotional stress or a lapse in mental toughness. If you can't hold it together mentally, your talents can be wasted."
Friesen defines the mental aspect of fitness as anything related to thinking and decision making, and the emotional aspect as how we react and respond to situations.
"There's always a mental component to competition. How mentally focused and prepared is the athlete? But the emotional component must also be considered. When athletes arrives at the starting line, they bring their life struggles, their family dynamics, and their relationships with them too."
Friesen has been working with road, track, and BMX athletes from the Canadian national cycling team for past three years as they prep for the Pan Am Games and the Olympic games in Rio next summer.
He spends time with them at team training sessions and conducts in-person visits, as well as Skype and phone conversations. This work involves extensive international travel.
The focus of the psychological preparation depends on the individual athlete, their sport, and their priorities.
"The more time I can spend with someone, the more sophisticated the work I do with them becomes," Friesen notes. "Getting to know them better leads to more teachable moments."
The different cycling events come with unique challenges. BMX bicycle racing is a new Olympic sport, coming from the wild and wooly X-Games background, and the athletes in this discipline haven't had much access to professional psychological coaching before.
"The biggest hurdle facing the BMX riders is fear. It's a very intense competition and there is very real risk of crashing and injury, so the athletes have to learn to handle that fear."
With track cycling, the challenge is living up to expectations.
"The women's pursuit team is expected to win, so they have some big expectations to deal with."
Friesen has always been heavily involved in sports, and coached at the national level in racquetball.
He was pursuing an architectural education at the University of Winnipeg when a night class taught by sports psychology pioneer Cal Botterill changed his life.
"Cal told me I should be pursuing sports psychology as a vocation, and his words really resonated with me. I made an abrupt change in my educational plans and cobbled together a program, by taking kinesiology and psychology courses, to prepare me for a career as a sports psychologist."
He joined UFV's new Kinesiology and Physical Education program in 1995 after earning his master's degree.
As part of his community service at UFV he works with members of the Cascade athletic teams, locating his office in the athletic department.
"My door is always open to our student athletes as individuals, and I also present seminars to them as teams and groups."
Friesen doesn't just counsel athletes to reach their peak performance, he practices what he preaches. He likes to set personal challenges for himself so he can relate to what happens in the performance context with his athlete clients.
This year, he set a goal of riding from the north end of Vancouver Island to the south in one day on the June 20/21 weekend. He succeeded — completing a ride of 502 km in 21 hours, with the support of his wife and some friends, and an encouraging video text sent from the national cycling team.
"I was 100 percent determined to get to Mile 0 on the Trans-Canada Highway and I did it," he notes. "The idea started as a personal test, and then it grew. I told the cyclists I was working with that I knew how hard they work to reach their goals, often against adversity, fighting through illness and other battles. So my ride also became my commitment to inspire each of them to persevere. Reaching goals is hard. It takes a lot. But it can still be fun. The ride was my attempt to encourage our Cycling Canada athletes and to show solidarity with them. It's a different kind of ride than what they do, but they all involve setting goals, working hard, overcoming adversity, and rising to, and loving, the challenge."
-30-