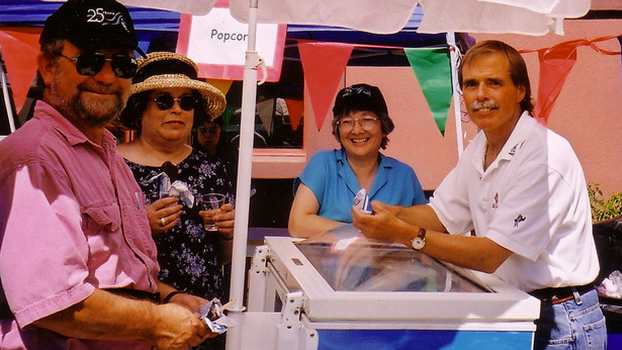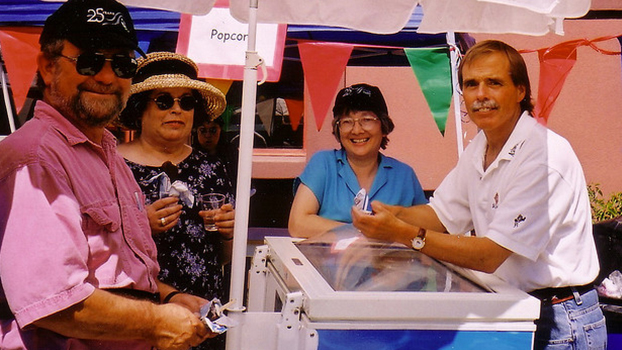 Employees and retirees are invited to celebrate the life of our longtime colleague and friend, Barry Bompas, on Wed, June 10 at 10:30 am in Abby B121.
Light refreshments will be served while we share stories and reminisce about Barry and the many lives he's touched at UFV.
Please bring your pictures and stories to post on the memory board which will be passed along to his family.
Here are a few of the tribute statements we have received since his passing on May 30 was announced:
Jackie Hogan: Barry was such a wonderful, caring man. I will always remember his brilliant mind, kind words, and encouraging manner. I'm so very glad to have had his mentorship, guidance, and friendship for the many years we worked together. I learned so much from him and I'm a better person for having known him. He left us much too soon and will be dearly missed. Rest in peace, Barry.
Dave Stephen: Such sad, sad news. He really was a terrific person; we had a lot of midday runs together from Abby campus. I can't think of another individual who had a more positive effect on FVC/UCFV.

Astrid Beugeling: Barry was one of a kind, the kind of man who made FVC and UCFV a place we all were so proud to be a part of. Kind, caring, compassionate, positive, funny and someone you never forget. We will miss you Barry! You left this world a better place!
Michelle Ward: Barry always had such a big sincere grin, positive attitude, and was someone who remembered everyone. He made you feel special and that you mattered. It's not too often that 10 years after retirement people still remember you. Shows just what a very special person he was.
Kulwant Gill: Barry was very caring and compassionate manager who always treated all employees with respect and dignity. I was going through a rough period in my personal life, and Barry supported me every step of the way. After all these years, those of us who knew Barry from the "good old days" still missed him and wished he was at UFV. A wonderful human being indeed.
Lisa Higginbottom: I am so sad to hear of Barry's passing. I remember how much care and compassion he showed my mom when she lost her mom. He was a truly one of the most caring men I've ever met. I looked up to him and respected him so much. RIP Barry.
Mary Clare Massicotte Adams: How sad! Barry was incredibly kind and gentle, I remember him very well. Thanks for sharing your words about him.
Mary-Anne MacDougall: Barry's hard work and sense of what is truly important in a workplace made a huge impact on our university's culture as a place where people were really valued. My heartfelt condolences to his wife and family.
Don Chapman: Very sad to hear of Barry's untimely passing. He was notable among his colleagues for his humour and his fairness. We are the better for having been in his company.
John Martin: very saddened to have learned of this last night. Barry was a total class act and a significant reason UFV has always been such a great institution to be a part of. Those of us fortunate enough to have worked alongside Barry have lost one of the best.
Debi Block: It says a lot about Barry that, ten years after he retired, we are mourning like he was still at UFV last week. Blessed to have known him.
Gloria Wolfson: Barry was a caring and compassionate man. He made UFV what it is today. When he retired, it was a real loss. I am sorry to hear of his death; his support (and humour) will be greatly missed.
Sandy Bishop: He was and always will be an incredible man. There aren't too many like him that really cared about his employees. He always had a smile on his face as you can see from his pictures. Cancer takes all the good ones.
Rob Kilfoyle: All the nice things said in the comments before me are certainly true and I don't know what more I could add that hasn't been said other than, he was one of those unique leaders that clearly had an impact on us all and we're all better for having known him! Wouldn't it be grand, to go to your grave having the kind of impact on others as he did with us. RIP Barry….you are now and will forever be missed! Thank you for everything!!!!!!!
Lori Moren: Barry was one of the persons who made it the best place for us to work in the best of times. Thank you Barry for the fond memories for so many of us.
Chris Bertram: Hard to put into words how much this man meant to my life at UFV. But for starters, I would never have had a research lab, and there would never have been a golf team. I'm not sure what I did to earn the faith he had in me when I showed up in 2002, but I will never forget him. RIP Barry Bompas