Newman's unique approach to studying agriculture on the edge garners UFV Research Excellence award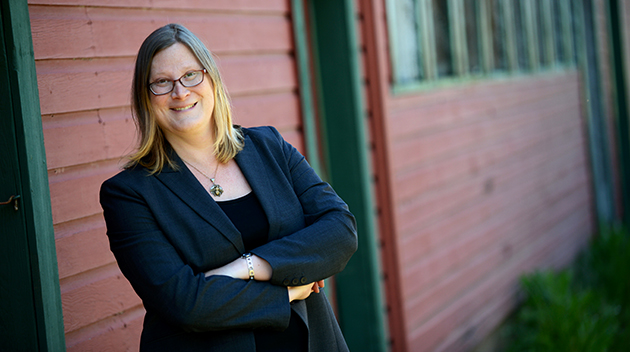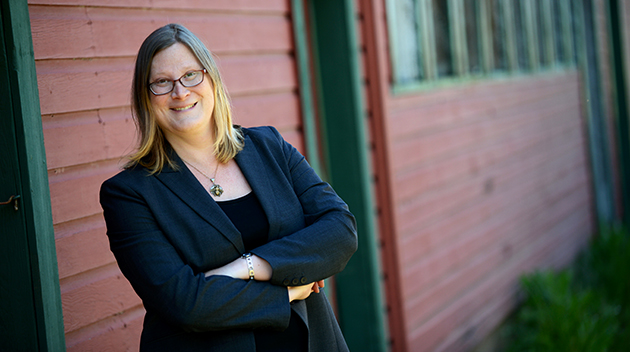 Academia, applied research, and activism are all connected in the eyes of Dr. Lenore Newman.
When she accepted the role of Canada Research Chair in Food Security in the Environment at the University of the Fraser Valley, she knew she'd be focusing on research that is extremely relevant to the UFV region, and on topics that are at times contentious.
Her staunch defense of the principle of maintaining farmland placed in British Columbia's Agricultural Land Reserve (ALR), a position solidified after formal research into the 40-year history of the ALR, makes her a popular source for media commentary.
Newman is receiving the 2015 UFV Research Excellence award for her success in building a core of research activity focused on food security and agricultural issues.
"Before taking this job at UFV, my research never landed in the daily news," recalls Newman, who is a faculty member in the UFV Geography and the Environment department. "But preserving farmland is so valuable economically and important culturally that it is a topic for major debate. Farmland is a big part of the identity of this valley. At the local level, the research my partners and I are conducting really matters!
"I love this region, and there is some activism inherent in my job because it is a fight. Fraser Valley farmland is some of the best farmland in the world and it is too valuable to lose."
Since arriving at UFV in 2011, Newman has led the establishment of the Agriburban Research Centre at UFV, which is dedicated to the study of landscapes on the edge of major urban areas, with a focus on creating thriving agricultural regions within cities.
With funding from the Abbotsford Community Foundation's Agricultural Enhancement Grants program, Newman is leading a project titled Life in Agriburbia: 40 Years of the Agricultural Land Reserve, with a mandate research and exhibit the changes to the agricultural and environmental landscape in the Fraser Valley.
"Lenore has demonstrated keen insight by developing a centre that specializes in the linkages between rural and urban, plus incorporates a multidisciplinary approach that includes urban planning, tourism, business, economics, applied agriculture, geography, international development, and political science," noted her colleague Garry Fehr, an associate professor in the Geography and the Environment department, in his letter nominating her for a research award.
"The dominant thread [in her work] is her ability to integrate complex theoretical concepts with contentious social issues of land development, food security, and food culture in ways that resonate with academia, local communities, industry, policy makers, non-governmental organizations and students."
Part of her mandate as research chair is to examine food security concerns at the local, regional, and national levels.
"My team's research is showing that there is a link between a vibrant farm sector and health, among other things," she notes. "Having fresh, locally sourced fruits and vegetables available is an important influence on public wellness."
Her research also indicates the importance of a healthy agricultural base to the Fraser Valley economy and culture, and to Canadian autonomy.
In addition to being in demand by media, Newman has seen her work regularly published in academic journals, with 20 published journal articles collectively being cited by other authors more than 600 times since 2010.

In 2014, she was invited to join the Royal Society of Canada's College of New Scholars, Artists, and Scientists. She was also recognized by the Devorah Kahn Foundation for her work on farmers' markets, and by the Real Estate Foundation for leadership on the study of sustainable food systems.
Newman has built a network of scholars connected to research into agriburbia, and created opportunities for UFV undergraduate students to participate in applied research.
"I strongly believe that we at UFV can excel at research relevant to this region that involves undergraduates directly," she says. "My undergrads get the kind of opportunities that would go to graduate students at other institutions. They work on projects, get published in partnership with faculty, do really solid research, and with that experience they get jobs."
It's not surprising that somebody as immersed as Newman in the study of agriculture and food is a bit of a foodie. She recently completed a book on Canada's food culture titled Speaking in Cod Tongues: Exploring Canada's Cuisine, and has literally eaten her way through many thousands of kilometers of travel.
"I saw beautiful places, ate wonderful food, and met great people," she recalls. "Food can be a nation-building tool, and my book looks at how there is a national cuisine emerging in Canada."
One of her favourite stops? A certain café in Chilliwack where the motto is "I fly for pie."
Newman plans to continue her work studying the agriburban edge, and is "thrilled" that UFV has committed to the multidisciplinary study of agriculture and the environment as one of three program areas targeted for growth.
"Canada is a bit behind other countries when it comes to agriculture studies and research. Agriculture is both a science and a high-tech industry and there is a real need for ongoing knowledge and innovation development."
And although she may put on an activist hat on occasion when advocating for the preservation of farmland, her opinions are always grounded in her research.
"I am an academic first and foremost. My job, to borrow a phrase from the Quakers, is to speak truth to power. To quote the Dutch philosopher Erasmus: 'give light and the darkness will disappear.'"
As for winning the UFV Research Excellence award, Newman says: "It feels very good to be recognized."
-30-