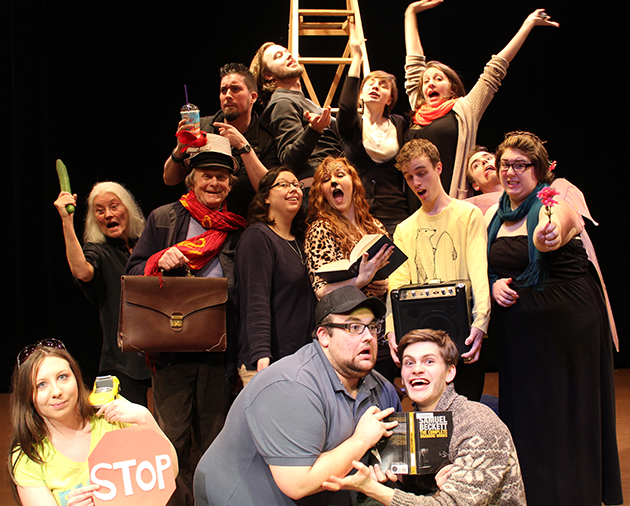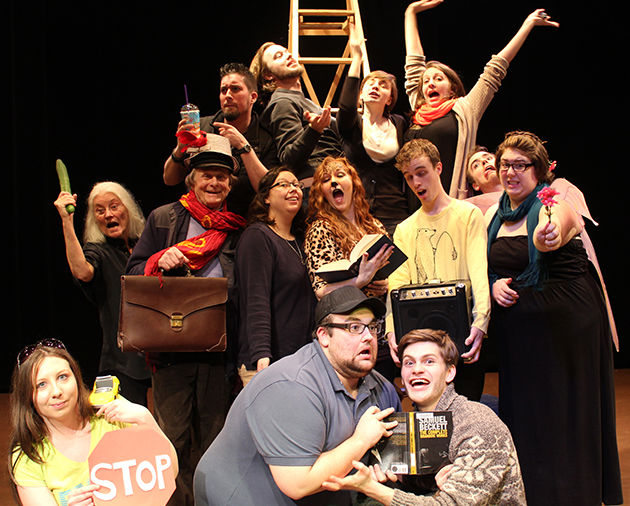 UFV Theatre's 20th Annual Directors' Theatre Festival runs April 22–26 at UFV's performance theatre at 45635 Yale Road (at Airport Road) in Chilliwack. The festival begins on the Wednesday with a series of previews and matinees, followed by Thursday's opening ceremony at 4:30 pm, and performances continue at various times Thursday, Friday, Saturday, and Sunday, concluding on Sunday at 10 pm.
DFest is a festival of short plays directed and performed by UFV Theatre students as well as post-secondary students from Capilano University, Thompson Rivers University, Trinity Western University, and UBC Okanagan. The festival has grown over the last two decades to become the biggest event of its kind in B.C., engaging over 150 students and selling 3,500 tickets in 2014. This year, audiences can choose from 25 one-act plays featuring more than 60 performances playing multiple times in three performance spaces at UFV's performance theatre, located at the corner of at Yale and Airport roads in Chilliwack
"The festival is a great opportunity to see and celebrate the work of students from across the province," says festival founder, curator, and UFV faculty member Ian Fenwick. "Audiences can experience more theatre in five days than is possible in an entire year."
For students like Shimshon Obadia from UBC Okanagan, "DFest is one of the most fundamental and influential springboards to get me from the studio in the classroom to the stage in the real world."
Plays of nearly every theatre genre will be shown, from comedy to tragedy and everything in between. While some of the plays presented have been written by well-known playwrights such as Samuel Beckett and Edward Albee, ten of the plays have been written or devised by student playwrights. These plays will be receiving their premiere performances at DFest.
The majority of the plays presented are by Canadian playwrights, including the work of recent Governor General's Award winner Jordan Tannahill. There will also be staged readings of scripts-in-progress written by upper-level creative writing students who are learning play-writing from UFV associate professor John Carroll. A special feature of this year's festival will be the return of UFV's Friends of the Theatre to the stage in their production of All I Needed to Know I Learned in Kindergarten.
Single tickets are at an accessible rate of $5 per show, with packages of four tickets for just $15, or a festival pass valid for all 25 show slots for $40. The full festival schedule is available at UFV.ca/Theatre. Tickets can be purchased at 604-795-2814, theatre@ufv.ca or at the box office on the day of the show.
This year's festival is sponsored by UFV's Student Union Society, UFV's School of Criminology and Centre for Criminal Research, UFV's Friends of the Theatre, and individual donors. Media sponsors are the Chilliwack Progress, the Abbotsford News, CIVL Radio 101.7 FM, and The Cascade, UFV's Student Press.
UFV Theatre offers a season of three main stage productions, the Directors' Theatre Festival, and a variety of special presentations such as staged play readings, workshops, and more. All UFV Theatre productions cultivate professional standards of practice and performance, and offer a variety of opportunities for students to develop industry skills both onstage and behind the scenes.
For more information, contact:
Nipuni Sedara
Publicity and Box Office Coordinator
604-504-7441 x 2492
nipuni.sedara@ufv.ca