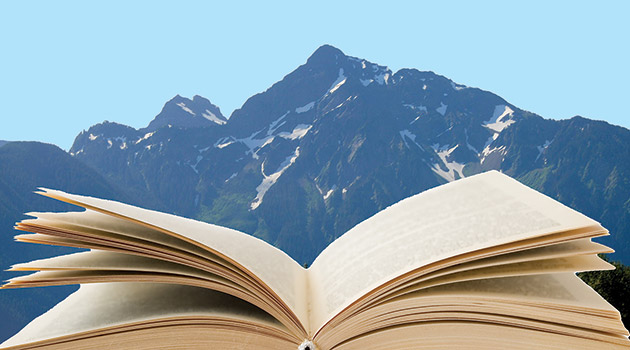 British Columbia has long been a beacon for storytellers' imaginations, and while the lion's share of critical attention to the literary culture of British Columbia seems to often rest on Vancouver, the Fraser Valley's own literary community is as vibrant as ever.
That vibrancy will be on display on Thurs, March 5, as UFV hosts the Literatures of the Fraser Valley conference.
The conference runs from 9 am to 5 pm in University House on the Abbotsford campus. Sessions get underway at 9:30 after a welcoming ceremony at 9 am.
Speakers at the morning session include:
9:30-11 am:   Session One: Considering Creativity: Artistic Production in the Valley
Billeh Nickerson
Paul Falardeau, "Light Though the Cedars: Discovering Subversive Communities in the Fraser Valley"
Katie Stobbart, "The Question of Public Poetry in the Fraser Valley"
11:15 am-12:45 pm: Session Two:  The History of Place and the Building of Community
Rishma Johal, "Building Connections: Popular Literature and Sikh History  in the Fraser Valley"
Jane Watt, "The Epistolary Farm: Constructing Settler Culture in Langley from Afar"
Paula Johnson, "Woolgathering: Fibre Artists Contradict Journalists in Published Works About Cowichan Woolworking"
12:45-1:30  Lunch (Catered by Sodexo)
The afternoon includes sessions on the oral tradition of the Fraser Valley, especially as it pertains to  Stó:lō  culture.
1:30-3:00  Session Three: Orature of the Fraser Valley
Eddie Garner, Stó:lō  Protocols and oral history
Wenona Victor,  sxwoxwiyam and "storywork" in the Fraser Valley
Teresa Warbus, Hip-Hop as contemporary storytelling
Lens of Empowerment, video as visual narratives exploring women's identity and citizenship in Stó:lō  territory
3:00-3:15  Coffee Break
3:15-4:45  Session Four:  Reading the Valley
 Dessa Bayrock, "Sustenance of the Soul: A View of Food in Literature of the Fraser Valley and West Coast"
Emily Seitz, "Creating an Enchanted Reality: A Magical Setting Inspired by the Fraser Valley"
Shelley Boyd, "Tablecloth and River: Tomson Highway's 'Mega Banquet' in Ernestine Shuswap Gets Her Trout"
Ron Dart, "Charles Hill-Tout: Visionary of the Fraser Valley"
7-9 pm.  After party with new and emerging writers
Following the conference, join us at Aftermath Pub for an evening of readings with established and emerging writers working in and around the valley.