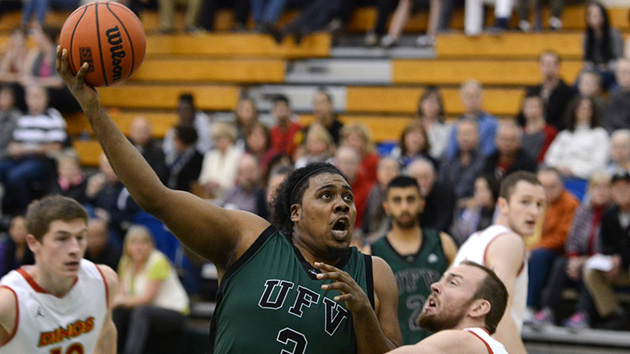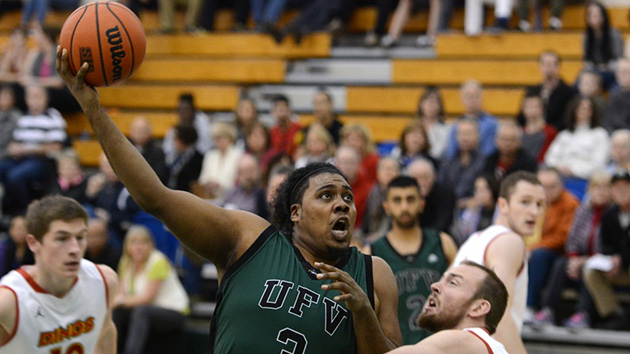 The UFV men's basketball team makes its fourth straight Canada West Final Four appearance this weekend in Saskatoon, putting them within reach of two significant accomplishments: a national championship berth, and the program's first-ever conference title.
The No. 2-seeded Cascades take on the No. 3 Victoria Vikes in the Canada West semifinals on Friday at 4 p.m. Pacific time, with the winner not only advancing to Saturday's title game, but also locking up a berth to the CIS Final 8 in Toronto next week.
The other semifinal, tipping off at 6 p.m. Pacific on Friday, features the host and top seed Saskatchewan Huskies vs. the No. 4 UBC Thunderbirds. The bronze and gold medal games are slated for 4 p.m. and 6 p.m. Pacific, respectively, on Saturday. All games will be broadcast with live video and stats at canadawest.tv.
The Cascades, under the guidance of third-year head coach Adam Friesen, put together a sparkling 17-3 record to win the Explorer Division regular season title, and then swept the Calgary Dinos in a best-of-three quarter-final series at home last weekend.
UFV boasts a tremendously balanced attack which yields 81.3 points per game, good for third in Canada West and 11th in the nation. Six players average double-figure points, led by third team Canada West all-star Kevon Parchment (14.7 points per game).
The Cascades also excel on defence, surrendering just 69.7 points per game to rank second in Canada West and ninth in the CIS. And they're the conference's most prolific rebounding team, collecting 42.6 boards per game, with second team all-star Jasper Moedt (a Canada West-leading 10.7 rebounds per game) setting the tone in that department.
Their semifinal opponents from the B.C. capital are led by Canada West MVP Chris McLaughlin, a 6'10" power forward who racked up 19.8 points and 10 rebounds per game, and point guard Marcus Tibbs, who averaged 17.1 points and 5.1 assists en route to third team all-star honours.
The Vikes went 15-5 to finish second in the Pioneer Division, and they're coming off a first-round homecourt sweep of the Alberta Golden Bears. Victoria is seeking a third straight nationals berth (they finished fourth at the 2014 CIS Final 8), and their first Canada West banner since 2005-06.
UFV and Victoria have played once in 2014-15 – at UVic in a preseason tilt on Oct. 20. The Cascades, playing their third game in four days and with Moedt sidelined due to a leg injury, fell behind by 17 points in the second quarter as the Vikes' Grant Sitton went 5-for-7 from beyond the arc in the first half. They rallied to get back to within three points in the third quarter, but UVic pulled away down the stretch for a 71-58 win.
"They're a good team, and I'm not surprised that they're here," Friesen said of the Vikes. "McLaughlin is a heck of a player.
"We've just got to be aware of McLaughlin and Tibbs on every possession and make life hard on them for the whole game."
The Cascades have tasted an uncommon amount of playoff success at the University of Saskatchewan in recent years. The Huskies played host to the conference Final Four in 2012, and UFV beat Victoria in the semis to punch their ticket to nationals. They would end up falling to the Alberta Golden Bears in the Canada West title game, and went on to finish fourth at the CIS Final 8.
In 2013, UFV upset the heavily favoured Huskies in Saskatoon in the conference quarter-finals to return to the Final Four, but they fell short of nationals after losing to UBC in the semis and to Winnipeg in the bronze medal game.
They finished fourth once again at the 2014 Final Four, with consecutive losses to Victoria and Saskatchewan.
"We've had success in Saskatchewan's gym, for whatever that's worth, but we haven't had much success against Victoria," Friesen said, alluding to his team's 0-6 record (preseason, regular season and playoffs combined) against the Vikes since their landmark semifinal win of 2012. "We'll see how that plays out.
"Victoria's really had our number, and we know we have a big challenge ahead of us. We're going to be excited about the opportunity to play."