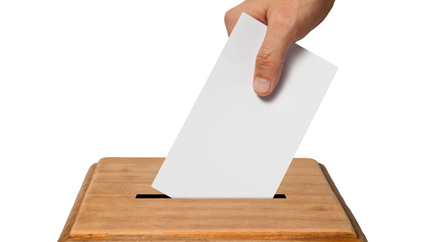 As the votes were being counted in municipal elections throughout the Fraser Valley Nov. 15, there were more than a few candidates with UFV connections holding their breath waiting for results.
Congratulations to the following successful candidates with UFV connections:
Abbotsford:
UFV alumna Kelly Chahal (named one of UFV's Top 40 Alumni recently) was elected as a first-time councillor. She has an MA, BA, and diploma in Criminal Justice from UFV.
UFV alumna and current Bachelor of Adult Education student Shirley Wilson was re-elected as a Board of Education trustee.
Chilliwack:
Returning councillors Jason Lum and Chuck Stam are both UFV alumni (Lum is also one of the UFV Top 40). Lum took a variety of courses and Stam earned a certificate in Architectural and Civil Drafting in 1992. Newcomer Sam Waddington, who topped the polls, has taken courses at UFV.
School trustee Dan Coulter has also been a UFV student.
Hope:
Newly elected Mayor Wilf Vicktor was one of UFV's first BBA grads in 1995. He has also served previous terms as Hope's mayor. He was Student Union Society president when UFV gained university-college status in 1991.
Agassiz/Kent/Harrison
Rose Tustian (a 2013 grad of the Applied Business Tech program) was re-elected to the Board of Education for Agassiz-Harrison.
Susan Spaeti (who earned a BCIS degree in 2003)  was elected to Council for the District of Kent (which includes Agassiz).
Mission:
Pam Alexis, who topped the councillor polls, served on UFV's Mission Community Council and was on the UFV Foundation board.
Maple Ridge:
Second-term councillor Corissa Bell took courses between 1999 and 2011.
Newly elected councillor Kiersten Duncan is a UFV student.
Bell says the political science classes she took with Hamish Telford were part of what inspired her to run for office for her first term in 2011.
"Hamish's class was a place of constant open debate. He encouraged objective thinking and even when I knew he took a different position to a topic than I, he fostered the dialogue and encouraged us to continue to thinking, in an open-minded way. To serve in municipal office I believe it's critical for an elected official to be able to see all sides of a debate in order to reach the best conclusion."
She hopes to return to UFV to finish her degree one day but right now is putting family and politics first.
"With recognizing how important balance is and due to a life in politics and my youngest being nine years old I haven't returned to school since first being elected in 2011…. I'm on pause and can't wait to get back.  I love learning and I think UFV is the best university to be at. The professors are phenomenal!"
Telford is happy to see that several of his current and former students are dipping their toes in political waters.
"It is very gratifying when I see our students and former students enter the political fray. It takes an enormous amount of courage and dedication to run for public office and serve the community. There's so much talk about young people being politically disengaged and not even bothering to vote, but people like Corisa Bell, Dan Coulter [municipal candidates], and Andrew Mercier [provincial candidate in last election] show us that some young people take their civic obligations very seriously indeed.
"Corisa had already got the political bug before she took my course, so we were able to commence a political dialogue from the very start. I learned at least as much if not more from her than she did from me. I gained a much deeper appreciation about the issues that really concerned and motivated her. I rather suspect bigger things are in store for her in the future. I will be watching (and smiling) intently."
Here is an excerpt from a Maple Ridge Times article on UFV student Kiersten Duncan, elected as Maple Ridge's youngest councillor:
Kiersten Duncan, 21, works as a lifeguard and is currently studying urban development and environmental science at the University of the Fraser Valley.
Duncan ran for council unsuccessfully in 2011 when she was 18. She called her win a "dream come true."
"It's going to be a little awkward, sitting in class and going around the table explaining, 'what I do,'" Duncan said.
"Most of my friends are working minimum wage jobs or at the beginning of their careers and now, I'm a city councillor."
Duncan ran on a platform of improved infrastructure and services to support neighbourhoods and reduce urban sprawl, expanding eco-tourism, development in downtown, and increased safety around outdoor swimming areas.
Several other UFV-connected people also let their names stand for election in local communities but were unsuccessful in gaining a seat.
(If we've missed anyone, please let us know by emailing anne.russell@ufv.ca).