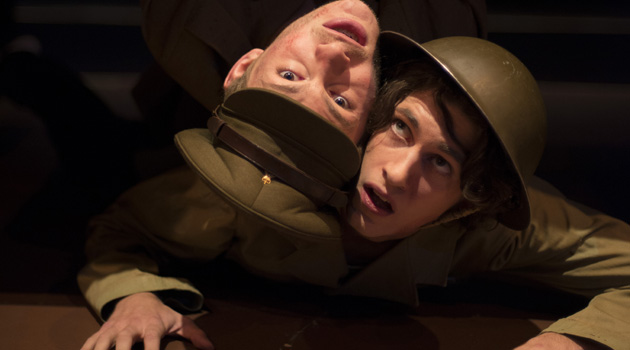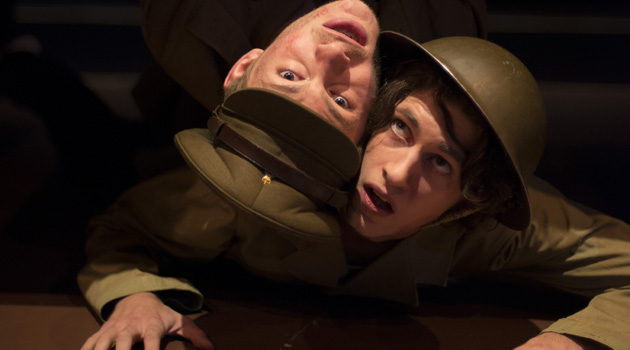 In October, the month marking the 100th anniversary of the first "digging-in" of trench warfare on the Western Front, UFV Theatre presents the Canadian premiere of Birdsong, a new adaptation of Sebastian Faulks' best-selling novel by playwright Rachel Wagstaff. Experience the unparalleled tragedy, the remarkable history and surprising humour of the Great War told through songs, music, movement and the magic of theatre from October 15- 26 at UFV.
"I can't tell you how excited we are to be presenting the Canadian premiere of this wonderful adaptation," says director and UFV instructor Raina von Waldenburg, who previously taught at the Tisch School of Arts at NYU in New York, "This is an outside-of-the-box piece of theatre, and I'm convinced that our unconventional approach will make the story fresh, alive, and powerful for audiences."
As the guns of war shake and rattle, we join Stephen Wraysford and his men, huddling in trenches and shell holes, trying to find ways to shake off the monotony of war and remember the family they left behind. Injured at the Somme, Stephen flits between past and present as he struggles to recall those final romantic days before the war when he fell in love with a beautiful but already-married young woman named Isabelle. In their heart-rending story set against the crumbling of their whole world and in the strong bonds of friendship between the young soldiers, we get a sense of all the real-life heartbreak that forever marked the world.
"We have multiple actors playing the same character, every actor playing multiple roles, unorthodox staging and a whole lot of surprises in store," says von Waldenburg, who is one of North America's foremost proponents of the Grotowski Method, an alternate, physical approach to theatre, "But believe me, people shouldn't have any difficulty following the action: these young actors are brilliant at finding ways to be expressive and clear. This is storytelling at its finest."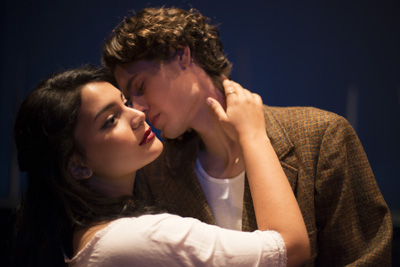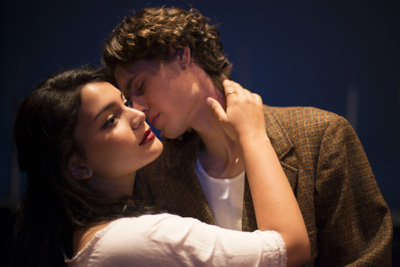 Birdsong runs October 15-26 with evening performances at 7:30 pm and Sunday matinees at 2 pm, as well as a school matinee on October 21 at 12 pm. The opening night performance features food, drinks and good old-fashioned mingling on October 17 at 7:30 pm.
Information on specific performance dates and ticket prices can be found on the UFV Theatre website at ufv.ca/theatre or by calling 604-795-2814. Tickets can be purchased online at ufv.ca/theatre/box-office/, over the phone or in person at the performance theatre at 45635 Yale Road, Chilliwack.
—
About the 2014/2015 Season of Theatre at UFV
In its 35th anniversary season, UFV Theatre is presenting three classic stories of three iconic characters at war with themselves.
The season begins with the Canadian premiere of Birdsong, a new adaptation of the Stephen Faulks' novel by Rachel Wagstaff, from October 15-26, 2014. Set in the years leading up to and during the First World War, this poignant and critically acclaimed play tells a compelling story of love and courage.
Then, just in time for the holidays, the perennial classic A Christmas Carol brings Scrooge and his three ghosts to the stage from December 10-21. Dramatized with flair and wit in a version first performed by the Royal Shakespeare Company, this adaptation of the ageless story captures Dickens' ironic point of view while it creates a panoramic view of Victorian London.
Finally, the famous Shakespearean tragedy Julius Caesar takes on a new digital twist from March 4-15. Envy, betrayal, and power politics collide in a fast-paced world of digital mass media and online obsession eerily similar to our own.
Plus, the Directors' Theatre Festival is celebrating its 20th anniversary from April 22-26, 2015. 'D-Fest' is a five-day festival of short plays directed and performed by UFV Theatre students as well as students from post-secondary theatre programs across the province.
http://ufv.ca/theatre/theatre-season/
For more information, contact Nipuni Sedara at theatre@ufv.ca