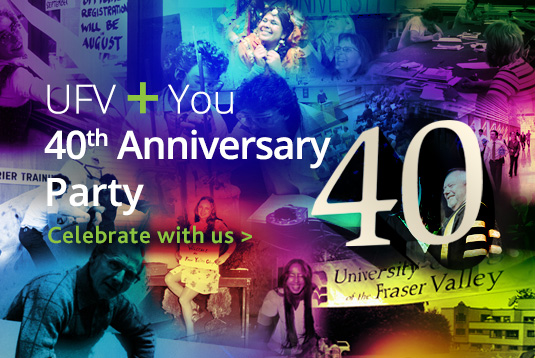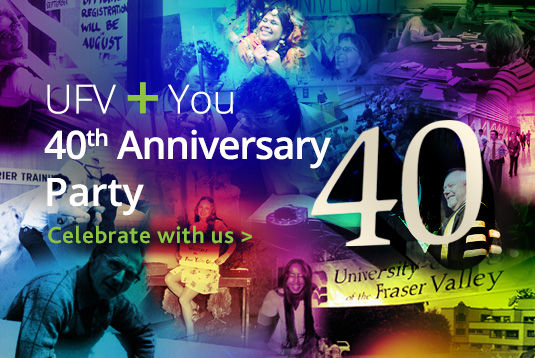 UFV continues to celebrate its 40th anniversary year with several community events in September and October.
Things get groovy on Wednesday, Sept 17, when UFV hosts a 1970s-inspired party on the campus green at the Abbotsford campus on King Road. There will be a retro costume contest, live music, marketplace, kids zone and more! The band lineup includes Taxmen (a Beatles tribute band), Lightning Dust, and the Boom Booms. This free event runs from 3 to 8 pm.
The festivities move to Hope on Friday, Sept 19 for a Family Fun Day running from 11 am to 3 pm at the UFV Hope Centre at 1250 Seventh Avenue. This free event includes face-painting, bouncy castle, arts and crafts, popcorn, cake, and a free book for every child in attendance.
UFV will also mark the 40th anniversary in Mission in October by teaming up with Mission Community Services for the annual Celebration of Light, at the Clarke Theatre at the UFV Mission campus at Heritage Park Centre on Tuesday, Oct 21, from 5:30 to 8:30 pm. The celebration will include delicious food, crafts, music, dance and lively entertainment from diverse cultures. Visit the UFV photo booth. There will be a giant birthday cake! This is a free event but donations of non-perishable items for the Mission Community Services Food Centre are greatly appreciated.
Everyone is welcome, and there are opportunities to volunteer or participate as a vendor.
If you are interested in a vendor booth or table at a party, please visit www.ufv.ca/40/vendor or contact Caitlin.Gleboff@ufv.ca or Auriel.Heron@ufv.ca.
If you are UFV staff or alumni and interested in volunteering please complete the form at www.ufv.ca/40/volunteer.
Sponsors of UFV's 40th anniversary celebrations include the Abbotsford News, Chilliwack Progress, Punjabi Patrika, Sonic FM, and CIVL Radio.
Thanks to The Co-operators Vandevelde Financial Ltd for sponsoring the UFV Lifesaver Dunk Tank Challenge at the community celebrations.
People lining up to be dunked at the dunk tank include Registrar Al Wiseman, SUS president Ryan Peterson, SUS executive director Meghan McDonald, Chelsey Laird of UFV International, Denise Fisher of Culinary Arts, and Gwen Point of Social Work.
Since starting out as Fraser Valley College, holding classes in storefronts and church basements 40 years ago, UFV has grown into a multicampus university serving more than 15,000 students annually.
For more information, visit www.ufv.ca/40 .