The University of the Fraser Valley continues to celebrate its 40th anniversary year with several community events.
The fall celebrations start on Friday, Sept 12 at the UFV Chilliwack campus at Canada Education Park. The Bluegrass and BBQ-themed event will include live music, food vendors, a marketplace, kids play zone, and tours of the new Agriculture Centre of Excellence. The bluegrass and folk-themed band lineup includes UFV's own Jonathan Hughes with Greenwood, Headwater, Viper Central, and The Paperboys. The party runs from 3 to 8 pm, and admission is free. (Bring money for the food trucks.)
Here's the lowdown on bands that will be playing at UFV's free Bluegrass and Barbecue event on the green at the Chilliwack campus at Canada Education Park on Fri, Sept 12.
Schedule
Greenwood 4–4:45 pm
Headwater 5–5:45 pm
Viper Central 6–6:45 pm
The Paperboys 7–8 pm
The Paperboys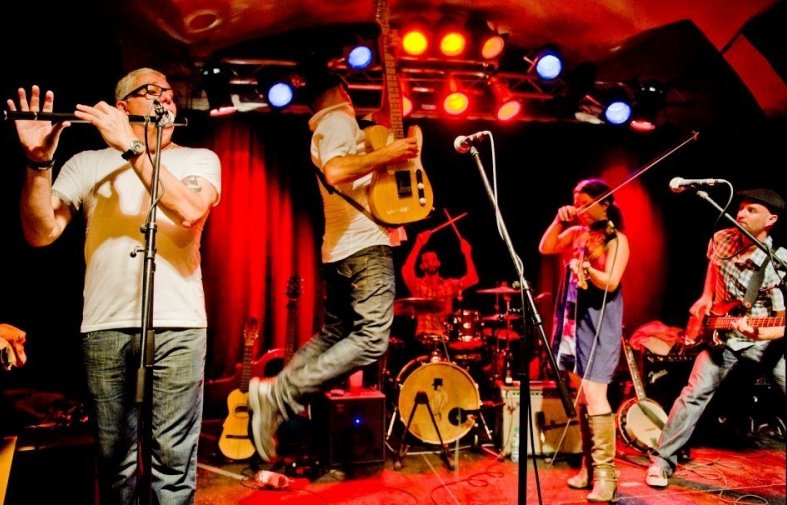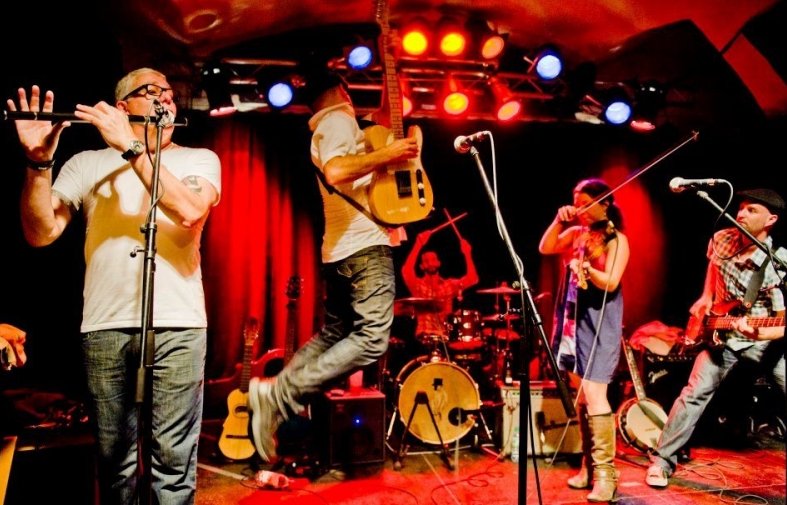 Here's how they describe their music:
Mexican son jarocho mixed in with Irish jigs and reels and a good dose of country and bluegrass. it has healthy servings of ska, soca and African highlife and we've been known to throw in a little white boy reggae. Of course it also has strains of soul, pop and funk although we are by no means a funk band. It is mostly acoustic although we also like electric guitars. It is singer-songwriter based but not the coffee house variety. It is definitely FOLK music, but not in the Kumbaya style. It has a deep respect and appreciation for tradition (Bluegrass, Old Time, Celtic, Son) but it's by no means traditional. It rocks incredibly hard and is extremely danceable, but that is not to say it can't be mellow and slow and beautiful. It can be heart breaking, but also joyous. It is never dark or angst ridden, and always full of hope — but not in the 'Up With People' kind of way. It's not jazz, although we like jazz a lot. It's not heavy metal or punk or grunge, although we love Rush and AC/DC. It is World Roots Music. It's POP music. It is GOOD music. It has a tendency to connect people and means a lot to many folks the world over, and for that we are very grateful. It is the only multi-cultural, multi-ethnic, multi-generational, multi-lingual, multi-instrumental, genre bending, co-ed band you will hear today!!
Greenwood
Greenwood hails from the Fraser Lowland of British Columbia and provides harmony singing and instrumental music typical of bluegrass and folk genres. Jeanne (fiddle) and Jonathan Hughes (mandolin) have been playing together for more than a decade. They have a penchant for moody Appalachian music that is relevant to our current sense of time and place. Randy Goulding adds more than 15 years of experience as a prominent guitar player in the Vancouver bluegrass scene and adds some soulful songs to the mix. With the stand up bass, Valerie Bailey provides the low end with superb taste and timing. Together, Greenwood creates intricate instrumental arrangements around vocal harmonies that are sure to please
Headwater
Hearing Headwater is like listening to the West Coast of Canada in song. Freewheeling, fierce, sentimental and sexy, the Vancouver band has earned its reputation as one of the finest acoustic roots group around.
Formed in 2003 by childhood friends Jonas Shandel (vocals/guitar/banjo) and Matt Bryant (guitar/mandolin/vocals), the band's sound reflects the upbeat chemistry of a songwriting partnership that is 15 years in the making. Growing up on the edges of the forested Lynn Headwaters Regional Park (hence the band name), Shandel and Bryant draw inspiration from the rugged Pacific wilderness.
The group released the folk-oriented debut album My Old Friend in 2006, and the follow-up Lay You Down in 2008. Most recently, Headwater hunkered down in local studios Heavyosonic and the Palace to record PUSH, which was released in the spring of 2012. More electrified and pop-inspired than ever before, the EP's six songs range from organic acoustic numbers to atmospheric rock. Tracks like "Your Love" and "Sky Falling" find rustic bluegrass instrumentation going toe-to-toe with moody synth textures, while the new single "Fuel the Fire" pairs distorted electric guitar with flourishes of pedal steel. Tied together by rich vocal harmonies and hook-filled choruses, the collection reflects a diverse range of influences from heartland rock to classic new wave to unabashedly radio-friendly pop.
Over the years, the evolution of Headwater has seen very talented musicians come and go – as each has grown into their own musical style. As of 2013, Headwater is lead vocalist, songwriter, and multi-instrumentalist Jonas Shandel. Following the departure of founding member Matt Bryant, Jonas is taking Headwater farther than ever by collaborating with new singers, songwriters, musicians, and producers.
And as the band continues to evolve, the music just keeps getting better. Recently back from a songwriting trip to Nashville, Tennessee, Headwater is set to release a brand new EP within the next year. With a few new songs already added to the set list and all the old classics polished off, now is the perfect time to get re-acquainted with the new Headwater. Check the shows page for a list of all the upcoming performances – and get ready for Headwater to take it to the next level!
Viper Central
Vancouver's Viper Central first came together through a shared love for classic bluegrass and old-time repertoire, along with the more contemporary styles of acoustic innovators such as David Grisman, Béla Fleck, and David Lindley.
In 2008, the Vipers released their debut: The Devil Sure is Hard to Please. Blending instrumental prowess with innovative arrangements and creative vocal harmonies (doo-wop BGs such as those on "Down in West Virginia", certainly find themselves comfortably outside the standard bluegrass practice), the album showcased the diverse songwriting talents of every member in the band and earned them a place among the bands to watch for in Canada's thriving roots music scene.
In 2010 the Vipers released their sophomore album, Live at the Street Church.
Over the past four years, Viper Central has toured North America and Europe, performing at festivals such as the San Francisco Bluegrass and Old-Time Festival, the Southwell Folk Festival (UK), and the Willisau Bluegrass Festival (Switzerland).
They released their latest album Thump and Howl in 2012. This third release marks a coming of age for the Vipers — there's maturity and a confidence that they have found their own sound. While the banjo and fiddle remain central, pedal steel can be heard on several tracks and the melodies draw on such diverse influences as Metis fiddle, Klezmer, bluegrass and rockabilly. Most importantly the songs come from Canadian landscape and experiences and the result is entirely natural, effortless and delightfully original.