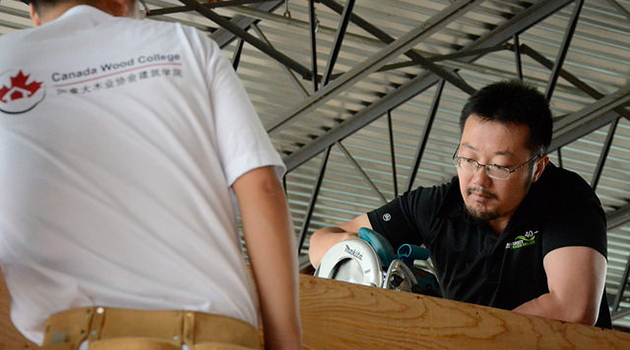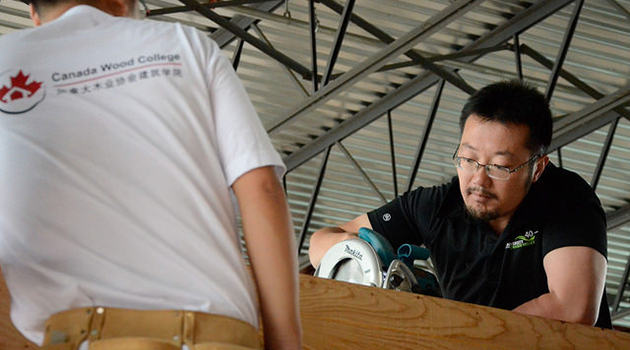 The softwood lumber industry is a significant contributor to the B.C. economy. In 2013 alone, B.C. softwood lumber exports topped $5.3 billion. Rapidly catching up to the United States, China is the second-largest importer of this natural resource.
Wood-frame construction is becoming more popular in China. Formally referred to as platform-frame construction, this form of construction heavily relies on softwood lumber. Offering 400 times better insulation than steel, wood-frame buildings are extremely energy efficient and as a result play a critical role in cutting carbon emissions.
"It's a technology we take for granted here in North America," notes John English, Dean of Applied and Technical Studies at UFV. "These structures are seismically sound and when constructed correctly have a long life."
China's growing housing needs, and a growing recognition in that country of of the advantages of platform-frame construction, have triggered a demand for qualified educators in this craft. The framing process requires expert training in order to avoid adverse results.
"Done poorly, it can be a disaster, as we saw with the leaky condo problems a few years ago," explains English. "This training supports the B.C. government's goals of creating new softwood lumber markets in China and helps make certain the technology is transferred properly. We're providing a measure of quality of assurance."
The UFV Trades and Technology Centre is hosting 16 Chinese educators this month for a three-week intensive training program. Organized in conjunction with the Chinese National Ministry of Urban & Rural Housing Development, the program is sponsored by 11 Chinese vocational schools, nine building companies, and Canada Wood (an industry coalition that represents Canada's forest sector's interests in offshore markets).
Kerry Haggkvist, program manager at Canada Wood, is confident the exchange will be a success.
"After spending three weeks in Canada, these educators will go home with new skills and understanding," he explains. "They will learn about Canadian education practices and wood frame construction theory, plus have the advantage of seeing numerous wood frame structures used on a day-to-day basis."
Nine Chinese instructors from trade schools across China, along with seven building company representatives have completed the first week of their three-week wood frame construction program at UFV. The program consists of 50 percent classroom instruction, 35 percent hands-on training, and 15 percent project visits.
"For the University of the Fraser Valley, this program opens the door to a number of schools across China," notes Haggkvist. "These schools are eager to create international partnerships for mutual benefit. UFV is laying the foundation to attract new students, provide training to staff in China, create satellite campuses, and exchange knowledge and ideas with a whole new set of partners."
After learning the art of the wood-frame structure system, the Chinese students will be presented with official training certification.