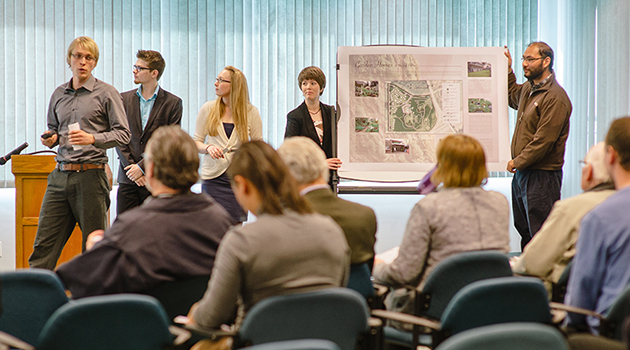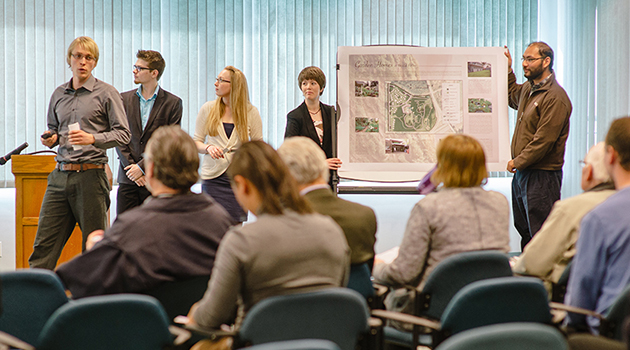 Minter Gardens.
It's a name familiar to thousands of people in British Columbia and beyond.
For more than three decades, the ornamental show garden run by the Minter family welcomed tourists, hosted weddings, and served as the backdrop for car shows, grad portraits, and other events.
After subsidizing the gardens for 33 years, in 2013 the Minter family made the very difficult decision to close the show gardens and concentrate on their retail garden store in Chilliwack. The iconic Minter Gardens property, located in rural Popkum in Electoral Area D in the Fraser Valley Regional District (FVRD), is up for sale.
With change comes opportunity. Both the Minter family and the FVRD want to see the gardens evolve in a sustainable and creative manner.
Generating ideas for the property's future sounded like a job for some creative and innovative students, the kind that can be found among the students in Cherie Enns' urban planning classes at the University of the Fraser Valley.
Working in groups and in partnership with FVRD planners, students from Geography 360 (Intro to Community and Regional Planning) were asked to imagine a future for Minter Gardens, one that included residential development while respecting environmental concerns and acknowledging the beautiful natural setting of the site.
The student groups took on names reminiscent of urban planning firms and, for their final project, made presentations to an audience of professional planning staff from the FVRD, as well as UFV Dean of Arts Jacqueline Nolte and former department head Michelle Rhodes.
The first group to present, Evergreen Sustainable Development, envisioned a mixed-use plan that would include condos and townhouses, but also lots of open space including rooftop patios, retaining of the on-site restaurant (perhaps as a brew pub), a daycare, outdoor spaces for children, and encouragement of community events such as weddings, farmers' markets, and yoga classes.
"The gardens were not economically viable anymore, but it would be a shame to see such a gem completely destroyed," noted their spokesperson.
The second group, Third State Planners, noted that they were influenced by new urbanism, with an emphasis on walkable neighbourhoods and mixed-use residential in the midst of natural settings. To encourage community development, they would put front porches close to sidewalks as a way of getting neighbours to interact.
A third group said they would capitalize on the experience of the original owner and brand recognition of the Minter name by working with garden founder Brian Minter as a consultant.
"We want to protect the heritage of a place that has been very influential in our lives, and make it such an attractive place that families will hand pick this location," they noted.
After their presentations, retired community planner Terry Lyster, who acted as a mentor on the project, spoke to the UFV students, reminding them that as professional planners, their products will live on longer after them, and that the tool of municipal zoning is the "servant of civilization."
Lyster spoke to the students early in the semester and later evaluated their project presentations from a professional perspective.
Professor Cherie Enns noted that that community planning has been described as an art, with geography providing the scientific component of it. It is also now a registered profession in Canada. Over the last ten years many UFV geography graduates have gone on to graduate studies in this area and careers as community planners in Canada and internationally.
"The UFV Geography and Environment program is committed to providing experiential and field-based learning through a range of local and international opportunities for students," she said. "This applied approach proves very beneficial to our graduates as they progress in their careers."
One of Enns' students provided the following feedback about her field-based learning experiences:
"While I genuinely love learning through reading, writing, and listening, it is certainly not the only way to learn.  I think that it is such a privilege to get to see the world with another lens, and as a university student, getting the opportunity to try different roles in various careers is invaluable. Field-based learning opportunities also help students acquire many other skills that while not directly related to their subject, will be of great value in the future for many different fields."
UFV's Geography and the Environment department is working with Margaret-Ann Thornton, Director of Planning and Development for the FVRD, to develop a memorandum of understanding with regards to establishing an ongoing formal program incorporating applied geography internships, as well as class projects related to environmental research and community planning.
"The FVRD is very supportive and excited to enter into a more formal partnership between UFV and the Electoral Areas Planning Section of the FVRD. The recent class project and practicum student is illustrative of the success of the partnership, which will continue to grow and strengthen," noted Thornton.
Brian Minter's connection with UFV goes well beyond the recent Geography 360 project. In addition to serving as UFV's first Chancellor from 2008 to the present, he taught night school courses in horticulture in the 1980s and was chair of the Board of Governors when Fraser Valley College was transformed into a degree-granting university college in 1991. He is also a donor to UFV. Brian was granted an honorary Doctorate of Technology degree from UFV (then UCFV) in 2001. He's a recipient of the Order of Canada, the Spirit of Enterprise award, and the BC Small Business Excellence award.