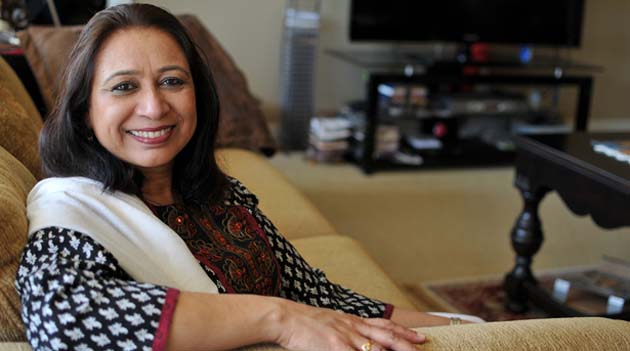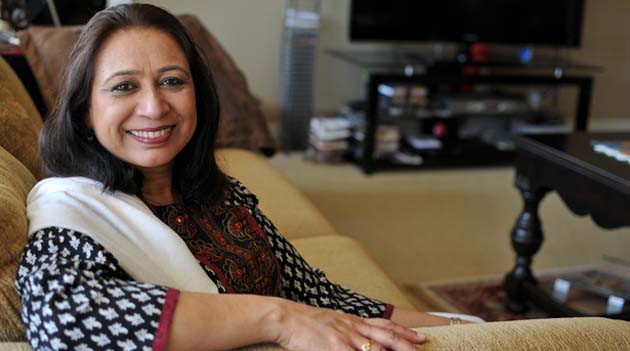 It's Kusum Soni's inclusive embrace that earned her this year's Betty Urquhart community service award from the University of the Fraser Valley.
In 1995, UFV renamed its community service award in honour of Betty Urquhart, who passed away that year. One of UFV's first employees, Urquhart was commitment to building a strong relationship between UFV and the Fraser Valley community — a bond that continues today.
Kusum certainly fits the criteria for a community-focused award.
A guiding light in a foreign land, Kusum ties together vulnerable communities with compassion. She instils confidence through programming for seniors at Mission Community Services, educating immigrants and other vulnerable elders on building positive attitudes by making action plans for food and exercise, and organizing field trips via the West Coast Express to show the benefits of public transportation.
Kusum's vision has widened the scope and range of Mission's Diwali celebrations over the last five years, helping the event to grow from 30 participants to 800 community members and 16 partners, including the UFV Centre for Indo-Canadian Studies.
Though funding is available for catering, Kusum's philosophy of inclusion stretched to bring Rotarians into the Sikh temple to help cook meals.
"We could have easily bought food, but bringing two cultures together creates harmony and understanding," she says.
"Socializing with each other tears down walls."
That connection between food and community is carried on by Kusum's own hands when she creates traditional Indian dishes for two dozen women at Abbotsford's Warm Zone, a Home, Healing and Space program and a day shelter for women who are living and working on the streets.
What began as a monthly venture quickly evolved into a weekly institution.
"The meal was just a medium to talk to the women, but it took almost a year to earn their confidence. I wanted to know what happened in their life, and eventually they became a part of mine."
Joining her in the kitchen was Kusum's husband Surinder, continuing a long tradition of togetherness stretching well before their immigration to Canada in 2003. Back in India, Kusum worked as a Human Physiology professor at Christian Medical College and Hospital, instilling a love for teaching – a career she hopes to revisit.
Surinder served as an accountant, a career he planned to renew after successfully completing his CGA shortly before his death in 2012.
Two weeks after her husband died, Kusum was back serving rice pudding and bread to her friends at the Warm Zone.
"Every woman gave me a hug and whispered in my ear 'don't worry, everything will be good.'"
"That place has transformed my life so much."
Last year, her commitment to bridge societal divides stretched into The Color of Fear: the Paradox of Race and Oppression in the new Millennium, a campaign focusing on cross-cultural/racial challenges about confronting racism in today's world. As the latest theme in Kusum's three-year effort supporting the International Day for the Elimination of Racial Discrimination, Colour of Fear involved leaders and other influential people promoting a healthier and more inclusive community through music and art.
She also presented 'Dating an Ethnic Man' to encourage cross-cultural marriages and relationships.
"There are so many wars because of different cultures or religions. If we start on a smaller scale, a neighbourhood only, we can change that," she says.
"When we understand each other, share a meal together, all those misconceptions can be cleared."
Kusum's nomination for this year's Betty Urquhart community service award included glowing support from volunteers at Mission Community Services Society, where she works in addition to volunteering at Mission's Cultural Resource Commission. She also volunteers on the board of directors for the Women's Resource Society of the Fraser Valley, and Mission's Literacy in Motion. She recently joined another volunteer role as member of the Regional Ethno-cultural Advisory Committee of Corrections Services Canada.
"She continually goes above and beyond her call of duty," wrote her nominators.
"Kusum is a consummate advocate for women's rights, youth empowerment, race relations, seniors' programs, provincial and local diversity initiatives, community engagement across all sectors and multicultural and immigrant integration services. Her capacity to care and share is well known and many people are indebted to her for her tireless service, advice, and support. Kusum has our unequivocal support for this nomination and we would like to advocate for her inclusion in this worthy award as an example of a dedicated community leader."
Still, Kusum sees herself as the lucky one, fortunate enough to bring people together and allow them to see for themselves that we're really all the same.
"People will see this and share this, and maybe talk about this to 10 other people," she says.
"They will tell relatives in other countries and maybe we can make a difference in this world."
It's safe to say Kusum Soni has already done exactly that.
She receives her award Friday, June 13, during UFV's 9:30 a.m. convocation ceremony. The event is free and open to the public.