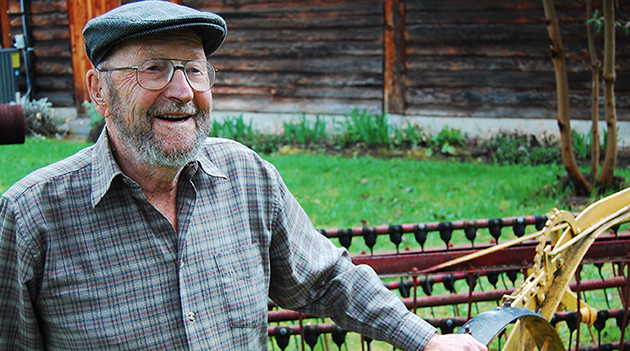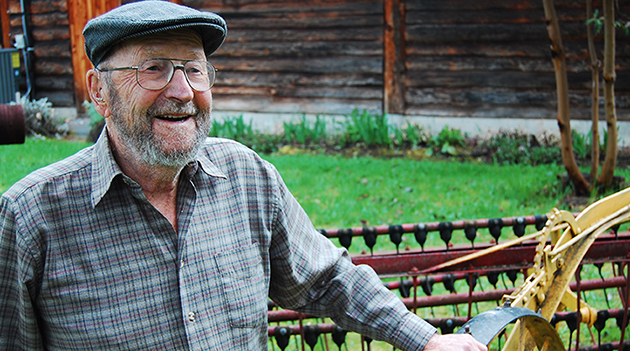 Few people alive today have as long an association with Fraser Valley College as Doug Hamilton.
Hamilton, a retired agrologist who turns 90 on July 3, was the first chair of the Fraser Valley College board, or council as it was called then, in 1974. But even before that, he played an integral role in the creation of a college in the Valley.
For his dedication to education and leadership in the early days of Fraser Valley College, Hamilton will receive an honorary Doctor of Laws degree from the University of the Fraser Valley at its afternoon Convocation ceremony on June 13.
The ceremony begins at 2:30 pm at the Abbotsford Centre. The public is welcome to attend.
As UFV celebrates its 40th anniversary and sends more than 2,100 new graduates out in the world this year, it can be difficult to imagine a time when the Fraser Valley didn't have a public university, or even a college.
But until April 1974, that was the case. People who wanted to get a post-secondary education had to move away.
Groups of concerned citizens worked together on several occasions throughout the 1960s and '70s to lobby for a college, but early efforts were unsuccessful.
In the 1970s, Hamilton worked for the BC Ministry of Agriculture and was also a member of the Abbotsford school board.
In 1973, he was elected chair of the steering committee that worked as part of the provincial government-appointed task force looking at the feasibility of establishing a college in the Fraser Valley.  Representatives of all the local school districts also took part in the steering committee.
"We held meetings all over the Fraser Valley, explaining the concept of a community college and looking for community support," Doug recalls. "I also travelled to Ottawa to see the MP to sell him on the concept. We visited colleges in Prince George and Nanaimo and BCIT to look at the different models of education out there.
"Many of us strongly believed that local kids shouldn't have to leave home for their first or second year of university, and that they should have the opportunity to ease into post-secondary slowly while living at home."
In his professional life Hamilton's job as an agriculture extension specialist came with a mandate of providing guidance, continuing education, and advice to farmers in the egg industry. Thus he served as an educator within the field of agriculture in our communities even before there was a Fraser Valley College or any formal agricultural education programs.
"Given my professional background in agriculture and the Valley's strong agricultural sector, I also believed that whatever type of college we created needed a strong agricultural component."
The task force recommended the establishment of a college in the Fraser Valley. In fact in its summary report in 1973, members noted that they considered that the case was so strong that their task was not to justify the provision of the service, but rather to suggest the appropriate means to provide it.
When government permission was granted to hold a plebiscite to gauge the support of local taxpayers, the task force went into high gear with a publicity campaign to convince the public to come out and vote in favour of a college. In the end, 89 percent of voters supported a college.
Once the provincial government made the proclamation that created Fraser Valley College on April 4, 1974, five senior employees of local school districts (Eric Woodroff, Betty Urquhart, Frank Dolman, Roy Craven, and Bill Sharp) were seconded to work on planning the college at a frenzied pace, as it was to open five months later in September.
The first college council (later called board of governors) was appointed on April 23, 1974 with Hamilton as the chair. He also led the search for a college principal.
"After careful consideration, we decided that Dr. Larry Blake was the person we needed to lead the new college, as he had considerable experience in starting up colleges in the United States," Hamilton recalls.
Hamilton and the rest of the board were also involved in hiring the first deans, and thus had a significant influence on establishing the early culture at Fraser Valley College. He served as board chair until 1979.
Dick Bate, one of the founding deans of Fraser Valley College, was happy to support Hamilton's nomination for an honorary degree.
"I first met Doug Hamilton in January 1975 when I became Dean of Instruction at Fraser Valley College. Our initial meeting included the newly established board and the initial senior administration. The excitement and optimism in that group was contagious as we discussed the challenges faced by the Board. Building an institution from the ground up was a daunting task but I had the good fortune to observe Doug's leadership as board chair and knew we were in good hands. We all learned a great deal from him and I believe it was he who set the correct tone so necessary for the effectiveness of the board then and for future boards.
"Doug was a passionate supporter of FVC. His commitment to build a future on a strong foundation, and his positive approach with people was in my view a vital and critical contribution to the ongoing success of FVC, UCFV and UFV," Bate added. "Doug is very much a product of the Fraser Valley. He took great pride in his professional work for the Ministry of Agriculture as poultry specialist and humorously described himself as the 'Valley Chicken Man'.  He strongly believed that local people, both recent high school graduates and returning adults, should have an opportunity to acquire a post-secondary education in the Fraser Valley. In many ways he was ahead of his time."
Almost 40 years later, Hamilton is amazed at the growth that has occurred at the little instant college in the Fraser Valley that he helped to found. Some of his children and grandchildren have been students, and his granddaughter Samantha Hamilton will receive her Bachelor of Science degree at the same ceremony at which he is being honoured.
"I am so very honoured by this recognition, and very proud to have played a role in ensuring that Fraser Valley youth were able to obtain an education close to home," says Hamilton.
In addition to a lengthy career in the agricultural sector and his volunteer time with the Fraser Valley College Council and Abbotsford School Board, Hamilton was a leader of Trinity Memorial United Church in Abbotsford, and a member of the Abbotsford Lions Club. He also volunteered in the Parksville community during his retirement.
He is also a veteran of the Second World War, having served in the Canadian Navy from 1941–45. He has family roots in the Fraser Valley dating back to the 1920s, and recalls with fondness visiting his uncle's farmhouse in Rosedale (which is still standing today) as a boy in the 1930s.
UFV is also conferring honorary degrees upon  Charllotte Kwon, the founding director of the Maiwa Foundation, who will receive an honorary Doctor of Letters degree on June 12, and Dr. George Siemens, who is a leading researcher on learning technology and co-developer of the first MOOC (Massive Online Open Course), who will receive an honorary Doctor of Letters degree in the morning ceremony on June 13.